This post may contains affiliate links for your convenience. If you make a purchase after clicking a link we may earn a small commission but it won't cost you a penny more! Read our full disclosure policy here.
La Cava del Tequila, translated as the Tequila Cave, has won the hearts (and taste buds!) of many, since it's opening in 2009.  Tucked inside the Mexico pavilion, La Cava del Tequila de San Angel Inn – or La Cava- as it's known to many, draws quite the crowd every day for guests to sample one of their signature margaritas served by Humberto, Alex, and Javier.
The Mexico Pavilion has been a favorite of mine since I was a child.  What's not to love – the pinatas, the nighttime feel, the marketplace shopping, and of course El Rio Del Tiempo (now the Grand Fiesta Tour).   But it wasn't until a few years ago that we discovered La Cava.  It's easy to miss.  It's tucked away on the right-side of the pavilion when entering from the front.  I don't know about you, but for some reason I always find myself going down the ramp on the left-side when entering.  Now I make a beeline for the right-hand side, often before La Cava even opens, as the lines can get lengthy.   The lounge itself only sits about 30 guests, but the expert bartenders quickly serve the dozens who wait for the authentic and delicious margaritas.  And yes, you can take them to go.  They are served at the bar in plastic.  😉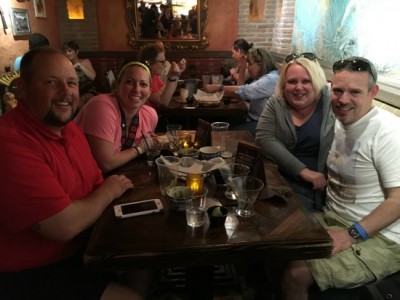 Enjoying some cocktails with friends – La Cava is not much bigger than you see here!
One of my first visits to La Cava after learning of it, was with my husband and three kids.  I love a good old margarita, and we also love chips, guacamole, salsa, and queso.  That's one of the very few food offerings they serve, but boy are they good!  Our family settled at one of the first tables which is half chairs and half of a booth-style seat.  If you want a seat at La Cava, your best bet is to get their early.  As with almost all Disney lounges, it's family friendly – especially during the day.  We spent a few hours there on this afternoon, talking, snacking, drinking (no, the kids did not have margaritas!), spending quality time together.  It's cool in there so it's a wonderful break from the outside heat.  Recently I was able to spend just over 24 hours at Walt Disney World and you bet I spent a few of those at La Cava!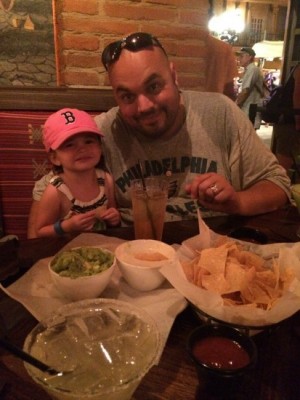 Seated right near the entrance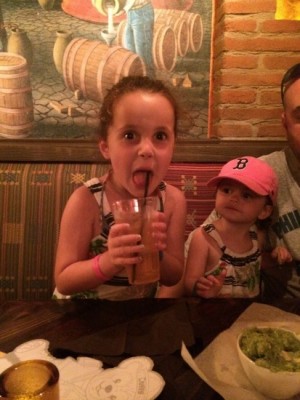 The artwork in background depicts the tequila process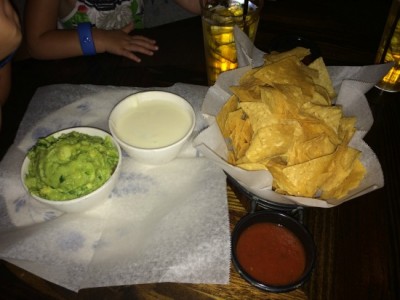 A shot of our yummy snacks!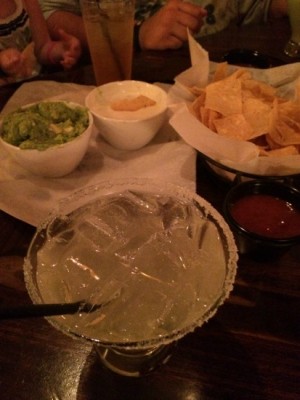 Snacks with a classic Margarita in the foreground
La Cava offers a wide selection of margaritas and some of the more well-known are the avocado margarita, jalapeno margarita, and the maelstrom margarita (a nod to its former neighbor).  You can order beer and some other beverages here but I don't know why you would!   I'm a big fan of the classic margarita, but I do truly enjoy the avocado margarita on a hot day – it's super refreshing! If you want to try more than one of their fabulous infusions, you can ask for some extra cups and share, or they'll usually "split" them right there for your when you order!
We were also fortunate enough to take part in the short-lived Epcot After Hours Wind Down in 2014.  We purchased tickets to the after-hours event – there were about 20 or so patrons who joined the Tequila Ambassador, Hilda Castillo, for a Tequila tasting.  Hilda spent time walking us through the harvesting process of tequila which is actually depicted in artwork on the walls of La Cava.  We were invited to taste three kinds of tequila and like wine connoisseurs, taught how to smell the tequila and how to pick up the different scents in various parts of the glass.  While this activity is no longer available, I share it with you to let you know that if you have any questions about tequila, Hilda is your go-to.  She is from Tequila, Mexico (I'm not making that up!) and loves to share her knowledge with patrons.  The whole lounge has a very family oriented feel to it.  Hilda, the bartenders, the servers, all welcome you as if welcoming their own family and them aim to please!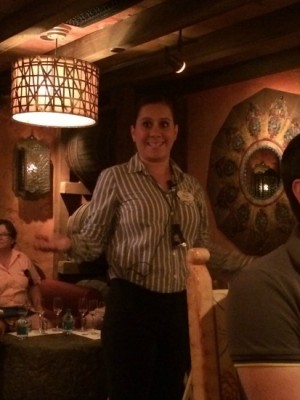 Hilda Castillo, Tequila Ambassador
You can stay up-to-date with specials and what's going on at La Cava at their very active Twitter account, @cavadeltequila.
Let me know what your favorite margarita at La Cava is! Share in the comments.