This post may contains affiliate links for your convenience. If you make a purchase after clicking a link we may earn a small commission but it won't cost you a penny more! Read our full disclosure policy here.
By Heather Lewis
My husband and I recently had the chance to celebrate our anniversary at Walt Disney World. Upon learning that Cat Cora from Iron Chef America had recently opened a restaurant at Disney, we decided to celebrate with dinner by ourselves for our actual anniversary, October 31.
As soon as we walked in the front door, I was struck by how intimate and comforting the décor felt. The entire restaurant uses dark woods and a neutral palette. The lighting feels dim, but is bright enough to not leave one feeling uncomfortable.
We arrived at the restaurant about 15 minutes before our ADR time. The hostess told us we would probably be seated close to our reservation time and gave us a pager. She also informed us how far the pager would work for in case we wanted to go stroll along Boardwalk or participate in any of the Halloween activities.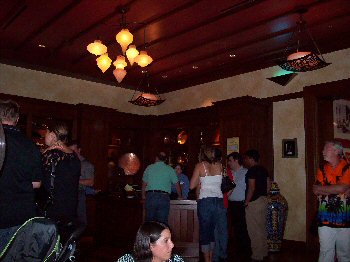 The hostesses estimate was correct and we were seated about 15 minutes later at a small table back in the corner. One of the things that I enjoyed most at this restaurant was the open kitchen in the main dining room. Watching the chefs work would have been even more entertaining if we had been closer to the action.
Throughout the course of the meal, everyone was invited to join in the celebrations of other diners. For special occasions, Kouzzina is currently offering the small chocolate cupcake that seems to be the basic dessert for the Celebrate! promotion. When the waiters present the dish they announce what the celebration is and invite all guests to join them in shouting "Opah!"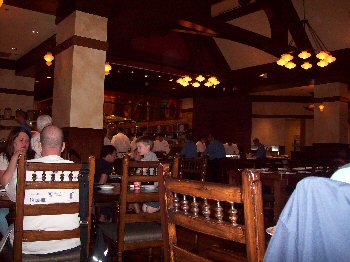 Our waiter, Keith, appeared, and before discussing the menu, he asked us if we were familiar with Chef Cat Cora. My husband answered that he was a fan of Iron Chef America and knew that Chef Cora was of Greek heritage. Our waiter added to our knowledge informing us about her charity work and then moving on to her vineyards and the menu. The menu has several wines from Cat Cora's winery. There are also several family recipes featured on the menu. Keith told us that Chef Cora had been in a few times over the weekend already since she was doing demonstrations at Epcot's Food and Wine Festival.
Our waiter was very knowledgeable about the dishes on the menu, able to answer questions about spices and preparation methods easily. He also made several recommendations, including the lamb shank, saying "it was fall off the bone tender" the way it was prepared. His recommendation was so great that my husband decided to order the lamb shank instead of the lamb burger, while I had the Fisherman's Stew.
When he returned with our drinks, he also brought us some bread. The bread is fresh made and served with butter with Hawaiian Black Salt. It seemed like we had no sooner finished a single slice of bread than our main course arrived.
My husband's slow-cooked lamb shank was served with oven-baked gigantes beans and pepper sauce. As he picked it up to marvel at its size, the entire piece of meat fell off the bone! He was amazed at how true the waiter's description had been. He had been a little hesitant to order the meat cooked medium, as he had never had well prepared lamb before. He was very happy with how tender the lamb was and has decided he should always listen to waiter recommendations.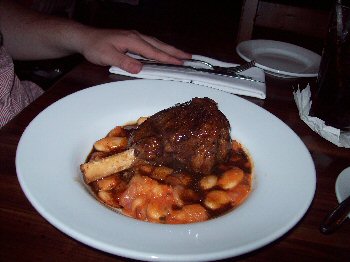 My Fisherman's Stew was described on the menu as a dish of scallops, seasonal fish and shellfish, fennel, and ouzo butter. Some of the seafood is marinated overnight in Tabasco sauce, so this stew has a spicy kick to it, but it is absolutely wonderful. I was amazed at how much seafood was in my stew. I was expecting far more of the filler ingredients than seafood. My husband felt that the stew was too spicy for his taste; however he does not like spicy food or seafood so it was not a surprise.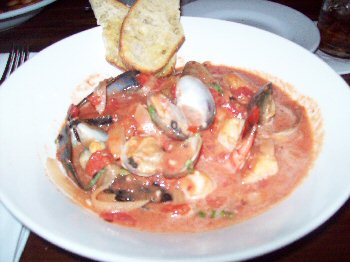 After finishing our dishes, the waiter brought us a dessert menu. We decided to share the baklava, which the waiter said was so much better than most baklavas because it was not swimming in honey. My husband warned him that I would be a tough critic, seeing as my own Macedonian grandmother taught me to make baklava when I was quite young. The baklava was good, not as moist due to a reduced amount of honey, but still very tasty. The chocolate printed with "Celebrate Today" is a nice addition to the dessert.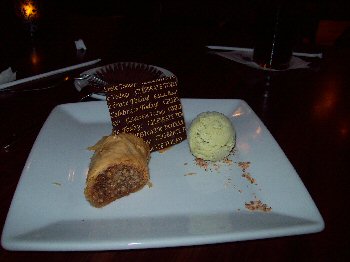 Kouzzina by Cat Cora is a wonderful addition to Disney's dining choices. The food is well prepared, the staff friendly and knowledgeable, and the ambiance comforting. This is a great choice for adults, but children will enjoy the open kitchen and not be bored. The location at Boardwalk allows for later hours and fewer crowds than a location inside the parks. All of this makes Kouzzina great place to celebrate — Opah!