This post may contains affiliate links for your convenience. If you make a purchase after clicking a link we may earn a small commission but it won't cost you a penny more! Read our full disclosure policy here.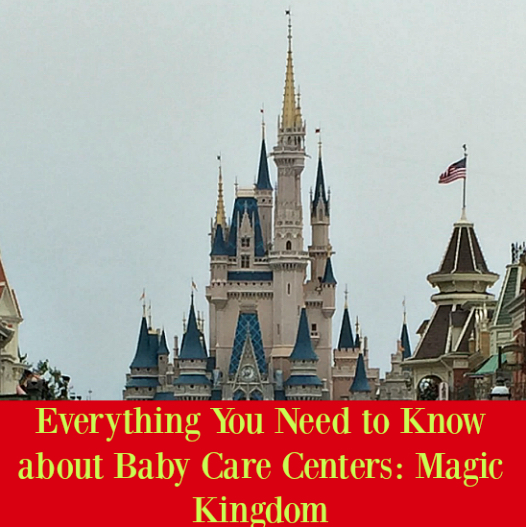 Traveling with small children is often exhausting. Sometimes something as simple as a trip to the grocery store seems overwhelming! So a trip to the Most Magical Place on Earth might not sound like a very magical experience. Fortunately, Walt Disney World is literally made for families with kids. One of my favorite amenities for families with small children are the Baby Care Centers located in each Walt Disney World theme park.
The Baby Care Centers are air-conditioned, quiet locations within each park that offer a variety of amenities. In each Center there is space for nursing and microwaves to warm bottles or baby food.  There is also a section of each Center for slightly older children where Disney movies are played and small chairs and tables are set up for those children to eat or just relax out of the heat.  Finally, each Center offers changing tables that are usually far larger than those found in restroom locations.  The changing tables in the Baby Care Centers are cleaned after each use which is absolutely wonderful!
These Centers welcome families of those with small children or those with children who may have some special needs that appreciate cool, quiet spaces as a break from the hustle and bustle of the parks. Although the amenities offered at the Baby Care Center at each park are similar, each Center differs from each other!  Here is everything you need to know about the Baby Care Center at Magic Kingdom.
Location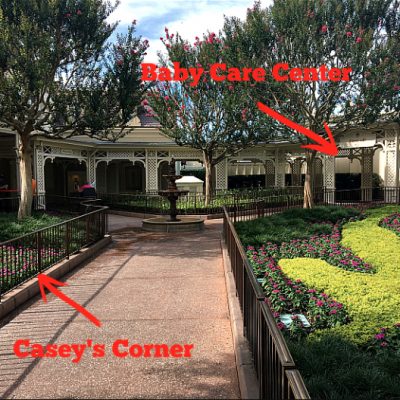 The Baby Care Center at Magic Kingdom is located between Casey's Corner and The Crystal Palace restaurants.  This Baby Care Center is likely the easiest to find, located just off the hub near Cinderella Castle.  In the photo above, First Aid is located nearest the right red arrow.  To get to the Baby Care Center, go to the right of the First Aid entrance to the next door down, as seen below.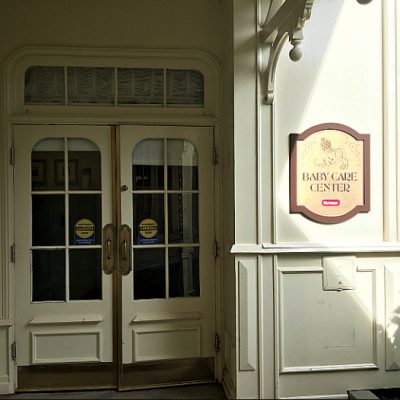 Entertainment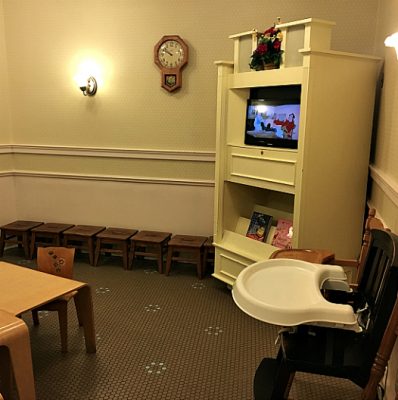 As you enter the Baby Care Center the first section you enter is the entertainment center.  This section has a couple of child-sized tables with chairs.  There are also a good number of child-sized stools for kids to relax on.  The Baby Care Center in the Magic Kingdom shows Disney movies on a television and has a number of Disney children's books.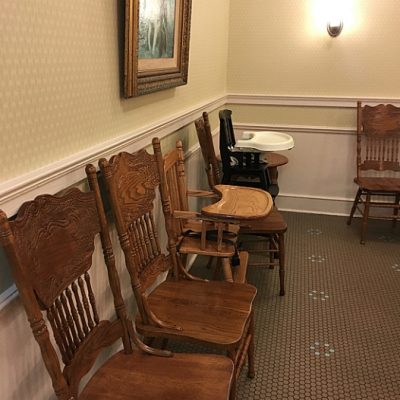 This area also doubles as a feeding area for older babies with an ample number of highchairs available for use. Thankfully, adult-sized chairs are also available so you're not left to squeeze into a miniature chair to feed your child.
Changing Area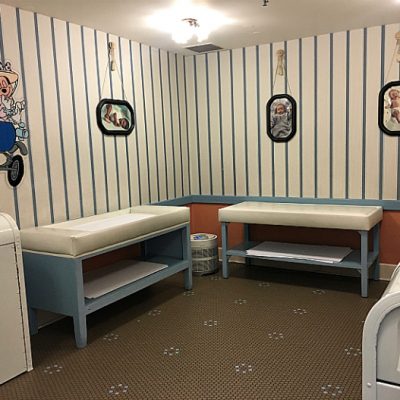 Down a short hallway is the changing area of the Baby Care Center. In this room there are a few stand-alone changing tables. These tables are much larger than those you will find in restrooms across the park.  The changing tables located here can easily accommodate much larger children (I have seen them used for older, special needs children as well!). Each table has a changing pad on it that is covered with a sheet of paper (think: the paper you normally find in a doctor's office over the exam chair). This paper is replaced after each child is changed.  This ensures that the changing table is always clean for the next child!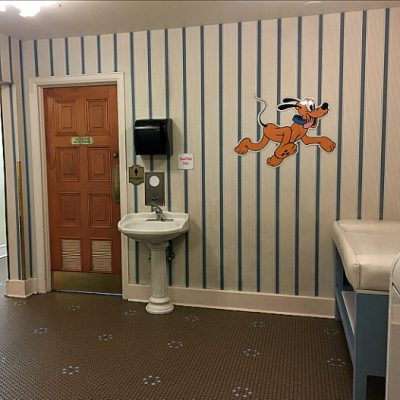 Near the changing tables is a conveniently located hand wash sink.  Also in this room is the entrance to a women's restroom.  Note: there is no men's restroom located in the Baby Care Center, although there is one just across the walkway outside First Aid.
Supplies for Sale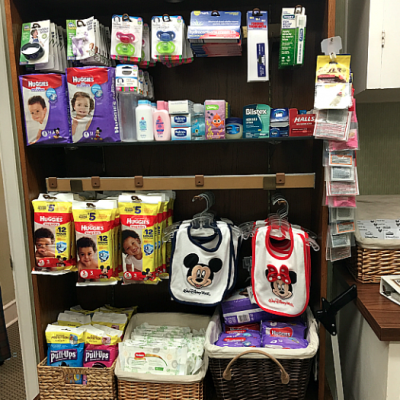 The Magic Kingdom Baby Care Center typically has the most variety of supplies for sale. Here you can see diapers, pull ups, wipes, bibs, baby powder, bottles, cough drops, vaseline, chapstick, pacifiers and more for sale.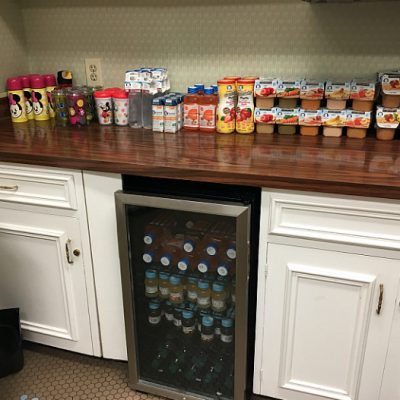 The Baby Care Center also sells sippy cups, ready-to-feed formula, juice, Pedialyte, baby food and snacks.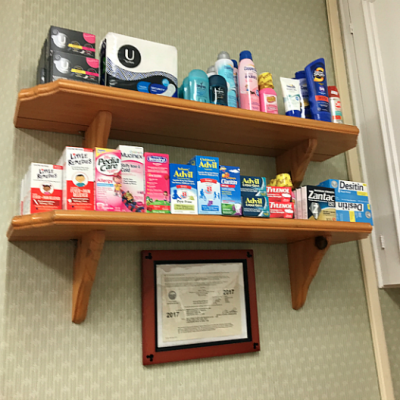 Finally, the Center also sells a variety of medicines (for children and adults), feminine care products, sunscreen, deodorant and bug spray.  These items are sold at a bit of premium, but it is so nice to have them available just in case you need something that you weren't expecting!
Feeding Area
In the hallway between the "entertainment area" and the "changing area" is a nursing room.  The nursing room at the Magic Kingdom Baby Care Center is semi-private. It is restricted to nursing mothers (and their babies) but it is just one large room with numerous rocking chairs.
In the "supplies for sale" area above there is a microwave to heat bottles or baby food and a sink that can be used to rinse out bottles or other feeding utensils.  Also, highchairs are located in the "entertainment area" of the Baby Care Center.  I love that they're located near the entertainment because the books and movies keep my older child entertained while I feed the baby!
Overall, the Baby Care Center at Magic Kingdom is likely the most convenient one on property.  It is centrally located near Cinderella Castle and is always clean!  Since it is so centrally located, it is one of the busiest Centers at Walt Disney World.  However, I've never had a problem getting in and taking a break from the busy park outside.
Have you used the Baby Care Center at the Magic Kingdom? What tips do you have? Share them in the comments.
Did you like this article? Make sure to share it with your friends! Check below for easy ways to share!
Incoming search terms:
https://www themouseforless com/blog_world/know-about-baby-care-centers-magic-kingdom/
https://www themouseforless com/blog_world/know-about-baby-care-centers-magic-kingdom/#:~:text=The Magic Kingdom Baby Care pacifiers and more for sale
baby care center at magic kingdom
https://www themouseforless com/blog_world/know-about-baby-care-centers-magic-kingdom/#:~:text=The Baby Care Center also Pedialyte, baby food and snacks