This post may contains affiliate links for your convenience. If you make a purchase after clicking a link we may earn a small commission but it won't cost you a penny more! Read our full disclosure policy here.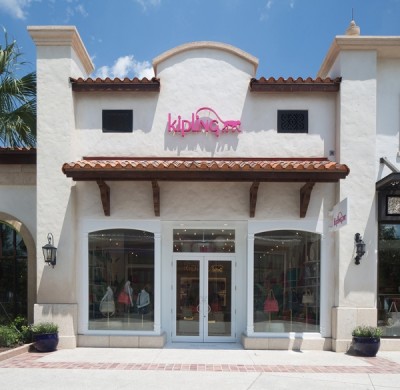 ©Kipling
One of the newest shops for Disney Springs is inviting you to attend its opening event weekend. Kipling, which offers lightweight handbags, luggage and accessories, with a colorful and playful approach is inviting Guests to join them this weekend, from Friday, May 20th through Sunday, May 22nd from 10:00 a.m. until 11:00 p.m. for fun and shopping and experiencing all that this unique store has to offer at Disney Springs.
Highlights for the weekend's event will include:
"Make it your own" bar– accessorize your accessory with monogramming, buttons, pins and more!
A Digital photo booth.
Sips n' Sweets.
A Kipling Monkey with $100 or more purchase while supplies last
I wanted to learn a little more about what it is that Kipling offers, so I was able to take part in a Q&A with Kayce Kerr, a PR and Social Media Maven from Kipling.
Share a little about Kipling overall.
Kayce Kerr: The tale of our beginnings is one of great passion and creativity (plus the odd stroke of luck!) that goes back to the spring of '87. That was the year the idea for Kipling was born, when three young Belgium designers discovered crinkled nylon fabric through a happy accident on a loom. Having come upon a winning formula they wasted no time in creating the affordable, sportly and functional bags and lifestyle essentials that have gone on to become wardrobe favorites for women in 65 countries across the world.
The story of how your name came about has a sort of Disney tie, Can you elaborate?
KK: Many people have heard of the Disney movie, "The Jungle Book," but not all know of the novel on which the movie was based. Written by the well-travelled English author Rudyard Kipling, the story of The Jungle Book was a favorite of the three friends who founded Kipling. They believed Rudyard Kipling's classic tale perfectly summed up the spirit of fun and adventure that they wanted to bring to bags and accessories. With a company named after an author famed for tales filled with imaginative animals, the desire to embody this playful spirit for years to come came in the form of Kipling's mascot, the monkey.  One of the world's best-travelled primates, monkeys seemed the obvious choice to dangle from Kipling's product. Now the iconic furry mascot is attached to Kipling's full range of handbags, luggage and carry-alls, and each one is named after one of Kipling's amazing employees from all around the world.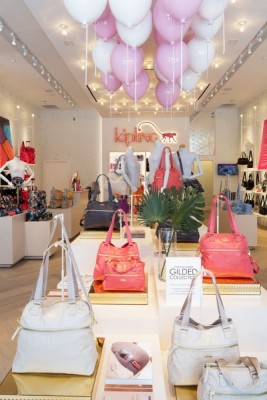 ©Kipling
Talk a little bit about what makes your store unique.
KK: Last year we launched our Make Happy campaign, because we wanted to better tell our way of life or mantra so-to-speak, which is that believe that we don't just make bags, we 'make happy.' This is what makes us unique as it inspires everything we do… our designs, creative, communication, etc.
What kinds of products do you specialize in? What are the must haves?
KK: We are best known for our lightweight and durable crinkle nylon fabric in backpacks and travel pieces. What we're really excited about, too, is our venture into handbags intended for various occasions like brunch with the friends or running around the city to that first job interview. They're very chic but offer Kipling's best-known qualities – lightweight durability and functionality.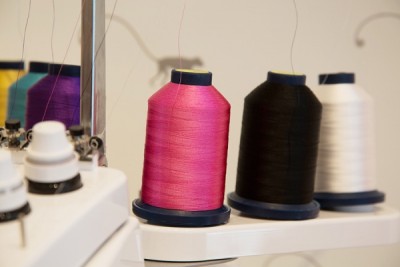 ©Kipling
Explain how Guests can customize their items.
KK: We're thrilled to unveil a fun and playful personalization area at Kipling in Disney Springs! One may personalize their new Kipling accessories with a monogram, unique buttons, patches and more.
How does this new location fit in with Disney Springs?
KK: To us, Disney embodies magic, adventure, exploration, and celebration. Elements that align with our sensibility perfectly! When we embarked on the retail project with Disney Springs, these points lead our inspiration and gave us an opportunity to expand on them in a uniquely Kipling way — such as the photo booth and personalization areas. These elements are unique to this Kipling location and to Disney Springs.
©Kipling
What are the main features of the Disney Springs location?
KK: We're in love with a balloon art installation prominently featured in Kipling in Disney Springs. Immediately upon entering the store, you feel a sense of celebration. Also, the monogramming station is sure to be a hit! For digital savvy folks, we're unveiling Kipling Chatbots with which visitors may engage with Kipling via Qr codes thoughtfully placed around the store. This will offer them promotions, the latest news, style advice and more.
What kinds of events can people expect to experience this weekend?
KK: This is our first event at Kipling in Disney Springs and it's really to welcome our new neighbors and community to experience and celebrate our new, interactive retail concept. The event is all weekend long, Friday through Sunday, and will offer guests the opportunity to Make Happy with us through digital and personalization points of interest discoverable throughout the space. We'll also offer refreshments and a complimentary Kipling Monkey Keychain with any purchase of $100 or more, while supplies last.
Where can people find out more about you overall, as well as specifically your Disney Springs location?
KK: We encourage people interested in, and who are already fans of, Kipling to follow us on social for a daily dose of our playful brand and Make Happy inspiration. We're found via @KiplingUSA on Instagram, Twitter, Facebook, Pinterest and others.
For more information on Kipling in Disney Springs, one can visit: http://stores.kipling-usa.com/fl/lake-buena-vista/1668-e-buena-vista-drive.html?utm_source=storelocator
If you'll be in the Disney Springs area this weekend, make sure to visit Kipling during the festivities! One thing is for sure, I cannot wait to check out this new and unique store.
Are you excited about visiting the store on your next visit? Which product most interests you? Share in the comments section!