Kingdom Keepers: Power Play
|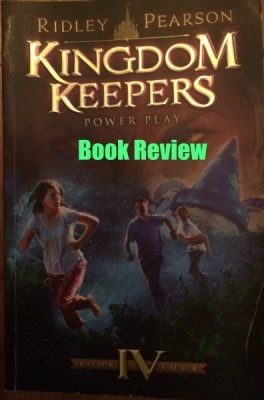 Things have not been going well for the Kingdom Keepers. For starters, the five teenagers – Finn, Willa, Philby, Charlene and Maybeck – are at different high schools now. They've become rather famous as the models for the DHI's – Daylight Holographic Images – that serve as park guides at Walt Disney World. And there have been rumors circulating about how these five teenagers secretly fight the forces of evil that are trying to take over the Parks.
To make matters more complicated, now that they're all older, their emotions are changing. Finn is baffled as to why Charlene seems annoyed when he spends time with his friend Amanda. And the gang can't help but notice that Philby and Willa like to spend time with each other away from the rest of them.
But that's only the tip of the iceberg. The Keepers' REAL problem is that the Overtakers, those Disney villains who are trying to take over the Parks, are fed up with the Keepers constantly beating them. They're catching on to the fact that the Keepers are powerful as long as they stick together. So they change their tactics and go on the offensive, trying to take them out one at a time.
The pace of this book is quicker and a bit more frenetic than the previous three, and we get to see the Keepers one at a time much more often. This is the first book to feature a long scene at Disney Quest, during which the Evil Queen and Cruella deVil manage to sabotage the Virtual Space Mountain ride that Amanda and Finn are on.
Now that the kids can appear as holograms in all four parks, author Ridley Pearson has the opportunity to take us in and around our favorite attractions after park hours, and the serious Walt Disney World fan will delight at the mere thought of being in the kids' shoes, sneaking around the parks when no one else is there, battling the forces of darkness!
This is also the first book in which the kids interact with the good guy Disney characters, because in these books, those characters you meet in the parks are more than likely NOT Cast Members in costumes, but the actual Disney characters themselves, who just want to keep the magic alive in the parks. (Well, DUH, we all knew that, right?)
Since the Keepers are now high schoolers, be warned that there is some completely G-rated kissing in this book. Some middle grade readers I know are fine with this, while others find this absolutely disgusting.
All in all, this is another solid entry in the series, and would be enjoyed by anyone who knows, just KNOWS, that there is a magical, sometimes scary, secret story quietly unfolding at Walt Disney World when the guests leave.
Have you read Kingdom Keepers: Power Play? What were your thoughts?
Incoming search terms: