This post may contains affiliate links for your convenience. If you make a purchase after clicking a link we may earn a small commission but it won't cost you a penny more! Read our full disclosure policy here.
If you can't make it to Africa, the next best thing is found at Animal Kingdom at the Kilimanjaro Safari.  There's just not too many places you can see these animals that are roaming free and not in a zoo, which makes it even more special.
We recently rode this shortly after the park opened, which is a great time for good animal viewing.  This attraction also has Fastpass so if the standby time is long then you can always get your Fastpass ticket and come back later.  The best animal viewing seem to usually be early or just before the park closes.
You start your 2-week journey in a 32-passenger, open-air safari vehicle.  There are signs in there showing you what animals you might see and your guide is excellent at pointing them out as you continue on your safari.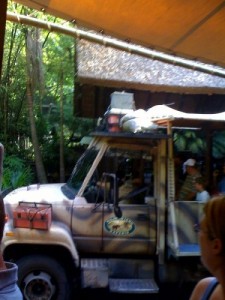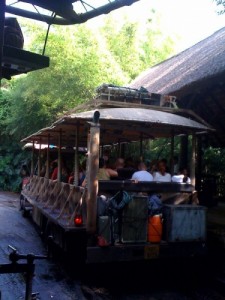 Around the first bend you'll usually see bongo, opaki, impalas, sable antelopes and maybe some other hoofed animals then the black rhinos.  They were eating breakfast as we went by so we got some great photos.
You'll then pass some hippo and Nile crocodiles on your way to the impressive savannas.  The view as you come around the corner is breathtaking, as you see the serengi grasslands spread out below with several kinds of animals eating, resting or just roaming around.    In this area you can spot the thompson gazelle, sable antelope, ankole cattle and everyone's favorite, the reticulated giraffe's.   Our guide tells us that reticulated means net, as they look like they have a net over them making their design.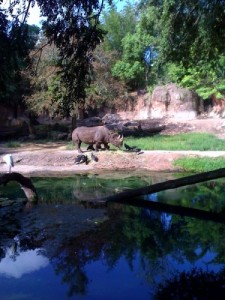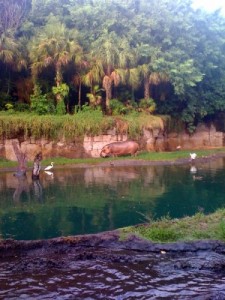 After the grasslands we round the bend and see a couple of baboon's out in the open.  My last few safaris I hadn't seen them at all, so this was quite a treat.  But the real treat was to come around the next corner.  We always see elephants, or at least one, but this time I think they were all out.  One was eating hay and had about as much hay on his back as he was putting in his mouth.  The hay and mud on his back are to keep him cool, and in the hot summer, you take anything you can get!  Another group of elephants was just wandering along when out ran a baby!  He was so cute and so full of life.  He spotted some birds and off he went, ears flopping, as he tried to catch first one, then another.  We sat for a short time watching him play and I know we could have sat there for hours, but unfortunately we got word of some poachers up ahead so we had to keep moving to try to catch them.
As we pass the island (which is a hidden Mickey) full of pink flamingos we see ostrich, kudu, eland's and a couple of cheetahs that usually stay pretty well hidden in the back but are in an area where we can see them plainly.  The warthogs were in their burrows so we only saw a small part of one, as were the lions.  My last safari the lions were out in full view, which doesn't happen often.
At this point we hear from Wilson that the poachers are just ahead, so we take off to catch them and save Little Red.  With the help of our guide we ran the poachers straight to Warden Wilson, who captures them and we see Little Red safe in the back of a truck.  All is well, but with this detour our two-week safari has to end early.  We're taking to the nearest warden's post where we can make our way back to Harambe Village.  It was a great safari, though, with many good animal spottings and our guide Ed was one of the best.  Kwaheri everyone (which is  good-bye in Swahili).