This post may contains affiliate links for your convenience. If you make a purchase after clicking a link we may earn a small commission but it won't cost you a penny more! Read our full disclosure policy here.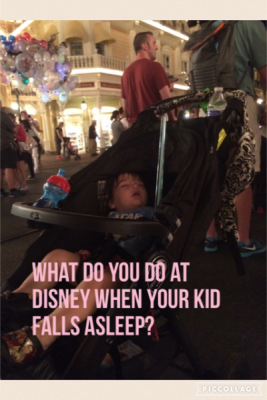 Ahh… Walt Disney World. A kid's playground. But kids fall asleep, right? Nap time is a time for Junior to recharge his battery and Mom and Dad can have a break. But Junior is in his stroller! And you can't take strollers on rides! And you can't park Junior in the stroller parking for the "stroller fairies" to find! So what do you do?
Of course, there is the "keep the schedule consistent" train of thought from Disney gurus. "Get back to the hotel for a regular nap schedule," they say… and that is great advice. But what happens when that just doesn't happen? What happens when your 18 month old falls asleep in the stroller on the way to meet Kylo Ren and you know you have 1-2 hours to kill with a baby in a sleeping stroller?
Of course, you can always grab a snack or head into air conditioned shops for a stroller-sanctioned activity… but what ELSE can you do?
If you are in Hollywood Studios
I HIGHLY recommend taking the boat to Epcot. You don't need to take the baby out of the stroller, there is a cool breeze, and who doesn't love a boat ride?
If you are in Epcot
Perfect time to stroll World Showcase and eat some snacks! Get some air conditioning in Japan and China (their merchandise areas are large enough to bring a stroller through!)
If you have another AWAKE child in tow, this is a great time to do the Agent P's World Showcase Adventure!
Outdoor Character meets are a great way to spend time with a sleeping baby in a stroller. Only downside is the baby doesn't get to meet Belle/Jasmine/Snow White/whoever!
If you are in Magic Kingdom
If you are in Animal Kingdom
These are just a few small tips of how to best manage when you have a sleeping stroller baby and I hope the help you along the way.
What other ideas can you think of to pass the time while Junior takes a quick nap? Share your tips in the comments section.
Incoming search terms:
https://www themouseforless com/blog_world/kid-falls-asleep-disney/