This post may contains affiliate links for your convenience. If you make a purchase after clicking a link we may earn a small commission but it won't cost you a penny more! Read our full disclosure policy here.
By Deb Niarhos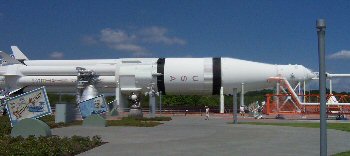 "We to go to the moon in this decade and do the other things, not because they are easy, but because they are hard, because that goal will serve to organize and measure the best of our energies and skills, because that challenge is one that we are willing to accept, one we are unwilling to postpone, and one which we intend to win." — President John F Kennedy
Wow, the Kennedy Space Center! As a child, I can remember sitting in my classroom and watching the first man walk on the moon! When I visited the Kennedy Space Center as an adult, I was thrilled to share that part of my history with my girls. From the moment of arrival, guests can feel the history all around.
Kennedy Space Center (KSC) is only 35 miles east of Walt Disney World, so it's easy to fit a visit into an Orlando vacation. It takes under an hour to get there. KSC is open every day 9 a.m. to 5:30 p.m., except Christmas Day and certain launch days. Plan to spend an entire day, as there is much to do and much to see. The KSC website has detailed driving directions (see end of article for details).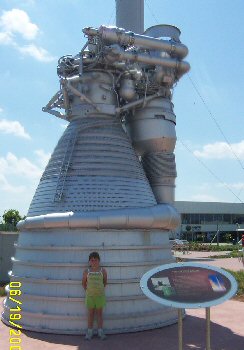 When planning a visit, the first thing you'll need to pick is your ticket. Tickets may of course be purchased at the gate or on the KSC website. There is no price advantage to ordering on-line, and standard shipping for tickets is $12, so wait and buy at the gate. Standard admission is $31 plus tax for an adult and $21 for children (age 3-11). With this ticket, you can tour KSC, watch the IMAX movies and see all of the exhibits. Get the "Maximum Access" ticket ($7 more per adult and child) and receive two consecutive days at KSC, as well as admission to the Astronaut Hall of Fame (described below), plus experience the interactive space-flight simulators. Annual passes are $40 for adults and $35 for children (plus tax). Florida residents can get annual passes for $38 adult, $28 child. AAA members can check with their AAA location about getting tickets prior to arrival.
Another option for Center visitors can be found just six miles north of the visitors complex at the Astronauts Hall of Fame. This complex is open 10 a.m. – 6:30 p.m. Admission is $17 for adults, $13 for children age 3-11, or as part of the "Maximum Access" ticket described above. The Hall of Fame's exhibits are dedicated to our nation's astronauts, and include personal memorabilia. There are also simulator rides. They are nothing like Epcot's Mission: Space, but still worth a try. The Astronaut Adventure room gives you a taste of walking on the moon, riding a rover on Mars, and guiding the Space Shuttle to landing.
Unlike at Walt Disney World, parking is free at both KSC and the Astronauts Hall of Fame. Wheelchairs and strollers are available to guests, also for free.
Once the ticket decisions have been made and passes purchased, visitors pass through the security area, which includes a metal detector and bag search. Then the fun begins! Exploration begins at the Visitor Center. Around this area is a wonderful "rocket" garden. My kids got to sit inside an Apollo space capsule and could not believe how long the astronauts had to sit on those hard seats!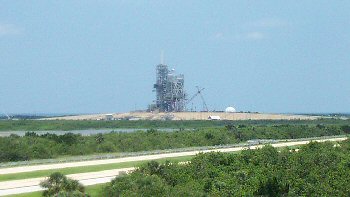 From the Visitor Center you may catch the Kennedy Space Center Tour buses (included with admission). They leave every 15 minutes. The buses take visitors past two giant launch pads. When we were there, Discovery was on the launch pad. It was very cool! The tour passes the Vehicle Assembly building which is so huge. At the time that we went, you could see the damage that Hurricane Charlie inflicted on this massive structure. You also get to view the 3.5 mile crushed rock path on which the shuttle is hauled onto the launch pad. It moves at one mile per hour, using a gallon of gas every 35 feet it moves! The tour stops at Launch Complex 30 where we took some photos of Discovery on its launch pad.
Now, my favorite part of the bus tour was the Apollo/Saturn V center. Visitors get off the bus here and can spend hours exploring. The most awesome site is a fully restored 363-foot Saturn moon rocket. It was unbelievable. A memorable moment for our family was in the Lunar Surface Theater where they relive the first lunar landing. It was a great feeling to share that part of my history with my girls. The Apollo/Saturn V center also has a restaurant, gift shop and cafeteria.
After the Apollo/Saturn V Center, visitors catch another bus and head back to the Visitor Center. This is where you can watch an IMAX movie on one of two IMAX screens. One movie, narrated by Tom Hanks, features NASA footage of the moon. A second movie about the space station highlights the challenges and successes of this amazing international endeavor. For the souvenir hunters, there is a huge gift shop in the Visitor Center. There are live theatrical shows and a full-size Space Shuttle mock up. One of my favorite parts of the Visitor Center was the memorial to astronauts who have died. I think what surprised me the most was how few have actually died doing something so incredibly dangerous.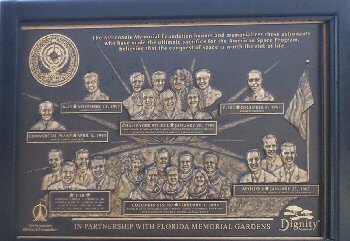 Another option allows guests to talk with a real astronaut during Astronaut Encounter. You are able to ask questions of someone who has actually been in space. Considering fewer than 500 people can claim to have flown in space, it is an honor to have the opportunity to meet one such person.
My favorite part was the simulated moon landing. It brought tears to my eyes, it was so awesome. They take you into the actual mission control area from the Apollo missions. The HUGE Saturn V rocket was also a favorite. I would make the time take a whole day and relive the history and the magic of early manned space flight!
KSC offers extra opportunities to guests. If there is a Space Shuttle launch scheduled during your vacation dates, you can purchase tickets for the closest viewing site available to the public. Packages for the launch can be simple (admission and transportation) or include lunch with an astronaut. Gray Line Orlando bus company offers a package which includes transportation from Orlando (http://www.graylineconferencetools.com/SpaceShuttleDiscovery/index.cfm?mid=2). Tickets for the December 7 launch are already sold out, so planning ahead is clearly essential.
Here are the upcoming Space Shuttle launch dates (subject to change):
December 7, 2006- Shuttle Discovery
February 22, 2007- Shuttle Atlantis
June 11, 2007- Shuttle Endeavor
August 9, 2007- Shuttle Atlantis
September 27, 2007- Shuttle Discovery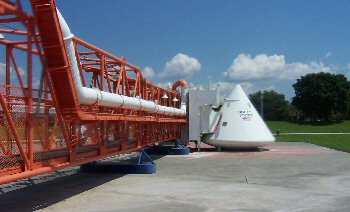 KSC also has guided tours to choose from. NASA Up Close is a 2 hour tour of the launch areas with a private expert tour guide ($22 adult/$16 child) and a few extra stops than self-guided touring allows. The Cape Canaveral: Then and Now tour is almost three hours and visits launch sites from the 1960s, and includes a look at today's active unmanned rocket program ($22 adult/$16 child).
Lunch with an Astronaut is just that – a lunchtime space program briefing with an actual NASA astronaut. The $22.99 adult/$15.99 child lunch includes an autographed souvenir. Attendance for the Lunch with an Astronaut can range from 80-150 people, so it is not an intimate affair. However, the astronaut will take questions from the group. There is also a photo-op with the astronaut at the end, so there's a short chance for one-on-one conversation.
The pinnacle of tours at KSC is ATX-Astronaut Training Experience.  This full-day interactive training program has you preparing for the rigors of space flight. Participants must be at least 14, with guests under 18 accompanied by an adult. The $225 experience includes:
Spaceflight Training Simulators
Full Scale Space Shuttle Mission Simulation
VIP Tour of Kennedy Space Center
ATX Gear (including a Mission Polo Shirt to take home!)
The KSC website is very informative and entertaining. I highly recommend doing more advanced reading about KSC to make your experience even better. You can sign up on the site for their e-mail list and they send you updates on activities such as launches. http://www.kennedyspacecenter.com/index.asp.
I highly recommend this wonderful attraction. Whether you were alive to see the actual Apollo missions or not, you will enjoy and gain a new respect for the men and women who have gone into space.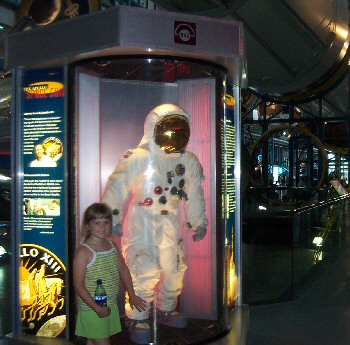 "One small step for man, one giant step for mankind" — Neil Armstrong
Important information for travelers to the Space Center:
Driving Directions for the Orlando Area
http://www.kennedyspacecenter.com/KSC/directions.asp
Ticket and Tour Purchase Information
http://kennedyspacecenter.stores.yahoo.net/
Operating Hours:
Open every day of the year, except December 25 and certain launch days.
Current operating hours are from 9:00 a.m. to 5:30 p.m. The Astronaut Hall of Fame is open from 9:00 a.m. to 6:30 p.m.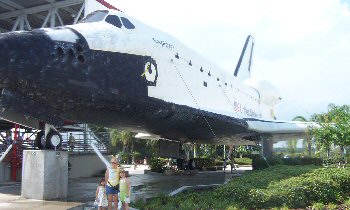 Magically Speaking Featured Article
Library of Congress ISSN:1556-3863