This post may contains affiliate links for your convenience. If you make a purchase after clicking a link we may earn a small commission but it won't cost you a penny more! Read our full disclosure policy here.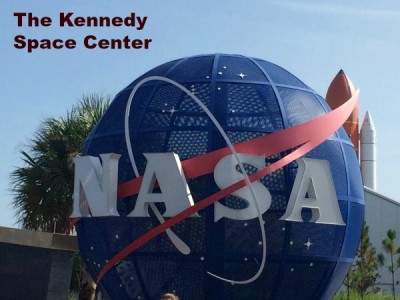 Welcome to the Kennedy Space Center!
Our Disney Dream Cruise ended quite early in the morning. As in, we were back in our hotel room in Cape Canaveral at 8:20 a.m. With the whole day in front of us, my husband suggested that we spend the day at the Kennedy Space Center.
I had not been here since I was my daughter's age, so I was excited to do it. We'd all been to the Open House at NASA's Jet Propulsion Laboratory here in Los Angeles, so it's safe to say we've got an interest in space exploration.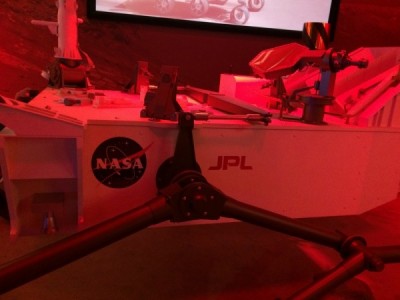 A Mars rover on display
It was a very short drive from our hotel to the Center. Ticket prices were $50 per adult, $40 children 3 – 11, $46 for Seniors 55 and up, and there are reduced prices for military personnel. What impressed me is that this entrance fee paid for EVERYTHING – every show, every IMAX film, and a bus tour.
There was a building all about Mars, in which guests are encouraged to try their hand at different tasks. (We failed miserably in both landing and trying to rendezvous with a space station. Apparently, we don't have the right stuff.)
We were able to catch one of the 3-D IMAX films, called A Beautiful Planet, which was narrated by Jennifer Lawrence. It followed astronauts on the International Space Station as they lived and worked on board.
In the same building there was a presentation called Science on a Sphere. The surfaces of planets and other heavenly bodies were projected on a large sphere in the middle of the room while a host explained the features of each.
We also saw the Space Shuttle Atlantis exhibit. The presentation starts with a film about the launch of Atlantis, and when the film is over, the screen dramatically lifts up to reveal the actual shuttle on display.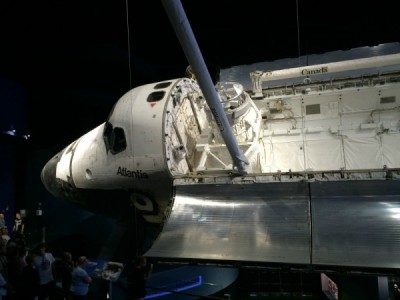 The majestic Space Shuttle Atlantis
I've seen the Endeavour in Los Angeles twice, but the Atlantis is on display with its doors open, which is a sight to behold. In this building are also many displays about the shuttle program in general. My daughter got to sit in a mockup of the cockpit.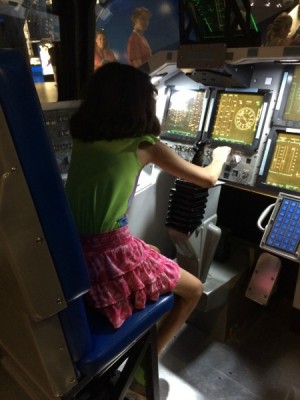 "What I did on my summer vacation: piloted the space shuttle."
There was a touching tribute to the shuttle crew lost in both the Challenger and Columbia, including personal artifacts from each crew member. This was the most poignant and dramatic part of our visit.
We had a quick lunch in the Orbit Café, where the lettuces and herbs in my salad were grown hydroponically right in front of us. Prices were pretty comparable to what you'd find in a Disney theme park.
Afterwards we waited on a pretty lengthy line to get a bus tour of the Center. We rode in an air conditioned motor coach to the Apollo/Saturn V building. Here, we got to "travel back in time" to the 1960's. We overlooking the actual control room where Apollo 8 was launched, and were treated to a realistic reenactment of that day.
We easily could have spent much more time here, but we wanted to turn in early. Our bus driver had told us that the bus stop was through the gift shop. Actually, what he said was, "In compliance with Florida law, the exit is through the gift shop" which made everyone laugh.
There was so much more we could have done. We never timed it right to hear the astronaut presentation, in which an actual astronaut speaks to a theater full of guests. And since none of us survived Mission Space: Team Orange, we thought it best that we skip the shuttle launch simulator.
When we were there, the Center was open from 9:00 a.m. – 7:00 p.m., so if we had the energy, we could have stayed there longer.
If you've ever gazed up at the stars and wondered what it's really like up there, or if you've been fascinated with movies like The Right Stuff and Apollo 13, or if you're fascinated by history, I highly recommend you make a stop at the Kennedy Space Center.
Have you made a stop at the Kennedy Space Center? What were your thoughts? Share in the comments section.