This post may contains affiliate links for your convenience. If you make a purchase after clicking a link we may earn a small commission but it won't cost you a penny more! Read our full disclosure policy here.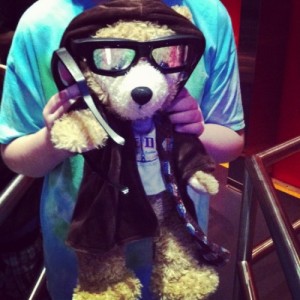 Several people have asked my how I keep my Autism Spectrum child occupied while waiting because there is no way to avoid lines and waits at Walt Disney World.  I want to share what worked for us during this last trip, but as you know, all Autism Spectrum kids are different.  What works for mine may not work for others.
My 9-year old son satisfies his "sensory seeking" with things that are soft and "squishy" and also with things that he can take apart and put together.  Things that keep his hands and fingers busy.  In the Walt Disney World setting, this translates to a nice soft Duffy and the Droid Factory at Disney's Hollywood Studios.  Duffy has been with us for over a year now, and he was my son's mainstay and companion almost everywhere we went.  He rode rides with us and even got to wear his own 3D glasses on Star Tours.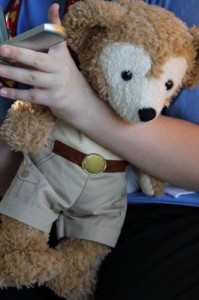 At Disney's Animal Kingdom, Duffy rode the Kilimanjaro Safaris and went out to the Conservation Station on the Wildlife Express Train.  In this photo, my son was holding Duffy and making a video with the video camera.  Making videos is something that kept him occupied with minimal disruption to those around us.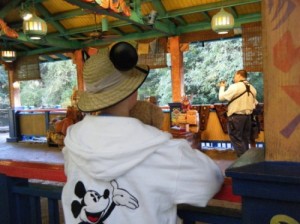 While Mickey's Jammin' Jungle Parade was going by, we ducked down toward Winnie the Pooh and Friends.  Even though the line was short, my son found comfort with Duffy waiting for Winnie the Pooh.  Of course, when the kids got to meet Pooh, Pooh grabbed Duffy and held him close.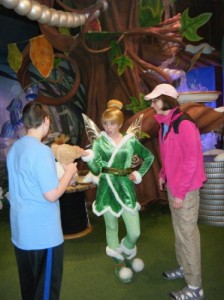 Since the line to meet Tinker Bell was very long, my husband took the kids to do other things while I waited in line, and then, they came and rejoined me shortly before I got to Tinker Bell.  My son, Duffy, and Tinker Bell had a lovely conversation about flying in airplanes versus flying with wings.
I wish I had picture of the Droid Factory, but it was so tight in there.  Also, it was crowded whenever we were in Tatooine Traders.  Disney's Hollywood Studios was our first park day, and we built a droid early in the day.  This was the ONE exception to our not buying any souvenirs for the first few days because we knew it was much more than a souvenir.  Fortunately, we kept the droid with us because it kept my son relaxed that evening and almost every evening during our trip.
One other thing that we did and do at home, too, is to let him have the phone to look at various apps.  Honestly, I'm not sure what we did before iPhones because it is part of my arsenal for when things are delayed.  Both kids liked to look up wait times or see what characters were available.  Also, they would look at pictures that had been taken or take a few themselves.
Obviously, different things work for different children.  This is what worked for us.  There is also a book called The Disney Queue Line Survival Guidebook that has suggestions of things to do while waiting in line at Walt Disney World.  You can read a review of this book at the link provided.  I do not personally own this book, but it sounds like a nice book to have.
So, what do you do that helps your children with the lines at Walt Disney World?