This post may contains affiliate links for your convenience. If you make a purchase after clicking a link we may earn a small commission but it won't cost you a penny more! Read our full disclosure policy here.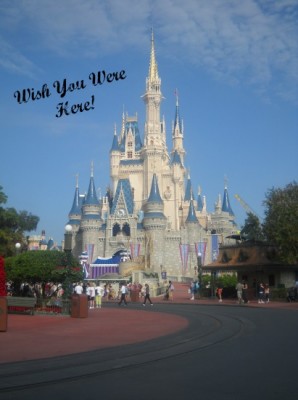 The Mouse For Less Blog welcomes Lisa with tips on how to get rid of the post-Disney blues.
You've just had an awesome Disney vacation! So many memories, so many adventures and now you're on the plane happily snacking on a Mickey Rice Krispie Treat. All the sudden, you start to feel something nagging at you, but it doesn't truly hit you till you have landed. You are suffering from Disney Withdrawal. Symptoms include the inability to stop humming "It's a Small World", confusion over why your Magic Band isn't opening the front door, and as hard as you try you just can't locate the Monorail to get you where you need to be. All kidding aside, leaving Disney is a moment of mixed emotions. You have just made all these terrific memories with family and friends, but now it's time to go back to the "real" world of budgets, groceries and jobs. How can you make the magic last? How can you sneak some pixie dust into the "real" world.
Before you leave House of Mouse,  think about booking a Bounceback offer. Bounceback offers are left for resort guests in the check in folder that is given at the front desk. Bounceback offers can include a percentage off your next trip or they can sometimes be for free dining. You have to book a Bounceback offer prior to check out by calling the number listed on the offer in the folder. You must also put down a deposit of $200 and because some things in life are unexpected you can be refunded the $200 up to 45 days prior to your arrival date. Also, you don't need to book for the resort you are currently staying at. For example, if you are currently staying at Port Orleans you can make your Bounceback reservation for Caribbean Beach Resort. Best of all, this means you're coming back! One step down in conquering Disney Withdrawal.
Another way to conquer Disney Withdrawal, look for Hidden Mickeys. Hidden Mickeys are EVERYWHERE! When my son and I go shopping we find them in the floor tiles, we find them in store displays, we find them while cooking and baking and we even found one in our puppies fur. Finding a Hidden Mickey on a bad day is like finding a four leaf clover. It feels like having a secret that only "special" people know.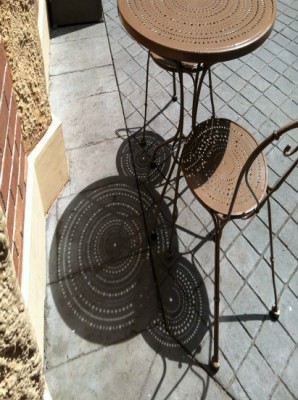 Next, listen to Walt Disney World/Disneyland podcasts. Podcasts are great sources of information. A thirty minute podcast can help you plan your next trip by reminding you that Haunted Mansion is closed for a refurbishment during your vacation week or that the Anna and Elsa Meet and Greet is a 4 hour wait without a Fast Pass Plus (Ugh!). Podcasts can also evoke some terrific memories you may have tucked away. Remember when Tigger and Piglet got your teenage daughter to join the conga line at Crystal Palace or when Chip and Dale challenged your son to see who had the bigger muscles. Yup, those thoughts make me feel warm and fuzzy inside and not so lonely for "home".
After your done enjoying a podcast, pick up a good book and dive right in. There are so many great books about Disney. Need some background information? Pick up "Vault of Walt" by Jim Korkis. Want to find out where all the Hidden Mickeys are? Pick up one of Steve Barrett's books. Need some idea on how to save a little money for your next trip. Try searching out some blogs. (You're already doing well being here!) Maybe you want to brush up on some of your foodie knowledge, how about Googling "Disney Food." There is so much information out there to sink your teeth into and help you plan your next visit. It's hard to be sad when your thinking about food and learning about Disney.
Now pick up your head and turn that frown upside down. Follow one of my words of advice or follow all of them. It's up to you. As for me, I'm going to go snuggle up with a good podcast and plan my next Mouse for Less blot post.