This post may contains affiliate links for your convenience. If you make a purchase after clicking a link we may earn a small commission but it won't cost you a penny more! Read our full disclosure policy here.
My favorite Christmas program as a child was Christmas Eve on Sesame Street.  In this show, Bob and Linda sing (and sign) a song called "Keep Christmas With You All Through the Year".  I try to do that with Disney.
You know the feeling…you've left the parks.  You're back at home.  Maybe you have a bounceback trip booked, maybe you have no idea when you'll get back to Walt Disney World.  Either way, there's always the post-vacation Disney Depression.
So my goal is to keep the magic of Disney alive in our home.  I've got a whole list of ways I do this.
1 – Disney food. I'm no foodie.  I like to eat food that tastes good, but I'm no gourmet.  But I love the food at Disney.  After we get home, I search the internet and find the recipes for the foods I liked there.  For example, we weren't back from Disney two weeks before I'd cooked the Carrot-Ginger Soup from Boma.  I've ordered the Pineapple Dole Whip mix from Unified Enterprises and made Dole Whips at home.   When I'm craving a Mickey Ice Cream bar, I head to the local grocery store and pick up a box of Dove Ice Cream Bars.  If you close your eyes, you'll swear you're eating a Mickey Ice Cream Bar even if it isn't shaped like a Mickey Head.
2 – Other food. We buy Disney fruit snacks and Mickey-head shaped chicken.
3 – Mickey Heads. We search out Hidden Mickeys.  My son is known to arrange his three pills into a Mickey Head before taking them each day.
In the past two weeks, I've seen this hidden Mickey on the back of an Office Max truck
And this one in the Longhorn Steakhouse we ate at for our anniversary.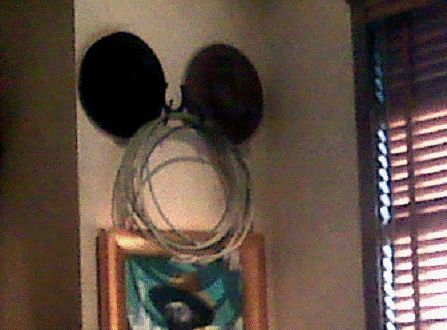 4 – Playing Disney Games. A family favorite at the Disney's Hollywood Studios is Toy Story Mania, so of course we had to get the game for the Wii.  We also enjoy answering the Disney-movie themed questions in Think Fast.  We just recently got Toy Story 3 for the Wii.  I love playing the Friday Night Trivia Chat on The Mouse For Less website.
5 – The Music. My personal favorite souvenirs from the parks are CD's.  Four Parks, One World has music from the attractions from all four parks.  We also have the Illuminations and Wishes CD's.  On the 4th of July, my daughter made us play Wishes while we watched the local fireworks display.  All that was missing was CinderellaCastle!  And who wouldn't feel the magic when the whole family is traveling down the turnpike while singing "Yo Ho (A Pirate's Life for Me)"
6 – Videos of the shows and attractions. Websites like Youtube and Magical Theme Parks have great videos of the fireworks shows, live action shows (like my beloved Festival of the Lion King) and even the actual attractions.  We love putting Jud's Soarin' video up on the TV (using the internet on my husband's PS3) to feel like we're riding Soarin' at home (scents of orange groves and pine trees not included).
7 – Souvenirs that you can use. In addition to the CD's, we try to buy souvenirs that we'll actually use!  I love my Walt Disney World hoodie and the Disney Refillable Mugs are the most-often used cups in our house.  For a while popcorn had to be served in the souvenir bucket; I don't bake without my Mickey apron; and the hats that the kids wear for hat day are always, always, always their Mickey Ears.  I smile each time I get into my Trailblazer with the Sorcerer Mickey head on the antenna.
8 – Watching the Disney Movies. Of course, we watch Disney movies to remember the magic.  Who doesn't smile to see Aladdin and Jasmine fly on the magic carpet, or Cinderella finally get her due?
9 – Photos from our vacation. How better to remember the magic than to look at the pictures from the trip?  I do photobooks (and in process scrapbooks) of our trips and we all enjoy sitting down to see the pictures.  We look at the pictures of the Jammin' Jungle Parade and remember my husband dancing to the music, my daughter getting a fist-bump from Chip and my son getting a high-five from Baloo!
10 – Planning your next trip. Whether you have another trip booked or not, planning for that next trip is a great way to keep the magic with you.  Look at restaurant menus. Read trip reports online.  Keep up with the posts on the Mouse for Less Yahoo Group.  Talk with your family about what worked and what didn't work on a previous trip.
11 – Read Disney Books. I read every Disney-themed book I can get my hands on.  From planning guides like the Passporter and The Complete Walt Disney World to Walt Disney's Biography to fiction books like The Kingdom Keepers series. I love reading books about my favorite place on Earth.
All these activities help me to feel the magic of Disney while at home and they even help me to feel less "homesick" for my home away from home.
Mary Hogue