This post may contains affiliate links for your convenience. If you make a purchase after clicking a link we may earn a small commission but it won't cost you a penny more! Read our full disclosure policy here.
By Michelle Leifur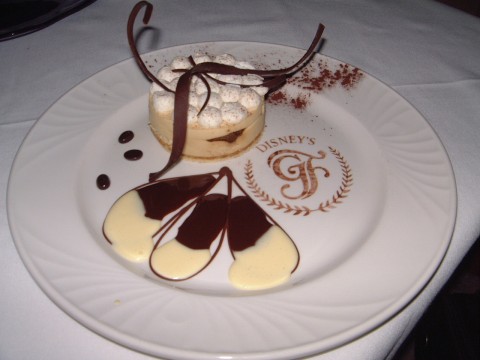 I want my just desserts! Oh, I mean, I want just desserts. That's all. Hold the cheese soup, keep the giant pretzel, don't bother bringing me the "special of the day." I want desserts. It's always been a fantasy of mine to have a "girlfriends' weekend" at Disney and do nothing but go from restaurant to restaurant eating only desserts. Of course, this is neither practical nor healthy. But one can fantasize.
What is it that would make me fantasize about such? Just take a look at the menus to see why. Now, stop drooling. You can't get all that excited about just the names. So let me tell you a bit about some of my favorite desserts.
Let's start with counter-service desserts. Or maybe not. For the most part, the counter service restaurants at Animal Kingdom, Magic Kingdom, and MGM Studios are sorely lacking in decent desserts. There is cheesecake, chocolate cake, ice cream, and sometimes pie. But they are your everyday standard ordinary desserts. To get a real dessert you are first going to have to go to a real restaurant, Epcot excluded.
Epcot has a lovely variety of desserts throughout the World Showcase at the counter service restaurants. From kaki gori in Japan to churros in Mexico. From the croissants in France to the lefse in Norway. (Lefse, by the way, is a potato pancake, but it's served with sugar not onions and sour cream like what most Americans associate with potato pancakes – latkes). By far the best place to get a dessert is Morocco. At the coffee bar in the Tangieriene Café, is a display of delectable Middle Eastern sweets. There are several different baklavas and castillas. These are nutty and sweet and some even are covered in swirls of chocolate.
As long as we are in Epcot, we might as well talk about some of the finer restaurants' dessert selections. At the Rose and Crown, I would definitely go for the Bailey's Crème Brulee. Although, the Guinness Chocolate Cake isn't too bad either. If you just can't make up your mind, get the Chef's Sampler and try a bit of each (but save the brulee for me!) At Marrakesh, go for the establishment's namesake and have the Marrakesh Delight, fresh fruit salad topped with mint ice cream, toasted almonds, and orange blossom water. It is the perfect compliment to a full meal. Although if you are just going for dessert, then get the Crepes Casablanca. Crepes with roasted almonds, cinnamon and honey topped with a scoop of ice cream. If you happen to dine at the Biergarten, you mustn't pass up on the Apple Strudel. But since it is a buffet, go ahead and try a little of everything. Only your waistline will object.
I think that the dessert that I love best at Magic Kingdom would have to be the Caramel Apple Tart at Liberty Tree Tavern. This is just like eating a cross between the best apple pie and a caramel apple. It will make you never want to eat another Caramel Apple Empanada at Taco Bell again for sheer disappointment. The apples are just as perfect as they can be, not too sweet, not too tart and just the right amount of tenderness. The sauce is creamy and sweet and delightfully balanced between apple pie taste and caramel apple taste. Definitely worth the stop! A close second to that would have to be the Pineapple Upside Down Cake at Crystal Palace or maybe it is the Chocolate Fairytale at Cinderella's Royal Table.
Heading over to Disney MGM Studios, I would say first hit Mama Melrose! When it comes to dessert, just say, "Per favore!" (That means please.) Whether you go for the Tiramisu, the Honey Hazelnut Cheesecake (with orange sauce, please) or the Warm Chocolate Truffle Cake, you will not be disappointed! For an Italian restaurant, they have a gorgeous (and delicious) array of treats! I also recommend just about all the desserts from the Brown Derby. My family just rolls their eyes when I order dessert first. I mean it is the most important part of the meal and I really want to remember that there is a White Chocolate Macadamian Nut Cheesecake or Roasted Strawberry Crème Brulee or maybe a slice of New Age Chocolate Decadence Soft Cake (which by the way has no sugar and is vegan friendly and it still tastes scrumptious!)
If you decide to dine at many of the fine resort restaurants, you will again be pleased with the wide selection of desserts that they each have to offer. Whether you choose the Tropical Fruit Brulee from Citricos or the 'Ohana Bread Pudding a la mode with Bananas Foster Sauce, you will find a wonderful array of desserts awaiting you.
If pressed to pick just a single dessert from Disney that I would say is the best, I would have to go with the Blue Berry Sorbet from Jiko's at Animal Kingdom Lodge. What sets this dessert apart from all the others is simply its uniqueness. It is neither chocolate nor apple nor cake nor pie nor custard nor common. It is a delightfully light sorbet served on a nest of berries, drizzled with pomegranate with a cookie decoration.
Needless to say, there is something to meet everyone's sweet tooth at Disney. Whether you prefer chocolate or fruit, crunchy or creamy, familiar or exotic, or warm or chilled, there is a dessert waiting for you at Disney. So don't fill up on the main course or you may be cheating yourself out of a real treat.
Do you have a favorite dessert or dessert experience? Write to us and let us know what it is that you enjoy that hits the spot after dinner.
(Send your entries to magicallyspeaking@themouseforless.com)
Magically Speaking Featured Article
Library of Congress ISSN:1556-3863