This post may contains affiliate links for your convenience. If you make a purchase after clicking a link we may earn a small commission but it won't cost you a penny more! Read our full disclosure policy here.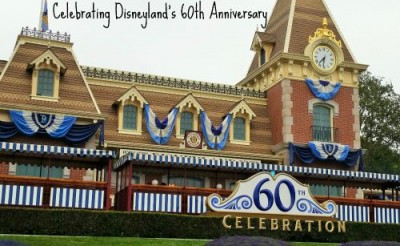 This past Friday, on July 17, 2015 I celebrated Disneyland's 60th birthday at the park! It was a great day full of fun and celebration.  I was there with my kids, my siblings (and their spouses), and my parents. It was wonderful to celebrate so many years of family memories at Disneyland, and to create many new ones.
There were a few things that Disneyland did to help make the day special. To begin with, they invited guests to come dressed in their 1955 finest. For the occasion I dressed up, as well as several other guests. Many had some really great outfits that not only showed off some of the best fashions of the era, but also showed their love for Disneyland.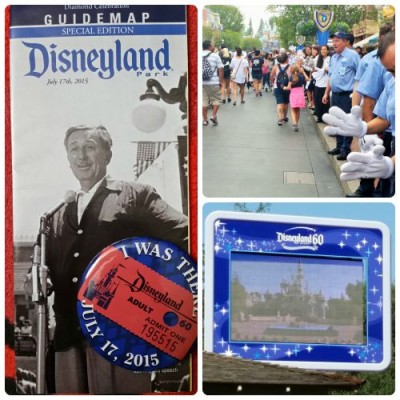 The celebration began as soon as we got off the tram at the World of Disney store. All long the walkway leading to the bag check area were Cast Members wearing Mickey gloves ready to give every guest a high five and a cheer.
Once we passed through the bag check area, we were each given a special edition of the OC Register  newspaper that honored the 60th Anniversary. The park was scheduled to open at 8:00 a.m., but when we arrive at 7:30 a.m. the gates were already open, and guests were inside the park.
As we made our way down Main Street, it was lined with more Cast Members waiting to give us all a high five and a welcome. There was everyone from the office staff to maintenance workers waiting to greet us. It was awesome. We also received a special button when we entered the park to show that "We were there!"
At 10:00 a.m., a re-dedication ceremony was held. It took place in front the Sleeping Beauty Castle, however, due to heavy crowds it was difficult to watch from there. In anticipation of such a problem, giant screens were set up in several locations throughout the park and I was able to view it from one in Frontierland.
The ceremony began with a speech from the President of Disneyland, Michael Colglazier. He honored several special people who were present including members of the Disney family, original Cast Members from the park's opening in 1955, and original Mousketeers. He also announced a new program, "The Million Dollar Dazzle", where throughout the Diamond Celebration this year, Disneyland will be making donations to local organizations in need in amounts totaling to $1 million.
Following his speech, the one and only Richard Sherman appeared with Broadway star, Ashely Brown, who together honored Walt Disney by performing "Feed the Birds" one of Mr. Disney's favorite songs. Following their amazing performance, they led all of us in singing "Happy Birthday" to Disneyland.
After watching this great ceremony we then proceeded to enjoy the rest of Disneyland. We rode some rides and met some characters. I tried to do things that I don't always get a chance to do. I finally got to see "Mickey and the Magical Map", made it over to "Great Moments with Mr. Lincoln" for the first time in a long while, took my son on Indiana Jones for the first time (he is finally tall enough!), and found some more pressed coin machines (we are trying to collect them all).
At 4:15 p.m. there was a special pre-parade event to honor original and current Cast Members. The original 1955 Cast Members rode down the parade route in the Main Street vehicles escorted by current Cast Members and some classic characters as well.

There were also cupcakes available throughout the park for every guest to have to celebrate. After all, what's a birthday without a little cake? They were quite delicious!
We enjoyed a great family meal at the Carnation Café. We made reservations in advance (which is something I highly recommend, especially when visiting during peak season), but still had to wait a bit for our table to be ready. In fact my son took this time to take a little nap.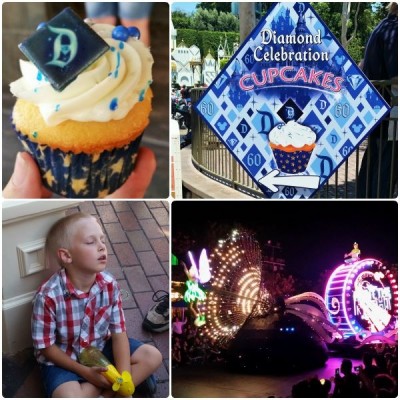 We finished off the night watching the absolutely wonderful "Disneyland Forever" fireworks show and the midnight running of the exciting "Paint the Night Parade." As a big fan of the old "Main Street Electrical Parade" I think that "Paint the Night" is a fun modern version of the concept, with fun music and great light effects.
At the end of the night we were all very tired, but glad that we were there to celebrate Disney's Diamond Anniversary!
Were you there celebrating Disneyland's 60th birthday? Or do you have a favorite Disneyland memory from the past 60 years? Share with us in the comments!