This post may contains affiliate links for your convenience. If you make a purchase after clicking a link we may earn a small commission but it won't cost you a penny more! Read our full disclosure policy here.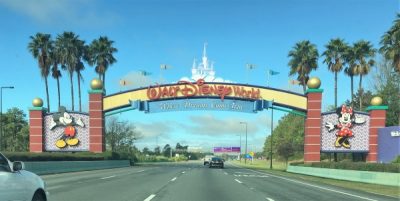 For most of us any Disney vacation is going to involve some travel.  Car, bus, train, plane, no matter what transportation you choose, your children will likely need some distractions to help the journey go a bit faster.  
This is a list of magic items and tricks that can help avoid the ceaseless cycle of questions that sap the life out of parents, such as  "How much longer?" and "Are we there yet?"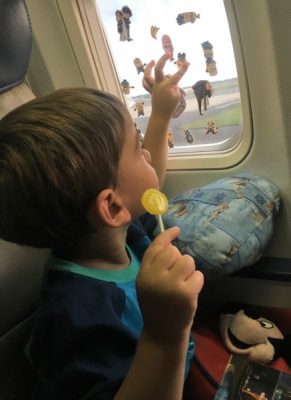 Colorforms.  Early in my Mom years I used to take stickers for my kiddos. Crusty looks from flight attendants and broken fingernails from peeling those stickers off of windows led me to search for a better option.  Yep, these colorforms are the same ones that were around when you were a kid.  They still make them in all of the popular characters and fads. Frozen, Cars, Doc McStuffins, Marvel – whatever your kids are into, they probably make it.  They are just as awesome as they always were.  Kids can stick them to the windows, doors, table tray, books, or the fun mat that comes with them, and they are super easy to peel off and reuse.  Plus you don't end up looking like this: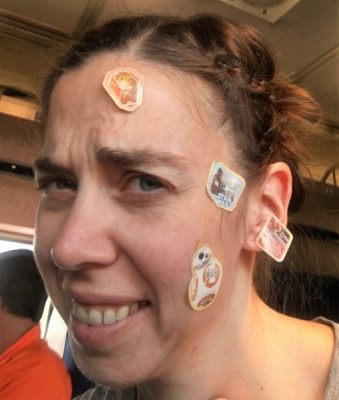 Magna Doodles.  They make these in a travel size for portability.  We like to play the drawing game, which works best if you have 2 children or an adult who is not driving!  The first person makes a mark on the screen;  it can be anything – a circle, a line, a zigzag.  The second person then has to turn it into something.  This is a great game for building creativity and imagination, and we play it alot even when we aren't traveling!
Cheerio Necklaces.  All you need for this activity is a snack bag full of cheerios, tape,  and some dental floss.  Cheap, easy, and doesn't take up much space!  Tear off a length of dental floss long enough to make a necklace or bracelet.  Make sure you leave enough room to for tying the ends.  Tape one end of the dental floss to any surface.  Your child can practice fine motor skills by threading the cheerios onto the dental floss.  Tie it off when they are done, and voila!  It is snack time!  
"I'm going to Disney…" game.  Start off by saying "I'm going to Disney, and I'm going to take___________.  Do you want to come along?" Fill in the blank with anything that starts with the letter A.  Apples, Ariel, asparagus, etc.  The next person has to follow the pattern, "I'm going to Disney, and I'm going to take_____________."  If they fill in the blank with something that starts with the next letter of the alphabet, say, "Great!  You can come along!"  If they don't pick something that starts with B, say "Sorry.  Maybe you can come next time."  If they do pick something that starts with the correct letter, say "Great!  Let's go!"  Go on to the next player and keep going until either everyone has figured out the pattern or everyone is sick of the game.  🙂  My daughter knows it is the alphabet game and we still play on long car trips.  Sometimes we pick a theme (animals, colors, songs, etc) and try to things to bring along that fit the theme.  
Snacks.  Lots of them.  Hunger is the fastest way to create grumpy travelers.  We try to avoid sugary snacks because, well, have you seen my children after sugar consumption?  If you aren't sure what I mean, join your child's class for their school Halloween party this year.  

Some of our favorite portable snacks include:

* Applesauce pouches
* Carrots/Celery sticks
* Gum/Mints (not really a snack, but it keeps mouths busy for a bit!)
* Water bottles (for air travel, we take empty water bottles through security, then fill them up before boarding)
* Hard crunchies (Cereal, pretzels, nuts, crackers, popcorn)
* Puffs
* Hard-boiled eggs
* Fresh fruit (bananas, oranges, etc)
* Bars (protein, granola, fruit)
* Dried fruit
* Zollipops (lollipops made with xylitol, no sugar.  Bonus:  They were created by a 9-year-old!)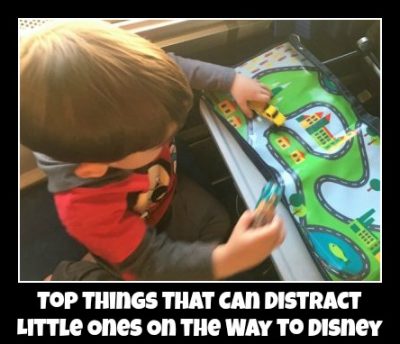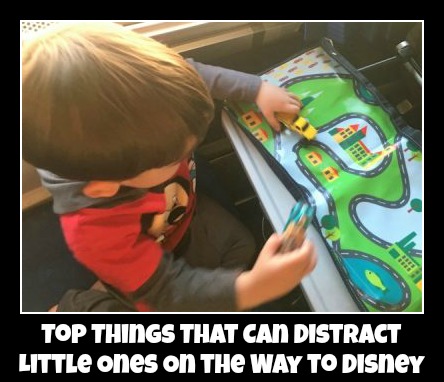 Tiny Presents.  This doesn't need to be anything expensive or extravagant.  They are going to Disney, after all!  But I like to stash away a few tiny new toys (you can stock up at the dollar tree or Target's dollar spot for not much money!) Squinkies, card games, small plastic toys, Matchbox cars… I wrap them to make it more fun.   Dish them out as prizes for winning a game, pass out one new one each hour, give one out when the troops start getting restless.  There are lots of options.  The one thing I do not recommend is giving all of them out at once.  I tried that when my daughter was 1 ½; I got her a bag full of fun new toys.  She tore through them in the first five minutes and starting complaining that she was bored.  Dish them out slowly to keep the fun going.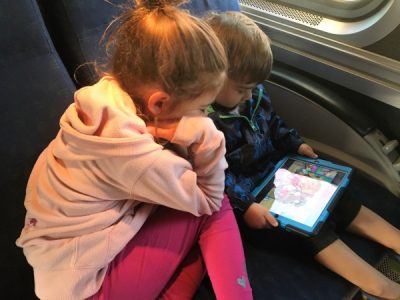 Screens.   Stuck on an airplane in close quarters with 200 strangers, an iPad can be the difference between compliments about how well behaved your children are and flight attendants escorting you off of the plane.  Yes, we too try to limit screen time while we are at home. When your tiny person is unnaturally confined for extended periods of time, being both over- and under- stimulated, it is not the time to stick to those screen time rules.  We give our kids free screen reign when traveling.  I usually try to load a new movie, new apps, and new books onto my kids' kindles prior to traveling.  With so many great Disney flicks and apps to choose from, I'm sure you will find some they will love. 
Band-Aids.  My kids have always loved bandaids.   For Christmas when she was 2 I filled my daughter's Christmas stocking with different types of bandaids.  They love opening the package to see what fun colors and characters are waiting underneath.  Give each child a new box of band-aids (they have some great Disney kinds out there!) and let the fun begin:  

S

ort by character, size, picture, favorite to least favorite

Take a piece of paper and decorate with band-aids, or just put one band-aid on and draw the rest of the scene

Tell a story – what is happening with the character

Band-aid Puppets – Put the band-aids on the tops of (pencils, popsicle sticks, etc) and act out a story
Conversation.  Plan out your trip.  Ask the kids what they are most excited about, what they want to do on vacation.  Their answers might surprise you.  If you are headed to WDW, They might be more excited to swim in the Nemo pool or catch lizards at your hotel than to actually go to the theme parks.  Make sure you make time in your brilliantly planned trip for them to just be kids and enjoy the things they want to do.  
Coloring Materials.  They make great little travel coloring sets, with a coloring book, crayons, and a few little stickers all in a package.  I've purchased these in bulk for our many vacations, but to be honest, my kids aren't that into it.  They seem like a great idea, so I mention it here just in case they do work well for your kiddos.  But we usually end up dragging them to our destination and then dragging them home unopened.  My kids love to color at home, but on the go these just haven't been a huge hit.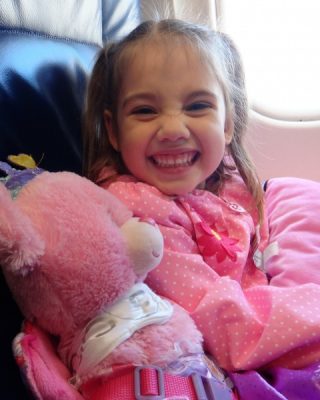 Stuffed Animal, Pillow, Blanket.  Kids adapt easily.  My kids will sleep just about anywhere, provided they have the magical sleep items they require.  Each child takes a backpack with a favorite stuffed animal, a small travel pillow, and their special blanket.  These really are essential, as rested children are happier children.  
I Spy.  My kids love to play I Spy.  "I spy, with my little eye, something _____________."  The kids take turns guessing until they figure out what I was looking at.  It can be anything – trees, the steering wheel, clouds, etc.  Whoever guesses correctly gets to go next.  
Post-It Notes.  Toddlers can have a field day sticking these to everything, and they come off easily.  Older kids can use them to draw, write, make origami.  Great versatile tool to keep in your purse for anytime you need a distraction.  
Scavenger Hunt.  This can be a great way to get kids tuned into what is going on around them.  If the physical things aren't nearby, my daughter gets creative and finds them in books or on her kindle.  Some possible items to search for: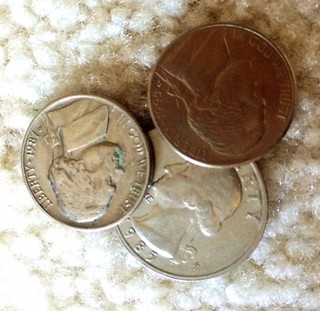 How many people near you are staring at a screen?

Find someone wearing sunglasses.




Find something with 4 legs (an animal, chair, table).  




Find something yellow.  




F

ind someone who is humming.  



Find something soft.

Find a bird.


Find a hidden Mickey.
A great variation of this is a photo scavenger hunt, when the children have to capture photos of the items on the list.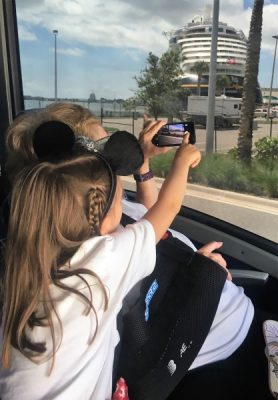 Camera.  I think this is one of the best travel tools.  My kids love to take pictures, with my phone, their kid cameras, or their kindles.  They don't care about megapixels or resolution, they just like pushing that button.  Bonus points if the device has editing or image enhancing capabilities so that they can play with the photos after they take them.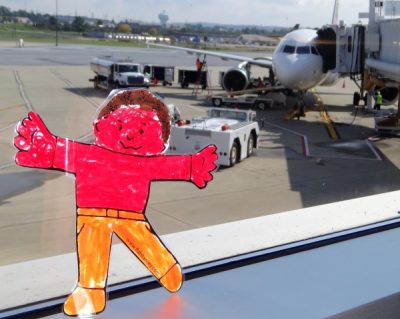 Flat Stanley.  Perhaps your kids have read this book in school, or maybe you have read it at home.  If not, your local library has a copy, and it is a great story to get kids thinking about where Flat Stanley could go next.  He has joined us on several trips to Disney World and on couple of cruises.  Flat Mickey joined us on our last cruise as well.  A quick google search will bring up dozens of templates for Flat Stanley that you can print out, color, and laminate for your next journey.  Having Stanley along gives your children a fun pal to take care of along the way, which helps make the travel time go a little faster.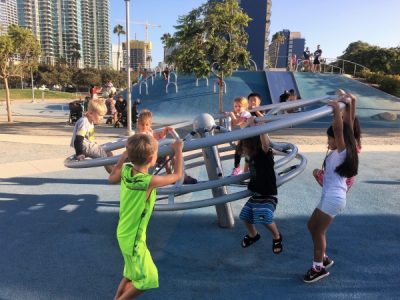 Breaks.  Stop and take breaks when you can.  Find a playground, or just somewhere the kids can stretch their legs and be free.  Their little bodies were not meant to be confined for long periods of time, and they will handle the next leg of the journey a lot better if they can run and be wild for a little while.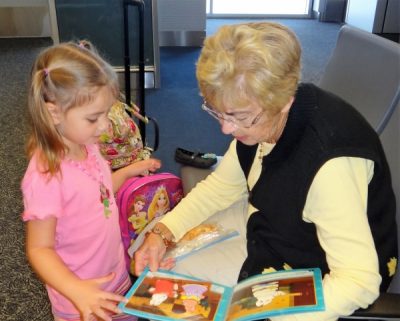 Books.  A few new books stashed away in a carry on can be a great distraction.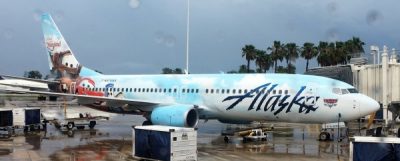 However you decide to travel, getting there can be a bit stressful.  The most important thing you can bring along is some extra patience.  Travel can be hard for everyone, especially our tiniest of travelers.  But with a full bag of tricks, your next adventure can be full of magic from start to finish!
What are your tips for keeping kids distracted while traveling to your destination? Share them in the comments.
Did you like this article? Make sure to share it with your friends! Check below for easy ways to share!
Sponsored Ad:  Would you like to help support The Mouse For Less website in continuing their mission of being THE Disney vacation planning resource?  You can do so by purchasing from our Affiliate Links through Amazon. Thanks so much for your support!