This post may contains affiliate links for your convenience. If you make a purchase after clicking a link we may earn a small commission but it won't cost you a penny more! Read our full disclosure policy here.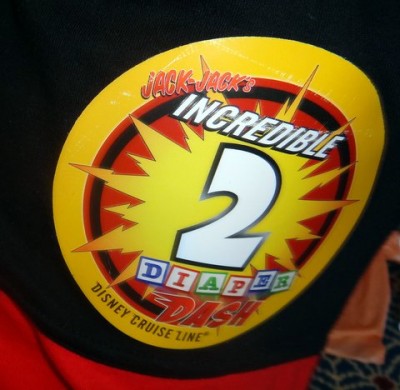 On your mark… get set… GO!!
Get ready for the race of a lifetime with Jack-Jack's Incredible Diaper Dash!
Inspired by the character Jack-Jack from the 2004 Disney Pixar movie, The Incredibles, Jack-Jack's Incredible Diaper Dash is held on each of the Disney Cruise Line ships.  It is a race to the finish to see which baby has the greatest speed superpower.  All crawling babies on board are invited to compete in the race.
A padded track takes over the ship's lobby atrium as the music from The Incredibles sets the tone for the competition. It is every baby for himself (or herself!) as they don their race numbers and race the daunting 20 feet to the finish line.  Concentration is difficult amidst great obstacles such as cheering spectators, enthusiastic parents, and other crawling babies!
There are several rules for this event:
The contestant must cross the finish line to win.
Parents are not allowed to interfere by scooching or sliding baby along.
Babies must be crawling; walkers are disqualified.
When my daughter found out that she was going to have a baby brother, one of the first things she asked was if she could take him on a Disney Cruise and race him in the diaper dash.  As a spectator on two prior cruises, she adored this event and loved watching the babies race.  She was ecstatic to finally be a part of the race, and insisted on being at the finish line to coax baby brother along.  She carefully picked out some of his favorite toys and lined them up at the finish line to entice baby brother.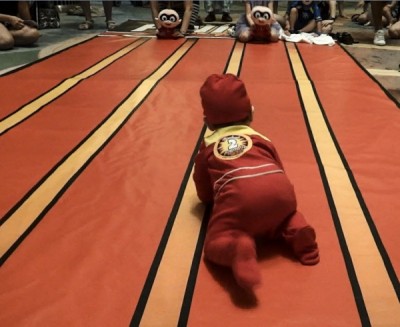 After interviewing each of the contestants and their coaches about their race fuel (unanimously the contestants in our race had bananas and oatmeal for breakfast!) and their motivation for completing the race (toys, moms, and siblings), contestants lined up to begin the race.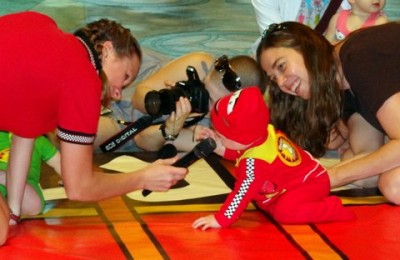 With a huge "Ready, Set, GO!" the contestants were free to begin, but most elected instead to remain at the starting line to size up the competition.  Parents energetically tried to tempt their babes to get moving with various toys, smiles, and other tactics.  In an act of desperation, one father even tossed his iPhone on the track to entice his daughter to pick up her speed.  It worked to get her moving, but she stopped immediately and sat down once she reached the phone.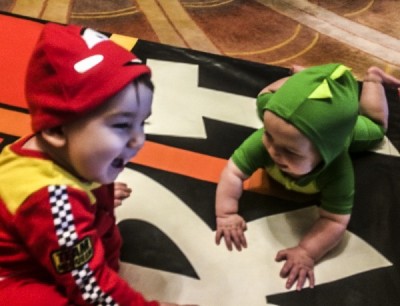 My little racer came in second in our diaper dash, and I am quite the proud Mama that he finished!  Not all contestants were able to maintain the focus necessary to complete the entire 20 foot journey. Racing is hard work, so make sure you plan for a nice long nap time after the competition.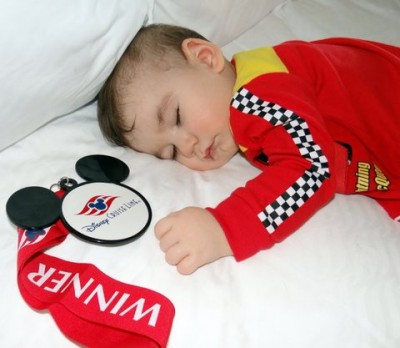 If you are traveling with a baby, you will definitely want to participate in what is arguably the cutest event on board the Disney Cruise ships!  Even if you aren't traveling with a baby, you won't want to miss this hilarious and memorable event.  Jack Jack's Incredible Diaper Dash typically happens in the Lobby Atrium on each of the 4 ships on a day at sea, so check your Navigator for details.
Have you ever participated or watched Jack Jack's Incredible Diaper Dash? Share your stories in the comments!
Incoming search terms:
https://www themouseforless com/blog_world/jack-jacks-incredible-diaper-dash/
disney cruise diaper dash
https://www themouseforless com/blog_world/jack-jacks-incredible-diaper-dash/#:~:text=Inspired by the character Jack to compete in the race
incredibles diaper change story fanfic
jack-jacks diaper fanfiction