This post may contains affiliate links for your convenience. If you make a purchase after clicking a link we may earn a small commission but it won't cost you a penny more! Read our full disclosure policy here.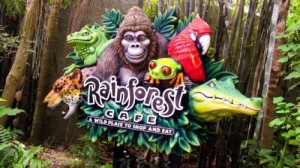 Every Saturday night, my family goes out to eat for dinner. We all know we will be going out to eat this Saturday, but (like every Saturday before) we will be sitting around waiting for someone to decide where we are going. I ask the kids, they respond with "I don't care." I ask my wife, she says "it's up to you." I pick a place and nobody wants to eat there. So the circle continues until we finally all agree. Sadly, I know that I'm not the person that this happens to. It's okay to admit it.
For that very reason, once we booked our Disney vacation, I sat down with my daughter at the computer to decide where we were going to eat while on vacation. Simply go to the Walt Disney World website and click on "dining." You can do this 180 days before your vacation (which I highly recommend). Our process took about an hour (mostly because she likes to look at every single option), but we have our dining covered for the entire 7-day trip (note: we booked the meal plan with this trip). Here's what we came up with:
Magic Kingdom – We tried to get a table at the new Be Our Guest restaurant in the new Fantasyland. They were booked solid the entire week for dinner. So, plan B is to go there for lunch. They do not take lunch reservations, but since we know we want to eat there, an early or late lunch may get us in without much of a wait (fingers crossed). For dinner, I suggested the Crystal Palace, but my daughter has a "been there, done that" attitude about the CP. We decided that another counter service location may be best while at the Magic Kingdom. After all, we need to save room for the Dole Whip that we will be eating later that day.
EPCOT – Our favorite restaurant in EPCOT is the Garden Grill. My daughter loves that the restaurant spins while we eat (not like the tea cups … much, much slower) and she gets autographs from Mickey, Pluto, Chip and Dale. Since we are going to EPCOT twice on vacation, we also decided to try the Coral Reef restaurant. You should know that neither one of us likes seafood, but it's all about the dining atmosphere in Disney. Plus, I know that they have other options because there is a menu for each restaurant on the website. We are planning on visiting Italy for lunch because I've heard great things about Via Napoli.
Hollywood Studios – For some reason the Sci-Fi Dine In Theater has become our lunch location at HS. We've eaten at Hollywood and Vine and the 50's Prime Time Cafe before, but this time around, we are going to eat dinner in Downtown Disney. My daughter loves dinosaurs and T-Rex is one of our favorite places to eat. Plus, restaurants in Downtown Disney now accept the meal plan.
Animal Kingdom – The morning kicks off with a buffet at the Tusker House. It will end with a trip to the Rainforest Cafe. We've never eaten at the Rainforest Cafe in Disney, but have eaten there in Chicago. Something tells me that seeing other animals besides just Bears and Tigers will add to the experience.
Other locations – Like everyone else, we tried to book breakfast at Chef Mickey's and it was full. Luckily, O'hana and Cape May Cafe are suitable character, breakfast buffet replacements (I actually like them better than Chef Mickey's).
My best piece of advice is to plan ahead. You don't want to be asking your family to pick a place to eat while you are walking around the parks. While you are debating, the options get smaller and the lines get longer. Who needs that extra stress on vacation? I don't … and it's okay to admit it.