This post may contains affiliate links for your convenience. If you make a purchase after clicking a link we may earn a small commission but it won't cost you a penny more! Read our full disclosure policy here.
By Michelle Leifur
My, oh my, what a dull rainy day!
"The sun did not shine. It was too wet to play. So we sat in the house all that cold, cold, wet day. I sat there with Sally. We sat there, we two. And I said, 'How I wish we had something to do!'"
Hold it!! Hold it right there. That's Seuss. That's not Disney. Maybe in "Seussworld" there is nothing to do. Maybe in "Seussworld" it is "too wet to go out." But at Disney, a rainy day is the perfect time to venture into the parks and go exploring! So forget all about "Sit! Sit! Sit! Sit!" C'mon, pal, pull on your rain poncho, and let's get going!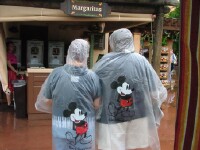 I suppose that is where we should start. With your rain poncho. We have found that for a Disney vacation, ponchos are much handier than raincoats and don't take up as much room. Also since ponchos are roomier than a raincoat, you can add a sweatshirt or coat underneath them if you happen to be at Disney on one of their rare cold days in the winter. Disney sells ponchos for $5 for youth sizes and $6 for adult sizes. However, ponchos can be purchased inexpensively from discount merchants prior to your vacation. Our Disney ponchos have lasted us through several trips and are still in great shape! Once at Disney we check the local morning news to see what the outlook is going to be and dress appropriately. Aside from our raincoats, we have found wearing a billed cap, like a baseball-styled hat, is especially useful for keeping the rain off our faces and glasses. And they fit nicely under the poncho hoods as well.
The other concern that you will run into on a rainy Disney day is going to be wet feet. I tend to go 2 directions with footwear when it comes to rain. Either wear leather or leather-quality closed heel and toe shoes with socks or just "let it all hang out" and wear sandals. If you opt to wear socks, you may want to bring extra socks in your pack for a mid-day change. Either way, keep a mental check on your feet and take appropriate action if you start to feel blisters arise.
You have your poncho and hat. You have your shoes. So where are you going to head? That's easy. Wherever you like. Many people are going to be like Sally and her brother and sit in their resort room watching the rain come down wishing for a mythical talking cat to come to entertain them. That means that lines and crowds are going to be shorter in the parks. I decided to do a little "top 10" for the parks and then a "top 5" for resorts and other Disney attractions.
Parks
Ride the rides. Most of the rides have sheltered queues. This means you just have to dart from one ride to the next.
See the shows. This is a great way to keep dry. Catch Hall of Presidents, The American Adventure, Country Bear Jamboree, Little Mermaid, Playhouse Disney, and It's Tough to be a Bug are just some of the shows you can catch and stay dry. And a rainy day is the perfect time to catch Festival of the Lion King! Now completely enclosed and air conditioned this is a great rainy day escape!
Greet some real characters! Disney brings the characters out in full force when it is raining. You can find them in just about every nook and cranny throughout the parks when it rains. We've even spotted some hard-to-see characters on a rainy day, including Jiminy Cricket, B'rer Rabbit, and Thumper!
Go shopping! Did you know that you can shop your way all the way up and down Mainstreet, U.S.A. without ever going outside? Yep, the shops along Mainstreet interconnect, making it possible to go from Casey's to the Emporium without getting a single drop of rain on you! MGM also offers some "easy to stay dry" shopping! There is no better way to wait out a sudden downpour than taking in the atmosphere of an African market or Japanese department store!
Go to guest services and see about getting a Priority Seating at one of the wonderful dining opportunities. You might be surprised to find that guests will cancel their Priority Seatings because of the rain! What a great opportunity to get a meal at someone else's doldrums!
At Epcot explore all that Innoventions has to offer. Many people whirl through Innoventions on their way to other attractions. A rainy day is a great time to play interactive computer games, match your fire hazard-finding abilities with other guests, and build a plastic robot. Displays change periodically in both Innoventions East and Innoventions West, but there is always something to see and plenty of hands-on things. Kids will find they can play a Toontown game against other young guests, perform in a game show, and even make their own recycled paper.
While at Animal Kingdom, ride the safari. Several times. The rain seems to bring many of the animals out for better viewing. The elephants have been known to trumpet in the rain and the cheetah family has been seen running and frolicking during rain showers! Be prepared to get wet, but don't miss it!
"You will get wet. You may get soaked!" This is the warning at Kali River Rapids. During rainy days, consider the second part to read "You will get soaked." Take advantage of a rainy forecast by riding Kali as many times as possible. You may even find that the lines are so short that you can go a second time without having to get out of your boat! I mean as long as you are going to get wet, you might as well make the most of it!
Play at an arcade. Aside from the arcades in Frontierland and Tomorrowland, there is a penny arcade at the train station at the end of Mainstreet. It is a great way to get out of a torrential downpour without costing you an arm and a leg! Arcades can also be found along the Boardwalk and at most resorts.
"Building hop" through Future World. Check out Ellen's Universe of Energy, The Wonders of Life, The Living Seas, Living with the Earth, and the Imaginations building for a host of things to see and do. You could even find yourself in a deep conversation with a sea turtle, dude!
Outside of the parks
Yes; I'm going to mention the obvious: shopping. Whether it is at Downtown Disney or at one of the many resorts, there is plenty of indoor shopping to be had.
Dining. Again, there is plenty of this to do throughout the Disney property. Have a nice meal at one of the resorts. Head over to the Boardwalk for some unique flavors or go to Downtown Disney and discover something fun.
For nighttime rains, take in a show. Sometimes there are Priority Seatings available for the Hoop-dee-doo review or Spirit of Aloha. Or see if there are any seats available for Cirque du Soleil's La Nouba. You could even put on your dancing shoes and bop the night away at Pleasure Island.
Take a swim. Seriously. If there is no lightning the pools and water parks remain open.
Resort hop! This is a great way to visit those resorts that you have only heard about. You can catch buses from DTD to any of the resorts or catch a monorail to the Grand Floridian or one of the other monorail resorts!
So you could be like the bored children in Cat in the Hat or you could have a very eventful day. Oh, and don't forget to take pictures. Your friends back home probably won't believe that you had fun in Florida's "alternate sunshine!"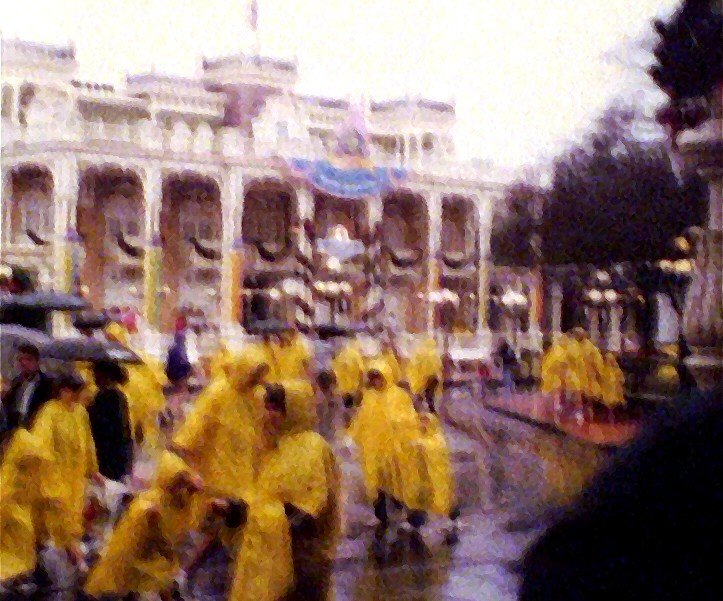 Magically Speaking Featured Article
Library of Congress ISSN:1556-3863