This post may contains affiliate links for your convenience. If you make a purchase after clicking a link we may earn a small commission but it won't cost you a penny more! Read our full disclosure policy here.
From Our Magically Speaking Newsletter Archive – subscribe today!
By: Ann Dunnington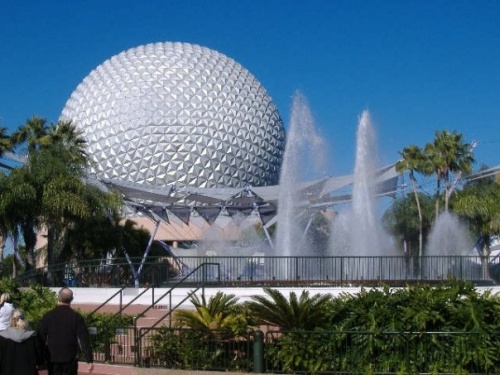 Those of us seasoned Walt Disney World travelers know all about the changes that have occurred over the past few years in regards to Disney vacation planning. FastPass+, Dining Reservations, Hotel Reservations, Dining Plans, Ticketed Events, Behind the Scenes Tours… you name it. In many different "Disney Fan Communities" around the internet, travelers have begun complaining that you can no longer have an unplanned, unscheduled trip to Walt Disney World, and the previous spontaneity that vacationers used to feel is now gone. But is it REALLY gone? Can you not have a fantastic trip to Walt Disney World unless each minute is pre-planned 60-180 days before your trip? I say, you absolutely can!
In July, my husband and I took a very unplanned trip to Walt Disney World. We decided to book a last minute long-weekend trip two weeks ahead of time. We had never traveled to central Florida in July before, but since we, like many of you reading this, are "in the know" about all things Disney, we absolutely knew what to expect (hot, crowded, and afternoon rain storms). With just two weeks to "plan", we decided that we wanted to try to wing it WITHOUT set plans, just to see what would happen.
I would be remiss if I didn't say that I did plan a tiny bit. However, the only planning I actually did was to see what parks had Extra Magic Hours (and avoid them, since we were staying offsite for the first time since the early 1990's), and to make sure my touring backpack was packed with water, snacks, bandages, an umbrella, wet wipes, a big floppy hat, sunglasses, sunscreen, and my phone and wallet. We didn't, however, have even one FastPass or Dining Reservation made. In July. Were we insane?! Spoiler alert, it was just fine, and so much more relaxed than in previous trips. How?
Of course, there were a few things that we knew we needed to do if we weren't going to go by a detailed touring plan for the first time ever:
We knew we needed to arrive at the parks a little past park opening. Why not prior to park opening? It gets crowded when the vacationers have nowhere to go before the parks open, so we wait about a half hour to let the crowds enter the park before we head in. Our first day we decided to park our car at the Transportation and Ticket Center and leave it there for the day. First up was the Ferry Boat to the Magic Kingdom. It was packed, so we decided to go up to the upper level to get away from the crowd a bit. We stood near the Captain and got to watch through the window his amazing boat parking skills! So fun, and something we had never seen before.
We knew that we had to go with the flow. Once the boat docked, we let the crowds go ahead of us. No need to rush! We were the last off the boat and walked at a leisurely pace, saying "hi" to every Cast Member we passed. At both the bag check and the ticket scanner, there was always a Cast Member that had little to no line (generally those on the far ends). We knew this was going to be the case, so that's where we headed! We were in the park in no time! Once inside the parks, we knew there would be large tour groups and crowds at every turn. We knew that it was probably going to rain each afternoon. We knew it was going to be hot. And that was ok! If we got hot, we went inside a gift shop. If we got thirsty, we picked up a free ice water from the various Counter Service restaurants. If we got hungry, we stopped in a shady spot for a snack. No need to rush to our FastPass attraction to meet our time since we didn't have any. We just went with the flow.
We knew we weren't going to be able to ride everything we wanted to.   This was ok, too. We decided to explore areas of the parks that we had never been to before. Like, the Main Street Train Station. How many of us just walk right past it when we enter the park? Or the new Hub by Cinderella Castle. Or the back of Morocco at EPCOT. Or the smaller paths behind the Tree of Life at Animal Kingdom. There are so many places to explore! And, we had a blast finding them. While wandering around the parks, we used the My Disney Experience app to see what the wait times were at the various attractions. Believe it or not, there were tons of attractions with very little wait if you knew where to look. Sure, the headliners like Splash Mountain or Space Mountain had wait times of upwards of 120 minutes, which we were expecting. For those attractions, we had a different strategy… ride after it rains, or during the summer extended park hours. Perfect.
We knew it was going to rain, and used that to our advantage. When it rains in Florida, only a few attractions go down. Those rides that go outside like Big Thunder Mountain Railroad, Test Track, or Expedition Everest generally do not run in the rain. Nor, apparently, do guests. When it rains, the restaurants and gift shops become packed with guests waiting out the storm. We were able to ride a number of attractions right as the rain was dying down, in the middle of July, with no wait at all. This was all because everyone was waiting for the rain to completely stop before they went back out again. So put up that umbrella, and keep on touring! You won't melt, I promise!
We knew that the most popular restaurants wouldn't have tables available. We weren't even going to try to get a table at the Be Our Guest restaurant. We knew that it would be nearly impossible, so, we packed and brought our lunch and some snacks in a cooler, and opted for a later dinner at the various restaurants at the resorts. Resort restaurants are generally less crowded than park restaurants, which we knew, so we walked up restaurants like Kona at the Polynesian, Yachtsman Steakhouse at the Yacht Club, and il Mulino at the Walt Disney World Swan, and we were seated in no more than 20 minutes, tops. Amazing food, relaxed atmosphere, and no problem getting a table at all. And now that the Disney restaurants have started rolling out their Allergy-friendly menus, those of us with food allergies needn't worry about letting the chefs know ahead of time that we're coming- they're already prepared!
So, can traveling to Walt Disney World without a plan be an enjoyable vacation? Absolutely! We rode some of our favorite rides, ate some amazing food, ventured off the beaten path, and had an amazing time! Have you ever taken an unplanned Disney trip? Let us know in the comments or on Facebook your best strategies for touring without a plan!
Magically Speaking Featured Article
Library of Congress ISSN:1556-3863