This post may contains affiliate links for your convenience. If you make a purchase after clicking a link we may earn a small commission but it won't cost you a penny more! Read our full disclosure policy here.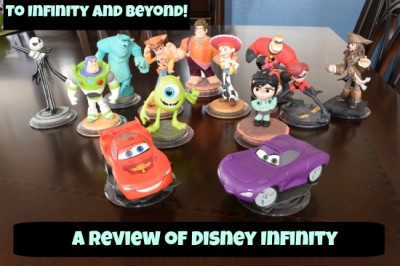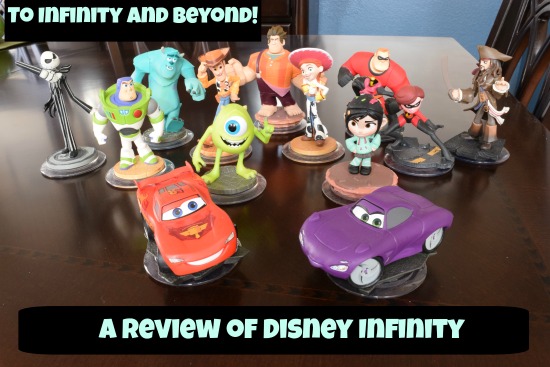 Note: This review is of the original Disney Infinity game. Stay tuned for a review of Disney Infinity 2.0
The idea behind Disney Infinity is simple – you should be able to play a video game like you play in the real world. That is to say, if you want to imagine an adventure where Jack Skelington and Jack Sparrow have to rescue 100 miniature Winnie the Poohs from evil robots, you have always been able to do that with real world toys and imagination. With Disney Infinity, you can now bring your imagination to the virtual world.
Basics
Disney Infinity was released in the fall of 2013 for Playstation 3, Xbox 360, Wii, Wii U and Nintendo 3DS. There is also a free PC game version. It is loosely an action/adventure style game, although different characters will emphasize different style of game play (I.e. When you are playing as Lightning McQueen, you will do a lot of driving). While the software itself is machine specific, Disney Infinity utilizes collectible figurines, play set pieces, and power discs that can be used across systems.
These pieces interact with the game console through a usb pad (known as the Infinity base) with three spaces on it, two for characters and one for a playset piece. When you purchase the Disney Infinity starter pack, you will receive the game disc, the Infinity base, a power disc, a playlet piece that allows you to play in the The Incredibles, Pirates of the Caribbean, and Monsters University play sets, and three characters (Mr. Incredible, Captain Jack Sparrow, and Sulley).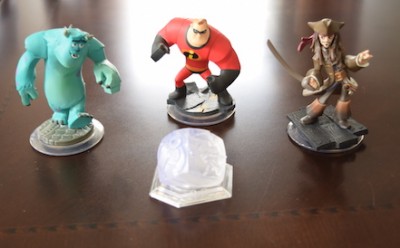 In the game, each character has a similar, but unique, set of abilities. With the exception of the Cars.
An important note: I personally have played the Xbox 360 version of this game, although the information in this review will be applicable across all of the console platforms, with one exception. The Wii version has great limitations in co-op play, toy box play, and several other ways. Partially because of this, the original Disney Infinity software became available as a free download for the Wii U.
Play Set Mode
Play set mode is what you would traditionally think of as a "video game." Each set has a story, challenges along the way, and a pre-set world to explore. For Disney Infinity, six play sets were made:
-The Incredibles
-Pirates of the Caribbean
-Monsters University
-Cars
-Toy Story
-The Lone Ranger (oops)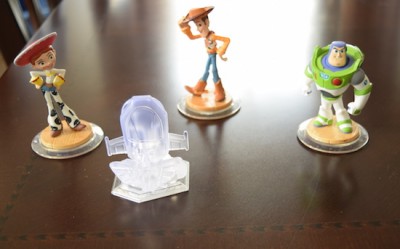 (A technical aside – the game of Disney Infinity was programmed with all of the play sets and all of the characters inside already. When you play a character or play set piece on the base, all it is doing is activating a part of the game that already exists. This is a reason why, for example, a Frozen play set was not released after the popularity of the movie. Anna and Elsa were a part of the game, but the stories were already set.)
Within each of these sets, you can only use the characters from that set itself. However, you can switch between the characters at any time. This is useful because you will find character specific treasures and challenges along the way, so either adding a second character or switching out one for another can allow you to get those special bonuses. Within each play set there is also a special vault that can only be opened when every character for that set goes to unlock it, thus incentivizing you to buy more characters!
Within each play set, you are confronted with a series of missions. You can scroll through them and have a pointer guide you in the direction you are supposed to go for help either finding a mission or completing it. Some of these missions advance the storyline, others are just side missions to get experience or other rewards. You will also discover special challenge areas throughout each play set. These have you complete progressively more difficult challenges in a variety of areas, including target practice, racing, collecting coins, and more.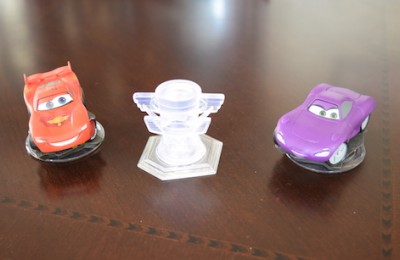 Each play set story mode takes around 4-6 hours of game play, depending on your skill level, but you can spend much more time in each beating challenges and exploring new areas.
While you are playing in the play set, there are three other things to specifically look for. The first are blue sparks – you can get sparks from defeating enemies, breaking things, and spark capsules. These sparks help you level up your character, and as such earn spins in the toy box (see below). The other two things to look for are the red and green capsules. Red capsules unlock customization for the play set you are in, some of which also transfer over to the toy box, and the green capsules are special toys just for the toy box.
Toy Box mode
Hearing about all of that, but only that, you wouldn't be crazy thinking that it sounds like a pretty cool game and could be some fun. In fact, my wife has played a lot of Disney Infinity with me and her favorite part is the story modes from the play sets. That being said, however, the part of this game that really sets it apart and I believe has caused it to take off in popularity is the toy box.
There are several options available in the Toy Box:
Adventures
Adventures are pre-made games available inside of the toy box, and there are three types of adventures available in the toy box. First, each figure has a specific adventure that utilizes their special abilities. For example, Buzz Lightyear's adventure involves flying around with his jetpack to save people while Jack Skellington's adventure is facing progressively harder waves of enemies.
Additionally, there are "Mastery Adventures" which any character can play. These adventures focus on different skills, specifically in using the Toy Box itself, and are more or less a tutorial.
Finally, the standard adventures focus mainly on different pre-made combat and racing scenarios.
Toy Box Vault
Through playing in the play sets, you will unlock a lot of toys to use in the Toy Box. You also start with a basic set of toys to build with. For everything else, you have to go to the vault.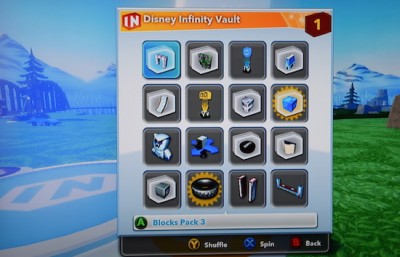 In the Toy Box Vault, you will see a screen of 16 possible toys you could win. For every spin you have earned by leveling up your characters, you have a chance to get one of those toys. These toys are everything from landscaping pieces and roads to walk around Muppets and the Matterhorn. Toy selection in the vault is random, so if there is something you really want, you should wait until you have 16 spins, and then shuffle the board until the one you want is visible. Then when you start spinning you will definitely get it.
Prebuilt and Downloadable Toy Box Worlds 
At the start, you will have three Prebuilt Toy Box Worlds, the Introduction, the Launch, and an Empty one. Through finding some green capsules and opening the vaults in each play set, you will unlock some other worlds designed by the creators.
However, Disney Infinity has been great at utilizing the skills and passions of the fan community to produce and distribute new content. Through weekly themed contests, the creators or Infinity have collected and made available for distribution many user generated worlds that you can download for free. Check these out for inspiration or just to mix things up.
Infinite Possibilities
The magic of Disney Infinity is that you can go into the Toy Box, start with an empty slate, and just build. The more you play, the more you have to play with, and beside just creating your own worlds, you can link pieces together to make your own races, battles, mini-games, and more.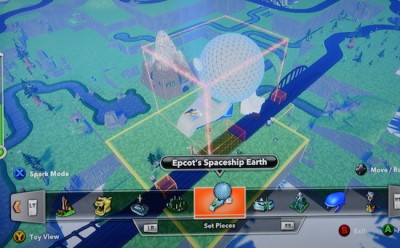 Toy Box worlds are also where you can have all of your characters interact together (although only two at a time). Whether you want to have Wreck-It Ralph and Agent P race in Autopia cars or Rapunzel and Elsa fight off invading enemies, or just have Tonto and Jack Sparrow throw Pixar balls at each other, you can make whatever your mind allows.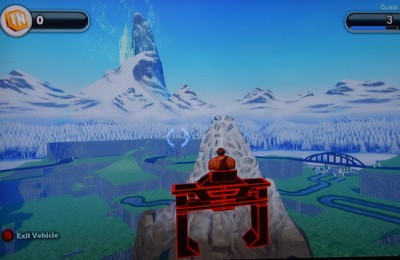 Characters
There are 29 total characters for Disney Infinity. All of them are also usable on Disney Infinity 2.0. They come from a great variety of Disney and Pixar franchises, including:
-Pirates of the Caribbean
-The Lone Ranger
-Toy Story
-Cars
-Monster's University
-The Incredibles
-Wreck-It Ralph
-Tangled
-Nightmare Before Christmas
-Frozen
-Phineas and Ferb
-Fantasia (The Sorcerer's Apprentice)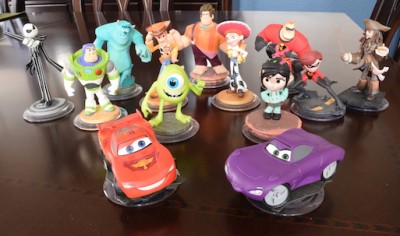 Some of these characters were only released at specific stores at first, or had special editions released for specific stores or events. Additionally, some characters are available individually and are also available in special multi-packs. These included the sidekicks pack (Mrs. Incredible, Captain Barbossa, Mike Wazowski), the villains pack (Davy Jones, Syndrome, Randy Boggs), girl power pack (Violet Parr, Rapunzel) as well as the franchise packs for Frozen, Phineas and Ferb, and Wreck-It Ralph.
Power discs
There are three types of power discs in Disney Infinity: toys, abilities, and customization. To use power discs, you place them on the base either under a character or on the play set spot and then they will activate on the screen.
Some power discs come with character multi-packs, but most are sold in packs of two. The important thing about this is, you can't tell which discs you are buying when you buy them. This means you could get a third Pizza Planet Delivery Truck, or you might find the rare Dumbo ride vehicle or Electric Mayhem Bus. You won't know until you get it home.
Overall Impressions
Disney Infinity is a fantastic game. I enjoy all kinds of video games, from Mario Kart to Halo, and I highly enjoyed playing this game, but I also got my wife to play with me, which doesn't always happen. While I liked pretty much every aspect of this game, here are a few observations and impressions that might help anyone thinking about getting it.
First, even though there is a new version of this out now (Disney Infinity 2.0), the original is still worth getting. Characters and power discs are usable in the new edition, but the play sets are not, so you have to have the original Disney Infinity to play the Pirates of the Caribbean, Incredibles, Monster's University, Lone Ranger, Toy Story, or Cars play sets. Moreover, since, version 2.0 is now out, many retailers are offering a discount on the original starter pack, so you can start creating for even less. The advantage of this game over others is that once you are done playing, almost everything can then transfer up to the next game.
On game play itself, most of it works pretty well. The hardest portion is definitely vehicle control, which also makes the Cars play set a little awkward. Having played other racing games, the best way I can describe this is that the controls are incredibly sensitive, so doing precision turns or just not flying off the course can be hard.
Next, some of the play sets are what I would call more "combat" based than others, specifically the Incredibles and Pirates of the Caribbean. If you are not as experienced with action style video games this might be a little hard at first. In that case, either starting with the Cars play set (which is all driving, obviously) or the Monsters University or Toy Story play sets might be a good idea. The tutorial adventures in the Toy Box are pretty good at teaching you the basics as well.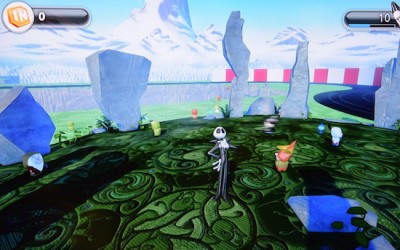 Because of the scale and scope of some of the worlds in Infinity, it can take a while for areas or items to load, and you can experience freezing and other game problems. If you have the hard drive size and capability, I would highly recommend downloading the game to your hard drive. You still need the disc to play, but the game performance is leaps and bounds better.
While you can build anything you would like in this game, I found that sometimes the amount and complexity of options was potentially overwhelming. For example, you can make really cool and intricate challenges, but the amount of things you have to connect together in order for them to function properly is a lot to comprehend at first. In Disney Infinity 2.0 they allowed for simplification in this process, which helps a lot.
A special note – besides the characters, play sets, and power discs you can also unlock content with your Magic Band. Specifically, your Magic Band unlocks a toy called "Dragon Gate." Initially, this doesn't really do anything, but eventually a Dragon will enter your world and shoot fireballs at you. Additionally a green capsule will appear in the Dragon Gate, which will unlock a new Toy Box called the Dragon's Keep.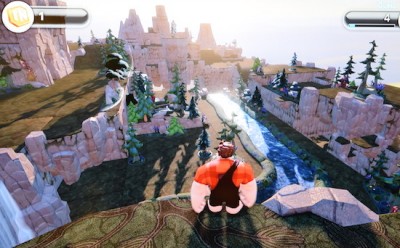 Disney Infinity has a little bit of something for everyone, and I really believe that every Disney fan who is remotely interested in video games should get it. So go ahead and start playing!
What is your favorite part of Disney Infinity? Share in the comments!