This post may contains affiliate links for your convenience. If you make a purchase after clicking a link we may earn a small commission but it won't cost you a penny more! Read our full disclosure policy here.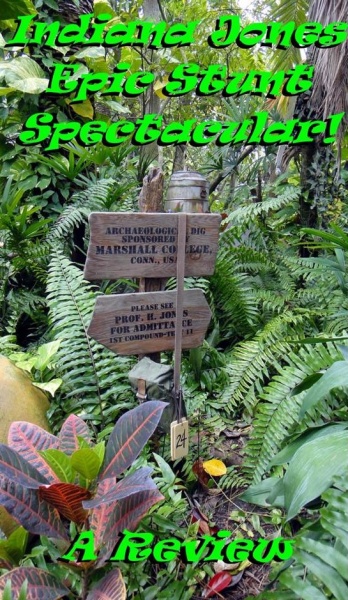 You're gonna get killed chasing after your [dang] 'fortune and glory'!
~ Willie, Indiana Jones and the Temple of Doom
Maybe, but not today.
~ Indiana Jones, Indiana Jones and the Temple of Doom
Thirty-four years ago Raiders of the Lost Ark introduced the world to Indiana Jones – archaeologist, professor, purveyor of ancient artefacts, and all out adventurer extraordinaire.  In August 1989, eight years later, the 'Indiana Jones Epic Stunt Spectacular!' opened at, what is now, Disney's Hollywood Studios and has remained a popular draw card since.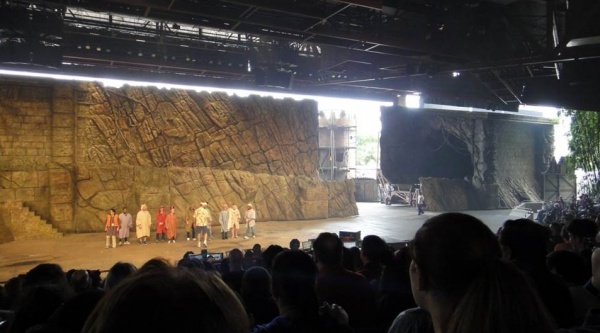 Set Change and Return of the Extras
In Pre-Production
The waiting areas for the Spectacular are green and shaded in many areas.  There are two lines, one for standby and one for FastPass holders.  FastPass is not required for seeing this show.  The stadium holds 2150 people and the show is not as popular as it once was; however, if you have a FastPass that is 'left over' from the other offerings, the FastPass line is shorter, cooler, and drops you into a prime viewing area.
When you get in and sit down, you will be treated to an outdoor sound stage – currently dressed as an appropriately 'Indy does South American' temple.  Before the show actually starts, a very unique opportunity will surface.  The casting director will come out and hold an open casting call for nine extras.  If you are over 18 years old and have always wanted to experience life on a film set, this is your chance to impress.  You will have the best chance of being one of the nine if you sit near the end of the row, no more than half way up the stadium, and are loud.  Raise your hand and wave it while you scream to gain attention.  The extras are pulled down in groups of three.  Once selected and auditioned, the extras are taken backstage to go through wardrobe.  It is worth noting that, if selected, you will miss part of the show; but you will have the best seat in the house for about half of it.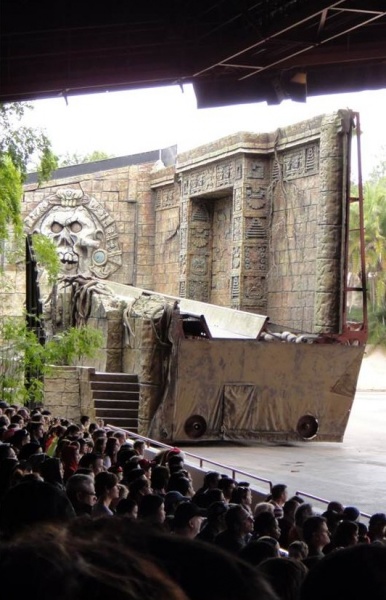 First Set Moving Off-Stage
Lights, Camera, Action…
Giving a spoiler free review of this show is difficult; however, the bare bones are outlined below.  The show itself takes on a wide and, often, humorous look at the world of stunt action in movies and is highly recommended.  This is especially true given that the show's end date seems to be looming.
This stunt spectacular takes place on three sets.  You will movie from a Peruvian Temple to the Markets of Cairo.  The final scene, set in the desert of Egypt, recreates one of the epic climatic scenes of Raiders of the Lost Ark.  Throughout the show, you will be treated to the behind the scenes view of movie making.  You will learn a bit about what it takes to be a stuntman/woman and a bit about the magic behind the movies.  This is an enjoyable way to spend a half hour.  The show is a prime example of just how the combined efforts of both cast and crew are required to bring our favorite characters to life on the screen.  It also helps to explain some of those long lists of crew from the trailing credits of our favorite movies.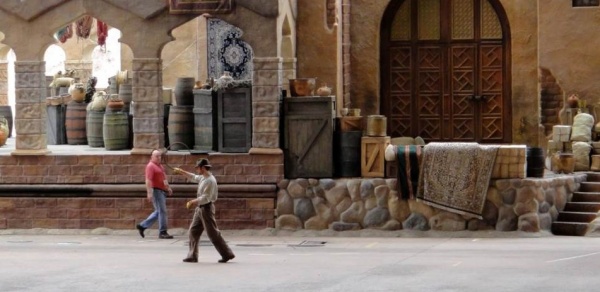 Indiana Stunt Actor working his whip.
That's a Wrap!
If you like to collect photographs and signatures from the characters at the parks, two of the most unique characters you can collect are Indiana Jones and Marion Ravenwood.  If you stay back after the audience leaves, the stunt actors playing Indie (and often Marion) will come back out to sign autograph books and take quick photos.
There have been long running rumors that 'Indiana Jones Epic Stunt Spectacular!' is due to close.  The show was only originally envisioned to run for three to five years.  The staff has been informed several times over the history of the show that the show would be closing.  A closing date has not been announced at time of publication, but it seems inevitable with the changes occurring around the park.
Be sure to catch this entertaining show before it joins the list of yesterday's attractions.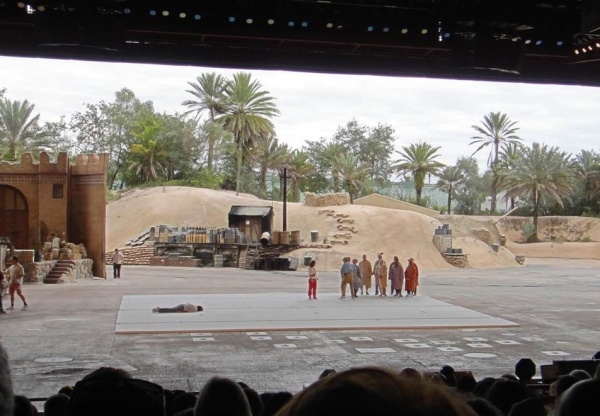 The Extras get a close up look at stunt fighting.
Location: Disney Hollywood Studios
Duration: 25 to 30 minutes
Show Times: Check the Entertainment Times Guides
Inclement Weather Warning: This show is outside and subject to closing in wet or inclement weather.  The stadium is covered to keep the audience out of the sun.
FastPass: Available up to 30 days prior to visiting.
Who would enjoy this Show: This really is an all ages attraction (as long as your younger party members can sit for thirty minutes).  There are explosions and heightened emotional action, as well as, large fight scenes.  If people in your party are sensitive to this type of experience, this might not be the experience for them.  The fight scenes are no more than you would see in Raiders of the Lost Ark (rated PG).  The show is highly enjoyable by older children, tweens, teens, and adults.
Volunteering for the Show: Minimum age is 18 years.  To be considered, raise your hand during the casting call before the show starts.  Being loud to attract attention and sitting close to the end of the row, no more than half way up the bleachers is recommended.
 Have you seen Indiana Jones Epic Stunt Spectacular? What are your thoughts of the attraction?
Incoming search terms:
https://www themouseforless com/blog_world/indiana-jones-epic-stunt-spectacular-review/