This post may contains affiliate links for your convenience. If you make a purchase after clicking a link we may earn a small commission but it won't cost you a penny more! Read our full disclosure policy here.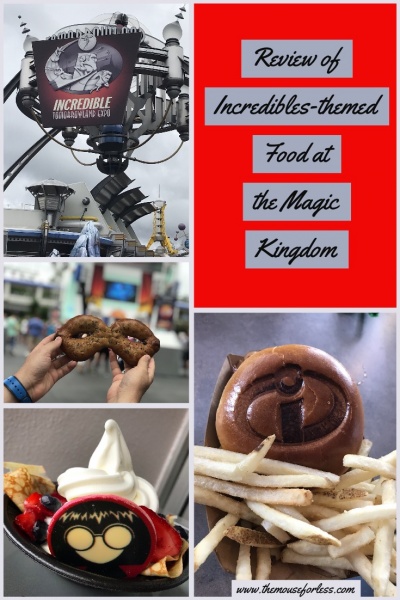 Are you excited to see Incredibles 2?  I definitely am! And of course, Walt Disney World has themed their summer event around The Incredibles, with the Incredible Summer.
One of the big components of the Incredible Summer is the Incredible Tomorrowland Expo, which is being held in Tomorrowland at the Magic Kingdom. This expo includes character dance parties, photo opportunities, Incredibles music, and so much more. Take a look at what kind of fun you can expect to experience in our overview video!
Of course, with an event like this, there's also a ton of great food options for Guests to try that tie into the whole theme! And guess what? I took one for the team and tried them for you! So, let's take a look at each item, where you can find them, and if you should pick them up on your vacation.
Mrs. Incredible has her own themed burger at Cosmic Ray's! Called the Super Stretchy Burger, this burger certainly has some interesting toppings. Not only do you get an angus beef burger patty, but it's topped with American cheese, bacon, garlic ranch sauce, and mozzarella sticks. Yep, I said mozzarella sticks. Gotta admit, I was a little uneasy about this one. The parts all sound delicious, but how would it be on the burger itself?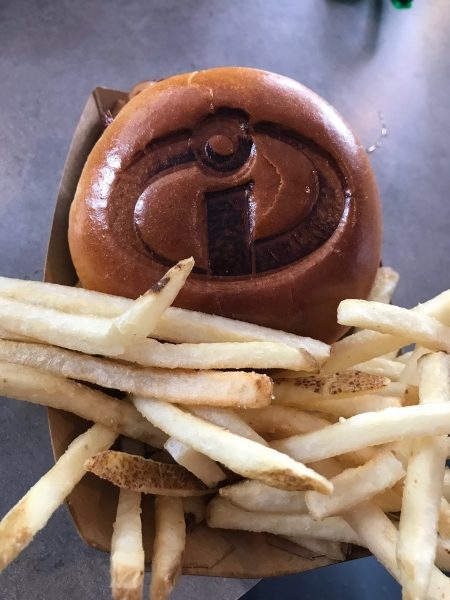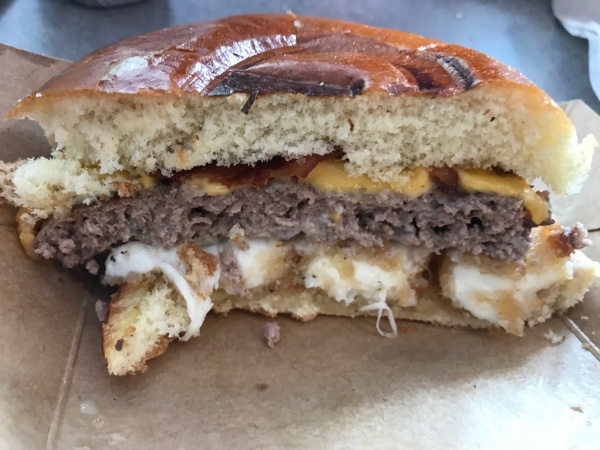 Turns out, I had nothing to worry about. I found the Super Stretchy Burger to be delicious! The bun, which was emblazoned with the Incredibles logo, was fresh. I thought the burger patty was good for a Disney burger, the bacon wasn't super rubbery, and the garlic ranch sauce was yummy and gave the burger some zip. But what about the addition of the mozzarella sticks? Was it too much? Not in the slightest. It gave the burger a unique and even more cheesy flavor. Is it healthy? Not even in the slightest, but I definitely enjoyed it.  I also found the fries to be quite good – crisp and not super potatoey. (I know I'm in the minority, but I like skinny fries much more than I like steak fries.)
If you're looking to add more toppings, you can also always head up to the Cosmic Ray toppings bar, where there's lettuce, tomato, ketchup, mustard, mayo, sauteed mushrooms, and fried onion straws.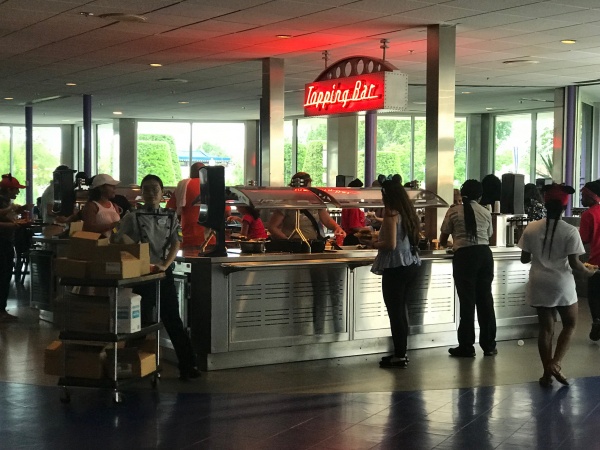 Oh and there's just something about enjoying a meal with this guy – Sonny Eclipse.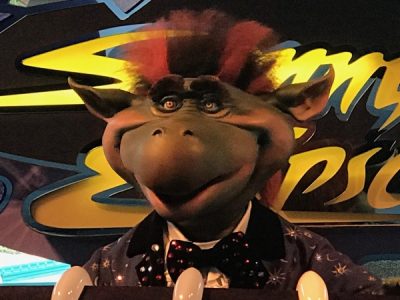 Ok….so moving along. The next thing we tried was the Edna Mode's "No Capes, Just Crêpes" Crêpe Sundae! We got the chocolate-hazelnut crêpe topped with ice cream and berries from Auntie Gravity's Galactic Goodie's.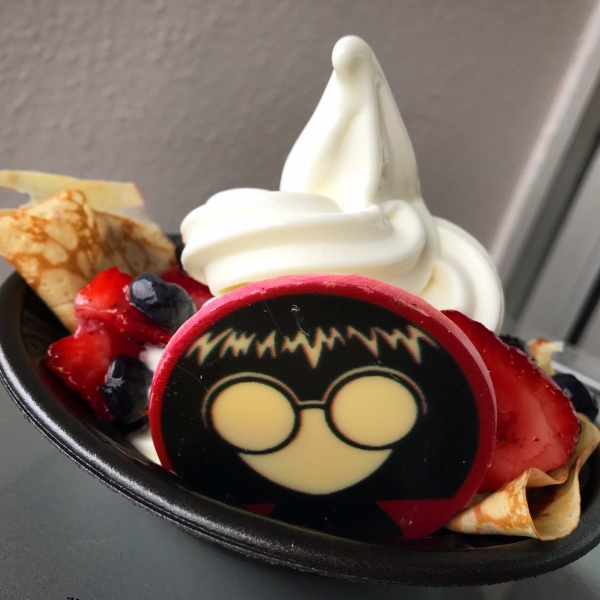 Looks pretty, right? The crêpe had a nice heavy coating of chocolate-hazelnut spread, there was a decent amount of ice cream and lots of berries. So it should have been good, right?
Wrong…oh so wrong. Whatever you do, do not waste your money on this crêpe. First of all, the crêpe was terrible. It had zero flavor (minus the hazelnut spread) and it was rubbery. The berries were fine. They were fresh, so that was a plus. The ice cream, which was just basic vanilla soft serve was honestly the best part. I had two other people with me and not one of them liked this dessert. While I hate sharing disappointing news, it's also my job of telling you what to spend your money on. So, while it also was not great tasting, I also found it to be quite expensive. I'd rather get an ice cream treat anywhere else.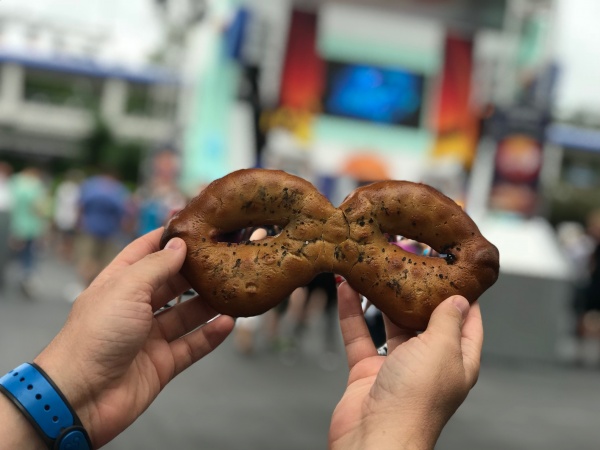 So, the last treat I tried was the Mrs. Incredible Pretzel Mask, which is a this soft pretzel that's topped with black salt and comes with cheese sauce.
Now, the pretzel, this was really good. Honestly, I wasn't expecting much, but I found it to be extremely soft and doughy. I thought it could have used a bit more salt, but overall, I don't really NEED that much salt. The cheese sauce was good, but a little flavorless. Definitely wasn't a spicy cheese; instead it was more velvety and smooth.
Overall, for the most part, I was pretty impressed with the Incredibles food offerings that I tried during my trip. While there may have been one misstep, the overall experience was good and we left very full and ready to get back to more incredible fun!
Have you tried any of the treats from the Incredible Tomorrowland Expo? What did you think? Am I off my rocker for not liking the crêpe?  Share in the comments, or on Facebook or Twitter.
Did you like this article? Make sure to share it with your friends! Check below for easy ways to share!