This post may contains affiliate links for your convenience. If you make a purchase after clicking a link we may earn a small commission but it won't cost you a penny more! Read our full disclosure policy here.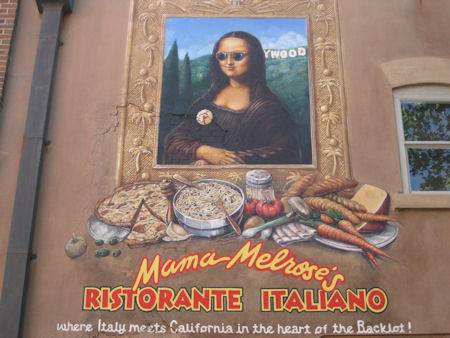 By Kristi Letsinger
One of the joys of visiting Walt Disney World is the opportunity to eat at different restaurants and sample different foods. We have had some great meals and some not so great meals over our years of visiting the parks. We usually enjoy eating at the parks and have found a favorite restaurant at each park except for Disney Hollywood Studios. We have always had difficulty with finding table-service and counter-service restaurants here that the entire group enjoys.
Our party usually consists of two toddlers, a preteen, and adults. We like to try the character meals, lunches, breakfasts, and anything new or different. The one main issue that we have is that the preteen has celiac disease and has to eat gluten-free meals. Trying to please everyone and accommodate dietary needs in one restaurant can be difficult at times.
In the past we have tried Hollywood and Vine and Prime Time. Hollywood and Vine's buffet can be hit or miss, and while some Disney fans claim the offerings have been fresh there for them, we must always miss those times of day. We do admit the breakfast and lunch character interaction is great, however. As for the Prime Time Café, it just doesn't appeal to us, mainly due to the theming and the food choices. You may like having Aunt Sally put you in a corner for not eating your green beans. That's just not our idea of fun.
On this past trip we decided to try the Sci-Fi Dine-In Theater restaurant. The preteen loved it! However, the rest of our group was not fond of the atmosphere or the food. I found the restaurant to be too dark and the car booth to be too cramped. I ate in one booth with my two toddlers and there was little room for all of our plates, cups, and silverware on the small table. There was little variety for the kids choices. And while the constantly-running old time science fiction movie footage didn't bother our kids, the family at the next table had an elementary-aged kid who spent the whole meal under the table, hiding from The Creature from the Black Lagoon. We don't plan on returning to Sci-Fi for dinner any time soon.
As a final effort to find a favorite place to eat at Disney Hollywood Studios, we changed one of our reservations at the last minute to Mama Melrose. Maybe this would be the DHS location for us?
Mama Melrose is tucked away near the Muppets 3D adventure and is not easy to spot (although there is a cool portrait on the exterior, pictured above). After a long day, we pulled the double stroller and the electric scooter up the door. I went in to check on our reservations and found that they did not have it! However, I always carry our reservation numbers with us, so the Cast Member found us a table and we were seated within minutes. The chef came to our table to talk about the gluten allergy. He said that they could make our daughter pasta and rolls that she could eat. She was very excited!
The waitress came out to talk with us. She was friendly with us and the children. She made eye contact and was laughing with the kids. We felt comfortable at once with her and asked her many questions about the menu. (It's amazing how important your wait staff can be to your dining experience.)
We ordered and our food came out quickly. My son didn't like the sauce that was on his pasta. Our waitress overheard this conversation and brought him out a different dish! It was very sweet and he ate every bite of the second meal. We celebrated my birthday while there and the waitress brought out a paper chef's hat for me to wear. This was a fun addition to our experience as each of us tried it on and made faces for the camera.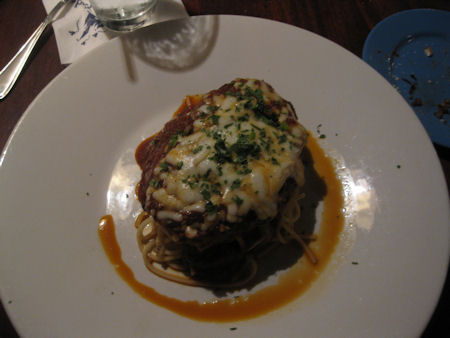 The chicken parmasian entree
Since we were on the dining plan, we were able to order dessert. The chef said that they had a gluten-free cake that was made especially for Mama Melrose. When it came to the table, our daughter's eyes opened wide. Then after the first bite, she said that it was the best cake that she had been able to find anywhere. It must have been—it was gone very quickly!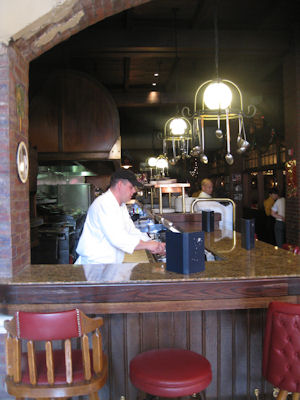 The chef in the open kitchen
Our food was delicious, the wait staff was friendly, and the atmosphere was inviting. We are so glad that we found this fantastic restaurant tucked away inside Disney Hollywood Studios. It is now a Must-Do for us on each trip. We can't wait to return for the pasta and the dessert!