This post may contains affiliate links for your convenience. If you make a purchase after clicking a link we may earn a small commission but it won't cost you a penny more! Read our full disclosure policy here.
I'm always looking for a way to put more Disney magic into our home when we are between trips. Last December, I read about the #DisneySide @Home Celebration parties, and decided to apply for the chance to host one. I filled out the application on the Disney Side Celebrations web site, and a few weeks later was notified through email that I had been chosen to host a party! The email also included a link to the Disney Side Celebrations site, where I found party ideas, recipes, and game suggestions. I started to get excited about planning the party, and brainstorming about what to serve and who to invite.
Fast forward about 3 weeks, and a huge box from Disney arrived on my doorstep!  Here's what was inside…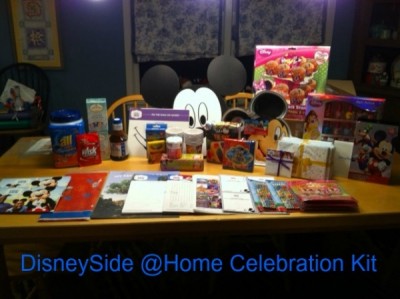 I was absolutely amazed at the amount of supplies sent for the party. Based on my application, I had qualified for a multi-generational party. There were games and treats, party invitations, boxes to fill with party favors, cups, napkins, a tablecloth, Mickey cake pans, cake mix, a Disney Parks planning CD, even boxes of tea and detergent from the sponsors!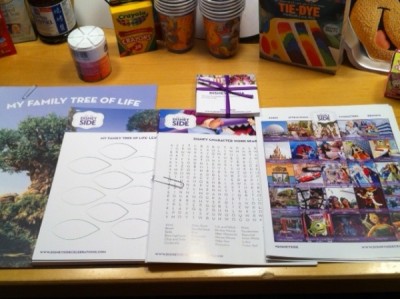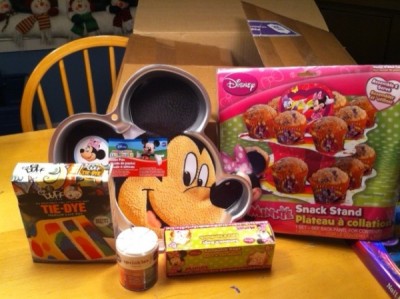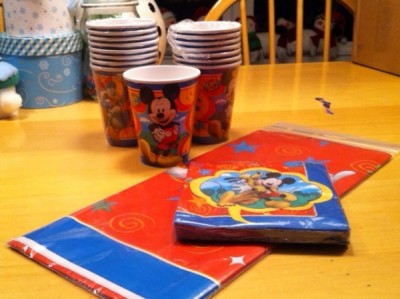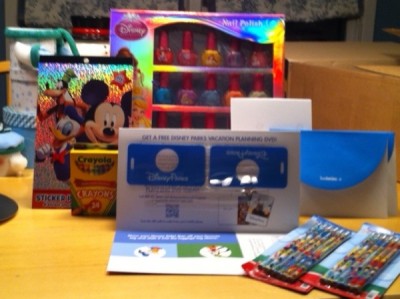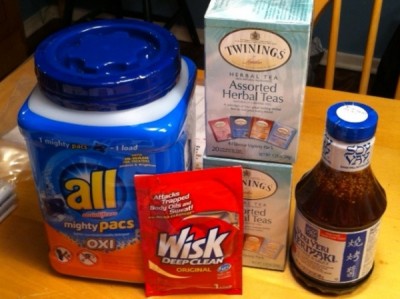 As I unpacked the box, I felt like a kid opening presents on Christmas morning. Everything you could possibly want for a great Disney party was included. There were two possible themes I was considering. The first was a Lion King celebration, as our whole family will be going to The Lion King musical later in February. The second theme I considered, and finally settled on, was a party built around getting ready for our next trip to Disney World in early March.
I picked the second weekend in February for the big day, and everyone going on the trip – my husband and me, three of our boys, and one girlfriend – along with a few extra friends to celebrate, who will be able to attend. I've decided to have different foods to represent each park, along with a list of each park's rides and attractions. Each person going will use the list to choose their must-do's, and I'll use the lists to set up our FastPass+ reservations. Since we are staying off-site this trip, I can't make reservations till 30 days from our trip, and since that 30 day mark occurs the day after the party, I'll be ready!
I'm still coming up with the final menu, but so far I'm having Mickey and Minnie cakes as the centerpiece, Mad Hatter Teacup red velvet cupcakes (made in the cutest cupcake baking cups that I just happened across last week!) for the Magic Kingdom, a Circle of Life buffalo chicken crescent roll ring for Disney's Animal Kingdom, and Mickey Mouse cookies and cream cupcakes on a tripod stand, representing Earful Tower for Disney's Hollywood Studios. I'm still working on something for Epcot and World Showcase — maybe some croissants with a chocolate filling and some mini cheeseburgers for the pavilions in World Showcase, but am waiting for inspiration for Future World!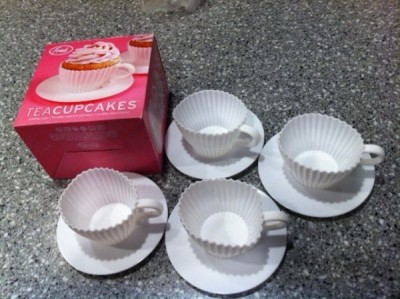 There are a couple of younger kids coming, so there will be party favors to take home. Also, my daughter and granddaughter will  Skype in for the party, so we'll set up the computer and let them take part that way. I have Mickey ears for everyone; hopefully the teenagers will keep them on at least long enough for a picture!
So that's the plan so far. Stay tuned for the after-party pictures, and if you have any suggestions for a great Future World snack, let me know!
I received free products from Disney in order to host a DisneySide @Home Celebration. The opinions expressed here are my own.