This post may contains affiliate links for your convenience. If you make a purchase after clicking a link we may earn a small commission but it won't cost you a penny more! Read our full disclosure policy here.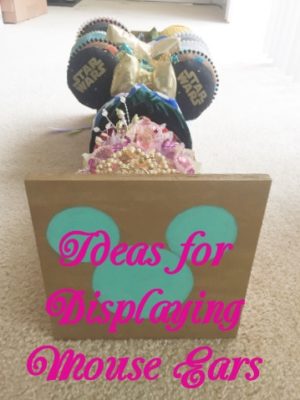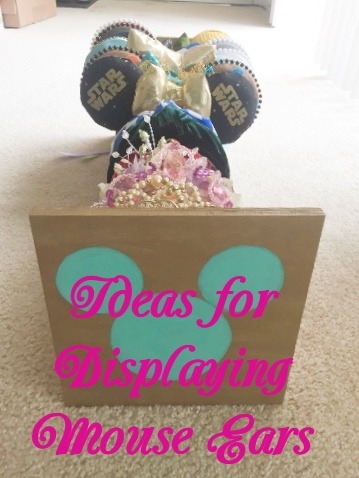 If you are like me, you are absolutely obsessed with Mickey Mouse Ears. You have so many pairs of mouse ears that you have trouble picking which ones to take on your Disney trips. After debating forever, you decided to take most of them, and before you know it, you are taking more mouse ears than clothes on your vacation. You're always buying the newest pairs of ears on the market while also surfing small shops and Etsy for ones that really represent your favorite characters. Sound familiar? 
I am exactly the same way. They are piled everywhere, and yet, I am always looking for more. After a while, like anything else, it can become overwhelming, so what about some ideas on how to decorate your home with Mickey Mouse Ears while simultaneously keeping them organized? Sounds good to me! Let's look at some ways that you can organize your mouse ears while keeping them on display!
Shoe Organizer
I've got news for ya: shoe organizers are definitely not just for shoes. A unique way to store and organize, while also displaying your mouse ears is to use a shoe organizer to hold them on the back of a door or on a wall. Using two shoe holder slots, you can fit your mouse ears right in between the two slots. One side of the headband goes into one slot, and the other side goes into the other. What's nice about this method is that you can actually fit more than one pair of mouse ears into the slots, so you can fit a lot more than what you think!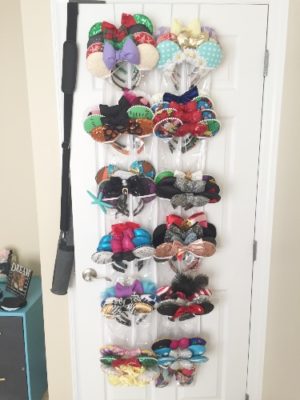 Wall Display
Your mouse ears are like art, right? So why not display them like art? You can create a gallery on your wall using push pins to hang your mouse ears in any way you want to along your way!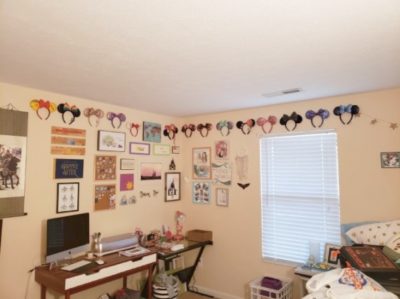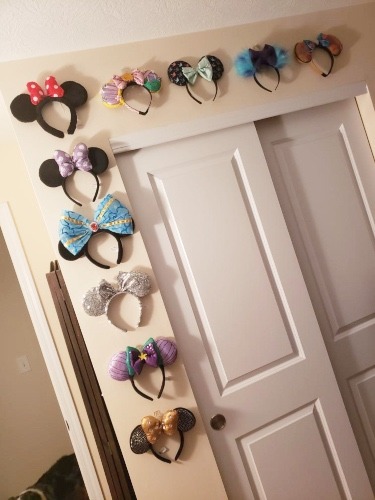 Mouse Ear Display 
Actual displays to hold your mouse ears can either be DIY'd, or bought online. Multiple options are available, whether you would like to hang the display on your wall, or if you would prefer to have a stand to sit on a surface. 
Making your own Mouse Ear Display seems daunting, but it's actually pretty easy! The only things you need are: 
PVC Pipe (for however long you wish your display to be) – This can be purchased from any home improvement store for the most part. I bought mine at Home Depot. 

Polyester Fiber Fill ( i.e. stuffing-You are going to want the kind that comes rolled up in sheets. This makes it easier to apply to the PVC pipe. You can buy this at almost any craft store!)

Fabric of your choosing 

Two 8 x 8 wooden boards -I bought the wooden boards at Hobby Lobby. You should be able to buy them at any craft store. 
All you have to do is glue the foam batting on to the PVC pipe. I simply used a hot glue gun, and it worked marvelously. Once you glue the batting down, simply cover the entire PVC pipe with your chosen fabric. Cut the excess fabric on the ends of the PVC pipe and fold the fabric ends into the inside of the PVC pipe. Glue down with a glue of your choice. Again, I used a hot glue gun, and it worked wonderfully, but you can also use something stronger if you wish, such as E6000. 
If you wish to do so, paint the two 8 x 8 boards with your own design! On one side, I painted a Mickey, and on the other side I painted the classic castle that always used to show before Disney movies.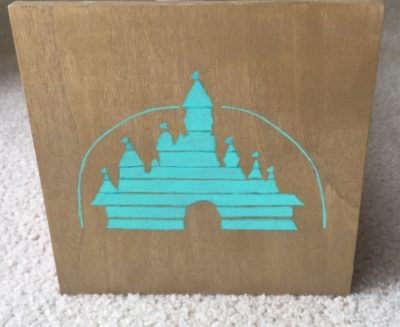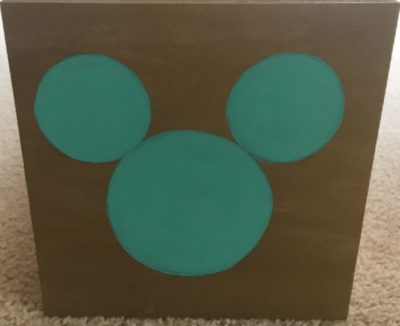 Once that has dried, take each of the boards and glue one to each side of the PVC pipe. For this, I suggest using an industrial glue, such as E6000. This is so the display will be strongly supported and stand on its own. Follow the instructions on the glue you use in order for the boards to completely adhere to the PVC pipe. I let both my boards adhere for 24 hours in order for it to be as strong as possible.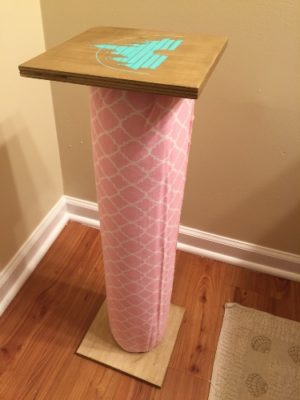 There you have it! Your own DIY'd mouse ear display! (I might be making another one soon. I love mine so much!)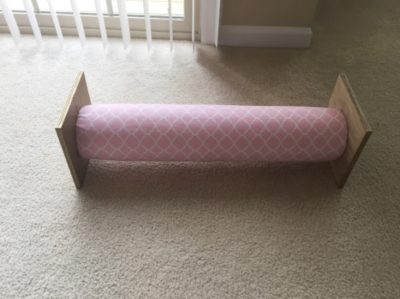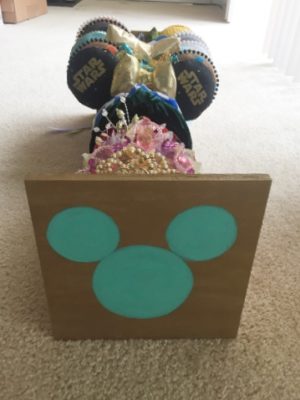 Mickey Mouse Ears are usually always close to a Disney fan's heart, and now you can display your collection in beautiful and artistic ways! Happy displaying!
How do you display your ears? Let us know in the comments or on Facebook or Twitter! 
Did you like this article? Make sure to share it with your friends! Check below for easy ways to share!
Want to visit the Walt Disney World Resort? Contact The Magic for Less Travel for more information and a free, no-obligation quote.

Incoming search terms:
https://www themouseforless com/blog_world/ideas-for-displaying-mouse-ears/
Diy Disney Ear Display
how to hang minnie ears
how to hang disney ears on wall
how to hang disney ears
How to display mouse ears
how to display minnie ears
how to display disney ears on wall
hanging mickey ears on wall
diy disney ear strap