This post may contains affiliate links for your convenience. If you make a purchase after clicking a link we may earn a small commission but it won't cost you a penny more! Read our full disclosure policy here.
By Kristi Letsinger
Many months ago, when the commercials for the new Cars Land were showing, my son wished to go.  This was big.  This was the first time that he had ever wished to go anywhere.  We began the paperwork and many months later we were on our way to Disneyland.  We can't thank Make-A-Wish enough for their kindness in planning this trip for us.
We had more magical moments than I can share.  From our first moment on the airplane to the last moments each memory will be cherished!!!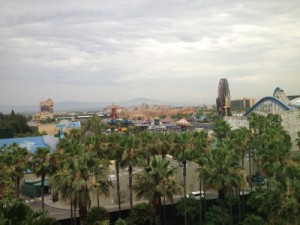 We were booked at Paradise Pier and after traveling for much of the day, we arrived.  We were met by VIP services who showed us our room and shared information about our trip with us.  They showed us the elevator to take up to our room that had a magical view of the park just across the street!  Upon entering our room we saw glasses of milk, Mickey crispy treats and the most magical view of the park that we could have asked for!  We spent a lot of time just looking out the window when we were in our room!  Paradise Pier was awesome!
We were just a short walk to the park and took full advantage of walking to Downtown Disney and each park daily.  We even found that if we were loaded down with packages, pictures or other items my husband could quickly take them back to the room and meet back up with us.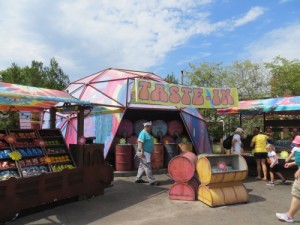 Our first moments at the parks began with a visit to Cars Land.  It is amazing.  It really is like you have walked into the movie.  Each detail is spot on to match the movie from the Taste-In store to the neon lights that light up the night.  We met Mater, Red and Lightning McQueen.  Did you know that if you tickle Mater he will giggle?  Radiator Springs Racers is amazing and we rode it many times during our trip.  It was like stepping into Radiator Springs and the surrounding countryside!
Disney is awesome to Make-A-Wish families.  They make them feel so very special from being able to enter the rides through an alternative entrance on some rides to visiting the Wish Lounge at Disneyland.  The cast members treat the MAW families with respect and go out of their way to interact with them.
The most magical moment came when least expected.  We were asked which character my son would like to have a private meet and greet with.  He said "Belle".  Though we were surprised, we let him make that choice.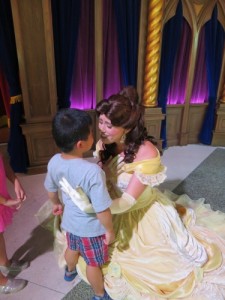 It was an amazing meeting.  We watched Belle perform at Fantasy Faire and then waited as she met with other children.  Then it was his turn.  Belle bent down on the ground and hugged my son like he was her Prince Charming.  She talked to him and continued to act as if he was the most important person in the world.  When our meeting was over he ran back over to Belle with his new duck stuffed animal and she bent back down and talked with him again.  I had tears in my eyes watching the pure joy on his face and the attention that she paid to him and my daughter.  I will never forget that moment.
We had many other magical moments including playing games on the boardwalk, meeting Mickey at his house in Toontown and meeting the Genie during the parade.
We have so many memories that will stay in our minds and hearts forever.  We will be forever grateful for being able to have this time together and watch the pure joy on our child's face.  I am so thankful to Disney for being willing to make a difference in the lives of children.
(I also want to send a huge thank you to Medieval Times, Knott's Berry Farm, Delta and Panera Bread for adding even more special memories to our trip.)
Incoming search terms: