This post may contains affiliate links for your convenience. If you make a purchase after clicking a link we may earn a small commission but it won't cost you a penny more! Read our full disclosure policy here.
I am traditionally a person that loves scrapbooking.  I love to hold the pictures in my hand and buy pretty papers and stickers.  But over the years, I have learned that these typically sit on a shelf and get very little time in people's hands.  Additionally, so many of our family are all over the United States, that I needed to find a way to say our memories digitally.  As I was planning I came upon some YouTube videos that people coordinated their pictures and videos to music.  Some were very nicely produced and others were pretty basic.  I searched online and was able to pull together enough knowledge to publish a 45-minute YouTube video using Windows Movie Maker.  Below are a list of steps that I took to do this process.
First I would choose some songs that would be awesome as a backdrop to Disney vacation memories.  They are usually upbeat songs.  If you subscribe to Touring Plans Lines, this topic has come up on Chat several times.  Sometimes, I'll be listening to the radio and think that would be a great song for these pictures.  For example, Sara Bareilles, "Brave", is a great song to play on a ride like on of the mountains or thrill rides.
Sometimes, I have an idea of what types of songs and pictures I want to pair together, so I'll try to make sure we take those pictures.
After we get back, the first thing I do is edit the Memory Maker photos.  Also, there are some apps that I like to use to edit photos as well prior to putting them all on my computer for use in the program.  Some of them are Disney HD Memories, Tangled Fx and Prisma.   Pro Tip: If you're vacationing with a group that has multiple family members or friends taking pictures, I would recommend a site that you can all upload to.  We have used Dropbox on one trip and Shutterfly Share site on others.  After getting back, just download them from the site to your device.
After doing this, open Windows Movie Maker and upload the pictures by clicking the "Add Photos and Videos" button.  Be sure to save the project going to Save As.  One of the nice features about Windows Movie Maker is that even though the pictures may be out of order due to coming from multiple sources.  But the program easily places them in chronological order, which is an awesome thing!
A Title Screen can be added by clicking the "Title" box under the Home menu.  Also a credits screen can be added at the end by clicking the "Credits" button on the Home menu.
After uploading all of the pictures to Windows Movie Maker, then drag in your music.  I populate my music options using iTunes.
Now the video is ready to be previewed.  Depending on how long the video is, the speed can be changed under Options.  I find 2 seconds per picture is a good speed.  The default setting is 7 seconds, which seems to be quite long.
If you're looking for something a bit more simple and able to be done on an iPhone, then I would recommend iMovie.  It is an app in the Apple app store which costs $4.99.  I like how easy it was to use.  Follow the simple steps below to create a trip video using iMovie: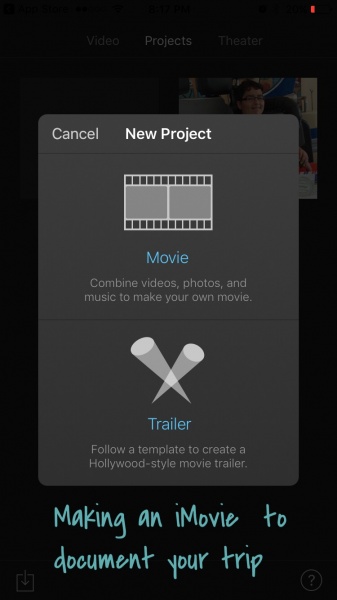 Once you open the app, click the + sign and choose Movie.
After that photos can be added from all of your Camera Rolls and iCloud drive on your device, including Videos.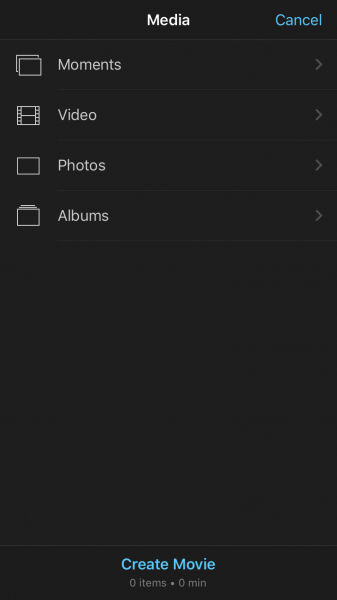 3.  After you're done selecting your pictures and video, click Create Movie
4.  Then click the + sign on the project to add Media to add Audio from your iTunes library.
5.  You can preview your video by hitting the Play sign
6.  Once complete, hit the Done sign on the upper left hand corner.
7.  To Upload it, hit the Upload button on the bottom of the screen and your options are Facebook, Vimeo, YouTube, iCloud Drive and more.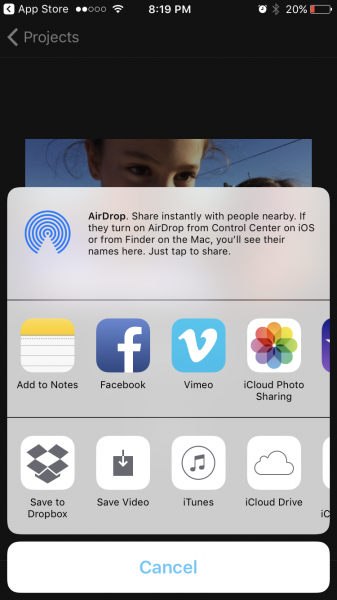 Both options are great, depending on where you store your pictures and music.  I'd love to hear if this is an alternative that you'd be interested in exploring.  I love that I can pull up our videos on YouTube no matter where I am.  Scrapbooks are awesome, but family across the country can't look at them.  This is a media where memories can be shared with friends and family all over the globe.
What are your best tips for making videos to share? Let us know in the comments.
Incoming search terms:
https://www themouseforless com/blog_world/how-to-make-a-trip-video/
Disney trip video editing tips