This post may contains affiliate links for your convenience. If you make a purchase after clicking a link we may earn a small commission but it won't cost you a penny more! Read our full disclosure policy here.
By Erica Colmenares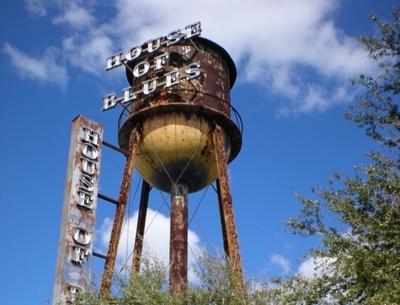 If you've ever taken an adult-only trip to Disney World, you'll know the heaven that is planning to do all those offerings that aren't child-friendly (or at least not fun for yourchild). I had the pleasure of one such trip at the beginning of February, and took advantage of the opportunity to experience the Gospel Brunch at the House of Blues.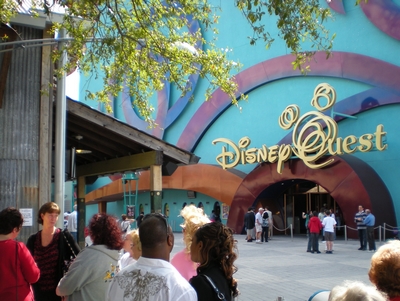 House of Blues is right across from DisneyQuest
House of Blues is located in Downtown Disney's West Side, and is primarily a restaurant and music venue. On Sundays, though, they have a Gospel Brunch, with buffet offerings and musical entertainment. Seatings are at 10:30 a.m. and 1:00 p.m., and tickets run $34.25 for adults and $17.25 for children (3-9; 2 & under are free) — prices include tax and gratuity. They have a nice 20% Disney Vacation Club discount. Disney Cast Member and AAA discounts are also available. To book, call 407-934-2583, and choose option #2. Keep in mind that you are purchasing tickets, not booking reservations, and that your tickets are 100% nonrefundable.
For our early February brunch, we booked our tickets just a day prior, but the "phone ambassadors" (as HOB calls their employees) mentioned that in busier times, they sell out in advance — calling at least month in advance is recommended. Your tables are assigned according to when you book, so if you want to be at the front of the room, closer to the stage, try booking as far out as you can. You can book any 2009 dates now. Our table was behind the main seating area, but we liked our view and enjoyed being slightly removed from the action. You can also request specific seating, and they will give it to you if it's still available. This could be important if you are a small party; there are tables for two, but once those are gone, couples will be seated, family-style, with other parties.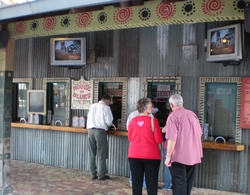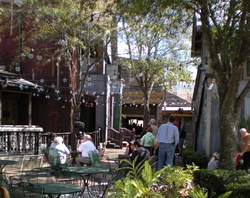 If you've ordered your tickets over the phone, pick them up here (left).
Guests start queuing 30 minutes or more before the show (right).
We picked the 1:00 p.m. show, since it's possible to really sleep in when you're travelingsans kids. We took the bus from our resort to the West Side, and enjoyed a perfect Orlando winter day, before arriving at the ticket booth. We were asked to arrive fifteen minutes prior, but got there about half an hour early, and there were already people waiting in line. Now, since seats are reserved, you don't have to line up before, unless you're itching to be one of the first to the omelet station.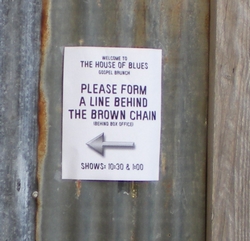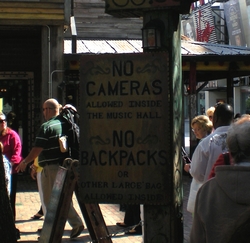 A small sign indicates where to line up (left); a forbidding sign (right)
Once the House of Blues doors opened, the line moved quickly inside. We passed a sign restricting cameras and backpacks, but no one searched our small bags, and one of our party had a medium-sized backpack and was allowed inside without difficulties. A friendly host showed us to our table, and acquainted us with the buffet layout. It was a well-organized buffet, with different food stations placed throughout the restaurant, nicely dividing the hungry masses. A drink station offered coffee, tea, sodas, juice, and milk. There was a wonderful omelet station, as well as a classic breakfast buffet station with baked goods, waffles, fresh fruit, scrambled eggs, bacon, and sausage. There were two more lunch-oriented buffet lines, one with cold salads (Caesar salad, a mixed green salad with nuts and blue cheese, a broccoli salad, a potato salad, and more) and a line with hot entrees and sides (including BBQ chicken, jambalaya, catfish, red beans & rice, biscuits and gravy, macaroni and cheese, and turnip greens). A carving station had ham and roast beef. And never fear: the dessert selection included apple cobbler, bread pudding, key lime pie, bars, cheesecake, and brownies. No one was going hungry, that's for sure.
The performance started about 45 minutes after we arrived. The show we saw had two female leads, six back-up singers, a drummer, a keyboard player, and a bass guitar player. They were fabulous, and if you like gospel music, you're bound to be happily entertained. There were a number of points where the audience was encouraged to stand and clap, or even sing along. Halfway through the performance, a singer asked if anyone was celebrating a birthday or other special occasion, and those folks were brought up on stage, where they sang and danced. Note: Don't volunteer this information if you've got stage fright.
The show lasted less than an hour, and then it was back into the bright Orlando sun. On our way out, we had the opportunity to shake hands with many of the performers. It was a nice touch to be able to personally offer our thanks for the fun and uplifting entertainment. Another nice touch: the warm chocolate chip cookies that were being handed out as we exited. Be sure to save just a small corner of your appetite for those — they were YUM!
We learned a few things that are worth knowing if you're planning on including a Gospel Brunch in your next Disney World vacation. One is that it's a good idea to arrive early. Even though your seats are reserved, it is nice to get started on the buffet before the lines get too long. And although the food is served throughout the whole event, you may not want to be distracted by having to go get your third serving of apple cobbler during the entertainment. Also, when you arrive you might want to make a beeline for the omelet station, as that line has the potential to be slow. Just be sure to take the plate from your table with you, because while other stations have clean plates, you need to bring your own to the omelet station.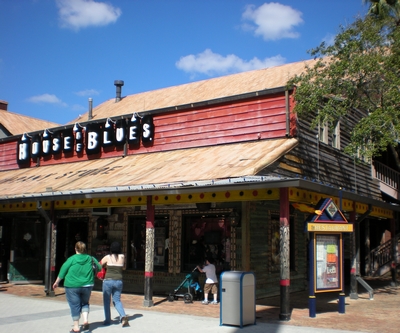 Don't forget to visit the gift shop!
While we chose this as an adult-only outing, the Gospel Brunch is certainly kid-friendly, though you have to know your child. It's not a quiet experience, so you wouldn't have to worry about them being noisy. But it's possible that they could get bored. My son didn't enjoy the Candlelight Processional at Epcot, so it's a good bet he wouldn't have been thrilled by the Gospel Brunch. But there were children there and, as far as I could tell, they seemed to be enjoying themselves. And I know we did — this was a better-than-average brunch with fun entertainment at a decent price.