This post may contains affiliate links for your convenience. If you make a purchase after clicking a link we may earn a small commission but it won't cost you a penny more! Read our full disclosure policy here.
By Teresa Pitman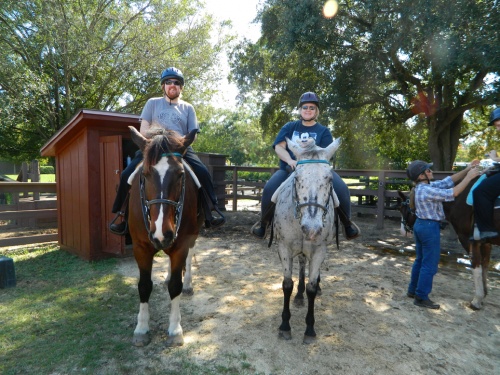 We're waiting in line for our guides to mount up – all small group of about ten riders, all of us excited about heading out to the trail. My horse is tied to the fence with a slip-knot, and I sense that she is tensing up. A woman standing on the grass beyond the fence is preparing to take a photo, and for some reason the mare I am riding doesn't like her. As she clicks the camera, my horse makes a backward leap. The rope comes untied, and she bolts across the paddock, running away from the scary person with the camera as fast as she can. I hear screams behind me.
Fortunately, I'm an experienced rider (I own my own horse, a sweet Quarter Horse named Cody) and I'm able to quickly bring my runaway steed to a stop and calm her down. The guide tells me that this mare has been used in parades in the Magic Kingdom and is usually quiet no matter what is going on around her, but "horses are still horses, no matter how much training they've had."
So true! As our group heads on down the trail, my mare is still looking around cautiously (could the woman with the camera be hiding behind that bush? Or that one?), but she soon settles down and our ride turns out to be both relaxing and enjoyable.
You may not have thought of going horseback riding on your Disney vacation, but for horse lovers it can be a very enjoyable break from the hectic days in the park. Here's how it works:
Make your reservations in advance by calling 407) WDW-PLAY up to 30 days in advance. Riders must be nine years old or older, at least 48 inches tall, and must weigh less than 250 pounds (and they will weigh you, by the way). No experience is necessary – this is a slow trail ride, just walking, and the horses are well-trained. Each trail ride lasts about 45 minutes and there are usually five rides each day at 8:30, 10, 11:30 a.m., 1, and 2:30pm. Rides will be cancelled if the weather is bad, but if it's just a light rain they'll hit the trail anyway.
Wear closed-toed shoes or boots (no flip-flops, slip-on shoes or sandals are allowed) for your ride, and I'd strongly recommend long pants as the saddle can chafe against bare legs. Get there early. When you arrive at the Fort Wilderness parking lot, you head to a check-in building near the lot. There you'll sign a waiver form (remember, horses are still horses and therefore always a bit unpredictable), and weigh in (don't worry, nobody else sees your weight!). From there, you walk over to the riding ring next door, where the horses for your group are saddled up and waiting. There are storage lockers where you can put your camera, purse, etc., since nothing can be brought on the trail.
With your stuff stowed away, you'll be fitted with a helmet. (You can also bring one from home, if you want.) Then you'll meet the horse you've been assigned; your weight and riding experience are taken into consideration in these assignments.
Worried about getting on the horse? Don't be. The mounting block set-up here is the best I've ever seen. It's wide and sturdy, high enough that you can easily get into the saddle even if your legs are short, and the horse is led between the mounting area and a rail so he can't move away while you are getting on. Couldn't be a better arrangement for a nervous beginner! Once you're settled in the saddle, the horse is led away and tied to the fence to wait for the others.
When the whole group is ready, the horses are untied. The guides will give a brief lesson on how to steer and direct your horse, and then the group heads out, with one guide at the front and one at the back, and the riders in single file.
The route is a simple one that takes you across the road, through the woods, and back again. You'll be able to see some of the cabins and some campsites, but mostly you are riding through the trees – and it's a lovely, peaceful ride. If you are near the front or back of the line, your guides will happily chat with you, telling you stories about their Disney careers, the horses, and any wildlife you see (armadillos! Bunnies!).
When you return to the ring, the guides will lead each horse through the mounting block again so that you can easily dismount. They're also usually happy to take some photos of you on your horse if one person in your group can retrieve the cameras.
If you haven't ridden before, this is a great way to give horseback riding a try. If you're an experienced rider, you may find this slow-paced ride a bit boring – or, like me, you may find it relaxing and a nice change of pace from an otherwise busy vacation. (Of course, your horse may decide to spice things up a bit as mine did!).
And if you're not up for a ride, even a gentle one, there are plenty of other opportunities to interact with horses at WDW. You can visit the barn at the other end of Fort Wilderness, see some of the horses, and check out the stall that has been turned into a mini-museum with photos of Walt and some of his equine friends. If you have small children, they can be lead around on a pony nearby. You can also ride in a horse-drawn wagon at the Fort, or head over to Port Orleans Riverside where a carriage driver will take you on a night-time ride around the pathways of the two Port Orleans resorts. Very romantic! Of course, horses show up in the Magic Kingdom every day pulling the trolley or in the parade. (Don't pat them, though – these horses are working and need to avoid distractions.)
I think the most dramatic equine appearance, though, is the beautiful black horse carrying the Headless Horseman through Magic Kingdom during the Halloween Parties. The sound of his hooves clattering along the path always sends shivers down my back. Horses definitely have their own magic, especially at Disney World.
Incoming search terms:
https://www themouseforless com/blog_world/horseback-riding-through-fort-wilderness/