This post may contains affiliate links for your convenience. If you make a purchase after clicking a link we may earn a small commission but it won't cost you a penny more! Read our full disclosure policy here.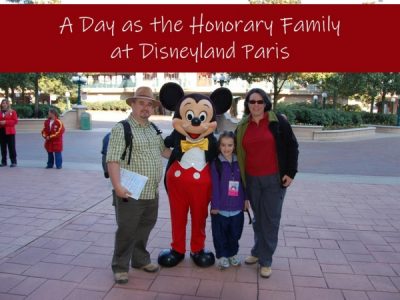 Thinking about past excursions to the Disney Parks brings back so many wonderful memories for me and my family. It is, after all, why we keep going back. My family has always been a Disney family and I don't remember a time when Disneyland wasn't on our family holidays. So, it was a challenge to share just one, most special Magic Moment. After all, I have a wealth of the 'normal sort' of pixie dust covered experiences – Cast Members offering special passes, amazing interactions with characters, and that sort of thing. However, the one that stands out the most took place at Disneyland Paris. This is our story of being the honorary family.
I would have to say that just being at Disneyland Paris was magical. Here I was, after traveling for 40-some hours, with my husband and daughter. We got to the area the day before, slinking off the train and taking the bus to our hotel, tired, hungry, and just wanting to avoid any hassle. We were planning to go to Disneyland Paris the following morning and prepared by going to bed early. As veterans of Disneyland California, we expected to have to be at the gates at least an hour before they opened.
The next day, while the birds still slept, we got up and had breakfast. We caught the first morning bus in to the parks. We noticed the beautiful landscaping as we walked towards the gates and pushed through to get the coveted 'close to the front of the line' spot quickly. After all, my daughter was finally tall enough to ride Big Thunder Mountain, the ride we were planning on doing first up. Imagine our surprise when we got to the wrought-iron gates under the Disneyland Hotel and found that we were the only ones there.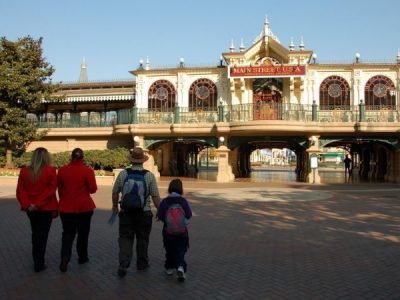 We waited for about 15 minutes. Still no guests arrived. There was a Cast Member who was letting other Cast Members though at one side. We walked up to him and asked if we were in the right place. Certainly, this couldn't be the main gates. He assured us that we could stand in front of any of the gates and that we would be let in closer to rope drop. So, we went to the center and waited.
Slowly, other guests came and soon the Cast Members started to roll back the gates. All but the one in front of us. I laughingly joked with my husband that this was the one gate that wouldn't open today as the lines at all the gates were now about a hundred deep each. Though we found this funny, the people behind us scoffed. Before the park opened, gate still closed, a Cast Member came up to us.
"English?" he asked.
"Australian," we answered.
"Ah, good, I brought the right paperwork."
My husband and I exchanged a questioning look.
"We have been watching you. You have been here so long," the Cast Member continued.
We nodded. "Yes, we are used to visiting Disneyland in California," I replied.
"Well, then you might like this. We were wondering if you would like to be the Family of Honor today."
My daughter and I jumped up and down. "Yes, please." Even though we had no idea what a Honorary Family did.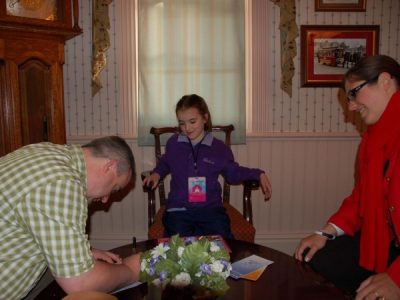 He opened the gate in front of us and scanned our passes. Then we walked in – the first guests of the day. Mickey met us. He gave my daughter a hug, then me, and he shook my husband's hand. The next hour was surreal. With a pass around her neck proclaiming her the Honorary Family, my daughter helped Mickey Mouse welcome the guests to Disneyland Paris and she opened the park.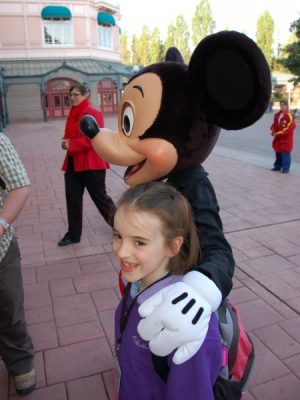 We were escorted down Main Street to City Hall where we had to sign a few legal documents. Then we were escorted to Big Thunder Mountain. After our wildest ride in the wilderness, we had a photo with Mickey. The rest of the day was ours. However, we had a few more perks. The pass allowed us exit access to all the attractions in Fantasyland. This saved us hours in the lines. It also granted us reserved seats at the shows and for the parade.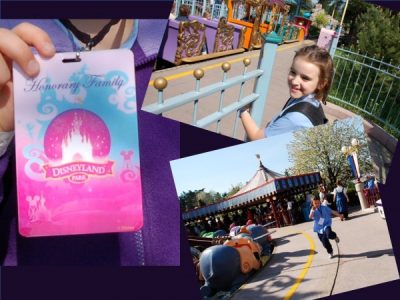 The parade was probably the most uncomfortable I have ever been in a Disney park. Like all Disney parades, people packed the sidewalks and other viewing areas. Well, for everyone but us. As the Honorary Family, we had a very nice sized roped off area at the beginning of the parade route. Just the three of us and two Cast Members, whose job it was, we found out, to keep everyone else out of the area. The parade Cast Members all made sure to wave and interact with my daughter. It was very special. But those packed in like sardines around us and across from us spent most of the parade looking at us trying to figure out who we were.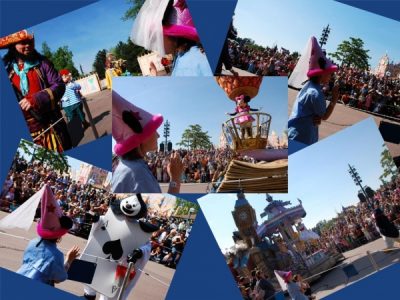 At the end of the day, we went back to City Hall and were given a few keepsakes including our photos with Mickey and our ride photo from Big Thunder Mountain. We handed back the Honorary Family special pass and left Disneyland Paris with a set of memories we still talk about today.
Did you like this article? Make sure to share it with your friends! Check below for easy ways to share!
Want to make your own memories at Disneyland Paris? Contact The Magic for Less Travel for more information and a free, no-obligation quote.