This post may contains affiliate links for your convenience. If you make a purchase after clicking a link we may earn a small commission but it won't cost you a penny more! Read our full disclosure policy here.
By Kristi Letsinger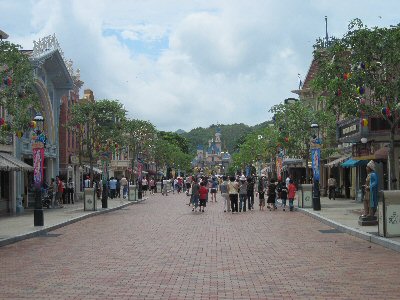 My family recently had the opportunity to visit Hong Kong Disneyland during an adoption trip. My daughter and I love Disney, and we wanted to visit the park with our newly adopted two-year-old son. We were hoping it would be a fun time together as a family, but we weren't sure if a long day at the park was a smart decision, since we would have just adopted our son. However, it turned out to be a memorable way for our new family of four to really become a family.
Hong Kong quickly became one of my favorite cities, and I hope to go back someday and spend many days just exploring! And seeing familiar Disney attractions in a new setting was novel. But the nicest thing about this trip to Disney was that it was just for us. For two weeks we had been with other families, guides, government officials, and arranged tours. For our time at the park, it was just us. It was our first time to be a family without prearranged meeting places or times to exchange money.
Our Disneyland day was our first day on our own schedule and moving at our own pace. I didn't have any expectations of what we wanted because it was all so new — newly adopted son, new parents for our boy, and a sister getting used to a new brother. But just the smiles from both of our kids and the looks of amazement on their faces was more than we could ask for.
First, the basics: We booked two nights at the Hollywood Hotel on Disney property. This is one of two Disney hotels in Hong Kong Disneyland. The hotel is subtly decorated in Disney characters. The staff was friendly and helpful, though it did take us over 45 minutes of standing in line to check-in for our rooms. The pool at the hotel is shaped like a grand piano and has a gradual slope from shallow to deep.
The theming of the hotel was comparable to a U.S. Disney hotel. The tones were more muted, with lots of grays and whites, but there were statues in the lobby and Mickeys in the elevator and in the carpet, although they did not jump out at you like they might at the Value resorts at Walt Disney World. The room was quiet, with very muted colors and patterns, and it was very pleasant. The kids liked it and enjoyed seeing the statues in the lobby.
After checking in and settling into our rooms, we left for our Disneyland adventure. We took the bus to the park. As we walked closer to the main gate of the park, we found a wonderful and huge water fountain with Mickey, Minnie, Goofy, and several other characters. The kids enjoyed this fountain — it was huge and really a wonderful way to begin the entrance into the park. It was best at night, though, when it was lit up. Our son was a little too overwhelmed at first to get into the fountain, but was more interested later on, after seeing more of the park.
When we walked into Disneyland the first thing that I noticed was how small it was. Sleeping Beauty has her castle here, but it seems so small in comparison to its twin in Disneyland. It had its own unique charm, however, with views of lush mountains behind it! We walked through it on our way to explore new lands together.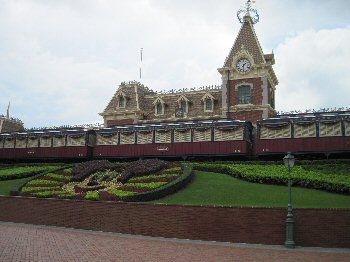 We rode "its a small world," which has some Disney characters, like Aladdin and Cinderella, throughout the ride. It was sentimental as always and especially this time, as we had our new son with us. Our son loved it. We rode it two or three times. His face lit up and he watched everything that he could. He would move side to side (a small dance) from the waist up to the music. From his reaction, I think that this was his favorite ride. It was the first time that my daughter and I had seen the Disney characters in the attraction, so she loved it too.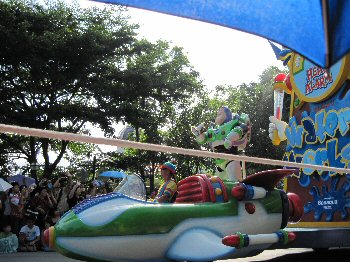 We also rode Cinderella's Carousel, Dumbo, Buzz Lightyear, and the Mad Hatter's Tea Cups. (All of the rides had instructions in English and Chinese.) Seeing our completed family together on these rides was a blessing. My husband is not a Disney fan and he does not usually go to the parks with us, so to have him with our two children and seeing him smile, really smile, during some of the rides, was the best part of the attractions for me.
The park also helped us come together in other ways: My son started out liking Mickey's Philharmagic. Then he got scared…and he turned to me and buried his little head in my shoulder. He was already looking for comfort from his new mama.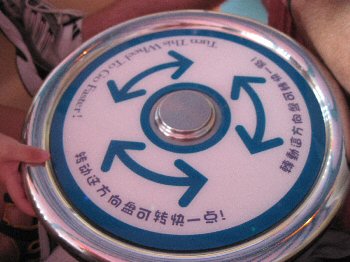 My husband and I rode Space Mountain, and we traded off to stay with the kids. We each got into a single-rider line and waited no more than five minutes to get on the ride. When I was about to board, a man stepped into the car in front of me and the attendant asked me if it was okay if I rode with a man. I, of course, said yes (I am sure with a very strange look on my face). The man looked a little stunned that I got in the car as well!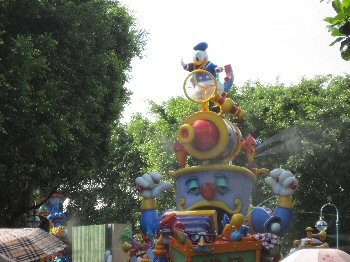 We were able to watch the afternoon parade, which was a water parade. The characters came out on floats or on foot and sprayed the guests with water. I loved it, but my children didn't like getting wet even though it was extremely hot. My daughter and son both love to get wet, but on their own terms! This was a great parade, but we were in the sun and it was probably 100 degrees. I think that the characters kind of scared our son, as he had never seen anything like it before!
Lastly, we attempted to do some shopping. We collect pins, so my first stop was the pin station. The shops were very crowded and my children were getting tired, I headed out into the streets to wait. The gift shop in the hotel was open until 11:00 p.m., so I was able to finish up my shopping there. I would have thought that we would have bought more, but it was so crowded that it was hard to really see what they had, although we did manage to find a pillow featuring Mickey and Minnie in Chinese outfits and a few Hong Kong Disney pins for my collection.
We did have a wonderful time viewing the fireworks from Main Street. The castle changed color with different songs and moods. All of it was done in English as well. The streets were crowded with people trying to get a good view.
After the fireworks, we left for the hotel. The park closed at 8:00 p.m., and we were tired from a long day. We decided not to take the Disney bus back to our hotel, but to walk instead. The walk from the park to the hotel is about a 20-minute walk, but is nicely lined with flags of characters, water fountains, and shrubbery. We were the only people on the path and it was quiet and calm.
Some of my favorite memories of our trip came from the walk home. It was special to walk through the flags with the characters on them as we talked about the characters. After being in the park and with many other people, to turn onto our path while everyone else got on the bus was a nice change of pace. Disney parks are loud no matter which one you go to. But on our path to the hotel, it was quiet. There was no one else there. We were just this new family of four walking home together.
One of the things that my daughter remembers was that we saw many, many snails and slugs on the path home, including one snail that had to be the biggest I've ever seen. We counted snails, looked at their sizes, and talked about the trails that they were leaving. My daughter still talks about that giant snail. She remembers the snails; I remember taking the time to admire the tiniest details about the park with my children, on my family's first vacation together.
Suggestions and tips:
Hong Kong Disney is a park that can be experienced in a day. The park usually closes early (8:00 p.m. on the night we were there) but because it is so small it is manageable in one day.
One interesting and very different mode of transportation at Hong Kong Disney was a subway train that is designated just for going to and from Disney. It is one of the stops on the Hong Kong subway line, and we rode it after our second day in Hong Kong as we were out and about in the city. The train has blue plush seating, statues of Disney characters, Mickey head–shaped windows, and Mickey head–shaped handholds. It was a great way to get in the Disney spirit before we even got to the park.
Be forewarned that there are no character meals in the park, except one that is located in one of the Disney hotels.
Watch the outside part of Small World. The clock tower opens and music plays.
Shop before closing time. It was difficult to maneuver our stroller and child carrier through the stores without hitting a shelf or someone else. I think that not taking the kids in the store would be the best bet. We saw many more adults than kids at Hong Kong Disneyland. Where in the states that is the opposite, in China it was very different in that aspect, making shopping was a huge adventure.The stores, like WDW, are packed full of items. Then add the people. It is also a different culture, so walking through a store or on a road are sometimes learning experiences, as Americans may not do what many do here (yield to walkers, let some have the right of way, etc.). My recommendation is to go at a less crowded time — we went toward the end of the night and that could not have helped matters.
If you stay at a Disney hotel, take the path home rather than riding the bus. Again, I think that aloneness of it after being at the park was what I enjoyed most. Plus, coming upon the Hollywood Hotel sign lighting up the darkness was also fun.
Get the ocean view room if you stay at the Hollywood Hotel. Though we weren't on the ocean, it was nice to look out our window and see the ocean and the ocean traffic.
The Cast Members here were not as outgoing as others I have met. We did meet one or two in the hotel gift shop that offered my children stickers, though! I didn't take trading pins on this trip because I didn't want to carry them all that way if they didn't trade here. But when we walked into the gift shop, my daughter started jumping up and down, wanting to trade with one of the Cast Members. At WDW, we have had Cast Member give more than one pin or something special if we had run out of pins of our own; here, we got a sympathetic look, but no pins. My daughter was fine with that when I explained that it was my fault that we didn't have any, but I'll remember it for next time./li>
Our time at Hong Kong Disney was short, but was one that we will always remember. There were so many things that were exactly like other parks but there is still the realization that one is in China and still enjoying Disney. Our trip was truly a magnificent experience for my family, because of the people, the sites, and even the snails, but most of all, because we were experiencing it all together.