This post may contains affiliate links for your convenience. If you make a purchase after clicking a link we may earn a small commission but it won't cost you a penny more! Read our full disclosure policy here.
You saw a great picture of me by that big hat last time. Now we finish the alphabet with something I find undervalued and end with ZERO FEAR.
Undervalued Services
One of my favorite services that I am willing to pay for is a locker.  I like to bring some things with me just in case, but I don't want to carry them around the park all day.  A locker is the perfect solution!  At the end of the night when I retrieve my things I can turn in the key for a credit.
Voyage of the Little Mermaid
It has been a long time since I remember seeing this show.  The line was long. Other things had more appeal.  But I was in high school when Ariel first sang (I date myself) and I'd love to hear her sing again.  Plus Sebastian has always been my favorite crab.
Walt Disney:  One Man's Dream
A twenty-five minute tribute to the man who made all of this possible.  I will watch it differently this year because my own take on the man and the mouse in my life has changed.  I look forward to this in a different way than I do most of the attractions and dining experiences. Here's where I get to say thanks.
X-pecting Big Things – Star Tours:  The Adventure Continues
I am not a huge Star Wars fan.  I've seen all the movies and have passing knowledge.  My brother was the real fan in the family.  I am still really excited for the new Star Wars re-do that will be unveiled soon.  The last one was fine the first couple times but then I got sick of that little droid.  I've read that the new attraction has multiple options so it will be different every time you go on it.  That might make me try it more than once!
Young Jedi-in-Training
Sometimes it's fun to be a kid.  Jedi Training Academy is one of those times.  After being selected from the Stand-by line children are inducted into the Jedi.  Training then ensues.  Finally they face the evil Darth Vader.  Of course the padawan learners are victorious and receive a certificate of appreciation from the Jedi Masters.  It makes me wish I was a kid.
Zero Fear on Twilight Zone Tower of Terror
That's me.  Zero fear.  And I think that's a little harder when you're on there with a group of total strangers.  It's rather funny because I am not a brave person in life but walking through a haunted hotel and hearing how the guests mysteriously disappeared doesn't bother me.  Getting strapped into an elevator that looks questionable from inside the hotel and just insane from the outside- that doesn't make me think twice.  When it begins to move erratically I actually smile.  Finally we fall and then unexpectedly stop only to fall again.  That crazy opening you can see from the outside allows for a brief peek out at Hollywood Studios before the elevator glides back into place and Rod Serling reminds us about the Twilight Zone.  This is one I linger in the gift shop on, as if that will keep me here just a bit longer.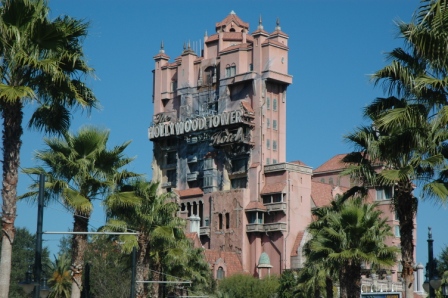 And though we can't stay any longer, I hope you're looking forward to our final park, Magic Kingdom.  We'll get some amazing autographs, save the galaxy and zip down Splash Mountain.