This post may contains affiliate links for your convenience. If you make a purchase after clicking a link we may earn a small commission but it won't cost you a penny more! Read our full disclosure policy here.
We left off enjoying Italian at Mama Melrose's. Now we're ready to discover Narnia and find out about That BIG hat!
Narnia Fans Unite
Journey into Narnia: Prince Caspian is not so much of a favorite of mine.  But my husband likes it.  Journey is a collection of movie props and video clips from the movie.  For fans of the books and movies this is very nice.  But I would rather be having a cupcake!
Out on the Streets
Walking the streets of Hollywood Studios is fun.  Sunset Boulevard has a feel.  You believe that you have been transformed in time.  And it's fitting that Tower of Terror sits at the end.  Animation Courtyard feels like the past, present, and the future all in one.  It's arch makes it look like a real studio.  Hollywood Boulevard has great shopping (as it should).  But my favorite is Streets of America with it's New York and San Francisco sets.  Again – great photos waiting to be taken.
Pixar Pals Countdown to Fun
This is new this year replacing the Block Party Parade.  I don't know much about it yet, but I am looking forward to seeing it in person in June!
Quick!  Get Your Midway Mania Fast Pass
Toy Story Midway Mania may be my favorite ride in all of Disney World.  I am AWFUL at it(I am much better at Buzz Lightyear but more about that next month).  I read an online game guide that was so complicated I told my husband to read it (He's the video game guru).  I decided that wouldn't be much fun because one key to a high score is playing alone in your car and I won't sit out.
So since I'm bad, I have to play a lot to practice.  This is a busy ride so I have a strategy to get a FP right away and then get in line.  After that my only plan is to beat my husband at least once this trip.  We have the game for the Wii and our trip is not until the end of June so I better get to practicing.
Rock'n Roller Coaster
I love the queue for this ride.  This has to be the greatest roller coaster ever.  The beginning blows me away.  The music is amazing.  But then ten seconds later it's over!  Now I know it's longer than that but it is a really short ride.  I am always happy to single rider this one because if I didn't I'd feel short-changed.  It's still a favorite of mine.
Sci-Fi Dine in Theater
I'm still trying to sneak this into our trip this summer.  We're trying new places but I really like Sci-Fi.  I love their Cherry Sprites.  I might skip the meal and just go have those!  I like sitting in my 50's convertible watching old sci-fi and monster movies on the "outdoor" screen.  And the food is great too.  We've always gone at lunch and been very happy.  This may still sneak it's way on to my plan!
That is One Big Hat!
Each park has it's icon; the castle, the tree, Spaceship Earth.  At Hollywood Studios it is a giant Sorceror's Hat and like many of the things at Disney if you have one picture you probably have a hundred.  At least I do.  Another reason I am fond of this Hat is I have stood beneath it and shopped for pins while waiting for the daily afternoon summer rain to pass.  It must be a magic hat because storms never last too long.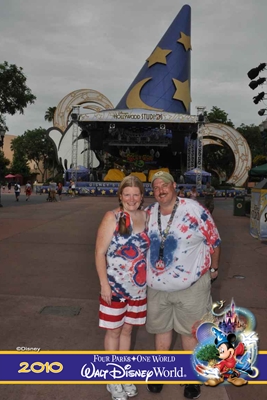 One more batch of Hollywood favorites awaits. We'll start with something I feel is undervalued and end with ZERO FEAR. See you in the Twilight Zone.