This post may contains affiliate links for your convenience. If you make a purchase after clicking a link we may earn a small commission but it won't cost you a penny more! Read our full disclosure policy here.
This was by far the easiest park for me to write about so far because I love it so much. Our favorites today start with you American Idols and come to a complete stop at a really Great Movie Ride…
American Idol Experience
I really wasn't sure how I'd feel about this the first time I saw it.  I love the show but I couldn't imagine how it would translate to Disney.  Having seen it twice now it's something I really enjoy.  I'll be interested to see if the Hollywood Studios version changes at all as the "real" version has undergone some changes.  Either way I look forward to it and am amazed by the talented guests that have performed.  If you are there when I am, no need to worry.  I'm not brave enough to venture out on the stage.
Beauty and the Beast
Tucked over by Tower of Terror and Rock n' Roller Coaster, poor Belle almost seems out of place and easy to miss.  Do take the time to find her as Beauty and the Beast is well worth it.  Kids enjoy the transformation of Beast's household while adult's find something special in a simple love story.  All of course set to a tune as old as time.  It's just right for a nice rest from the bustle of the park.  We missed this last time, but we won't on our next trip.
Cupcakes at Starring Roles
For months now every time a blog shows a good looking Starring Roles cupcake I share it on my Facebook page.  Funny thing is that I'm not a big dessert person. In spite of that I have determined what I am getting and how this will happen.  We will enter the park, get Fast Passes for Toy Story Midway Mania, go on Toy Story and then straight to Starring Roles where I will order a Butterfinger cupcake.  My husband can order something different (hopefully that I like).  We will cut them in half and enjoy two different kinds.  It is the perfect plan!
Dine with an Imagineer
Doing this is one of my very special plans this trip.  We're doing Deluxe Dining and this seemed well worth two dining credits.  First I'm excited to see the Brown Derby.  I've said this before but I am an incredibly picky eater.  This is the trip I am planning to not limit our experiences because of it.  More challenging for me is this has a set menu.  I found something I could work with.  What I am really most excited about is the experience.  A small group of no more than ten of us will dine with an Imagineer.  How Cool!  At the end of the meal we get a keepsake as well.  I'm glad I moved our Fantasmic package to dinner so we  lunch with an
Imagineer.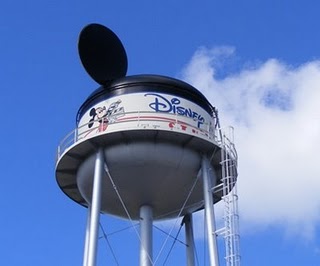 Earful Tower
The first time I saw these (and heard the name) I was a kid and I thought all water towers should look like this.  They would make people so much happier.  I believe at the very least Disney should display them more prominently.
Fantasmic
I schedule our trips around Fantasmic.  I find out when it's offered and back plan from there.  It's one of our favorites shows at Disney.  This year I booked the Fantasmic dinner package.  We've done it without in the past but we're going to try it this time.  At least we won't have to rush in and try to get good seating, not that any seating is bad mind you.  With the meal package we get there 45 minutes ahead of time after having a great meal at Hollywood and Vine and they have saved section of seating just for us.
Why all the fuss?  The show is incredible.  If you haven't seen it you don't know how much you are missing.  It is a battle between good and evil with our dear Mickey defending good until the end.
Great Movie Ride
Some people say it's dated and boring.  I love the Great Movie Ride because it helps keep alive many screen legends and masterpieces that might be forgotten.  Plus it's a lot of fun.  Shootouts, aliens, munchies: this ride has it all.  It's a great way to relax during a long day at Hollywood Studios.
Our second Hollywood adventure will start at Hall of Fame Plaza with bronze busts and lead us to an Italian meal that's more than a meal at Mama Melrose's Ristorante Italiano. Ciao!