This post may contains affiliate links for your convenience. If you make a purchase after clicking a link we may earn a small commission but it won't cost you a penny more! Read our full disclosure policy here.
By Erica Colmenares and Michelle Leifur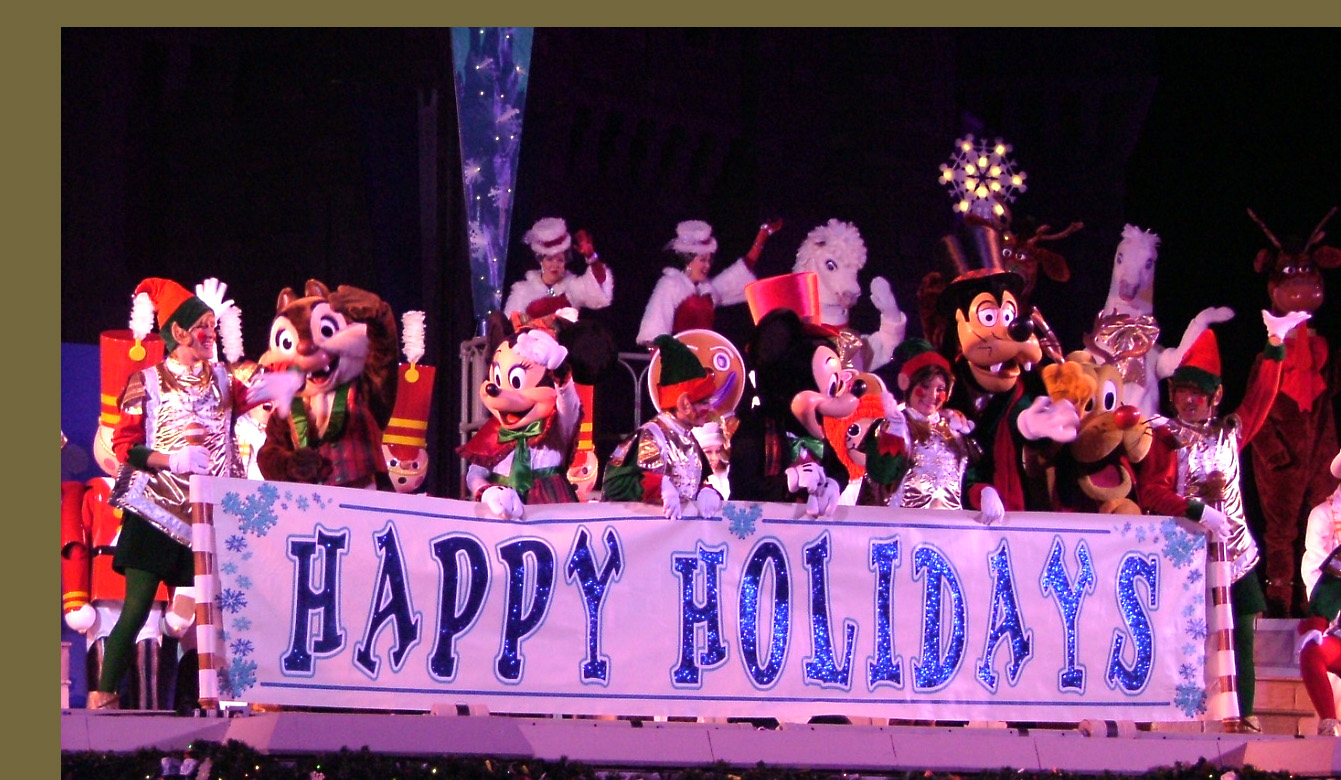 This Thursday is Thanksgiving. For many, this marks the "official" beginning of the holiday season (although this year some decorations and gift ideas were displayed in stores before Halloween). The Orlando area truly is a festive place to spend part of the season. There are things going on not only in Walt Disney World but in other theme parks and the surrounding area as well. We've put together a primer for those enjoying the upcoming season at the Orlando theme parks. Use this information for your fast-approaching vacation, or print and save for a future December get-away.
The Big Mama of the Disney World offerings is Mickey's Very Merry Christmas Party. This Magic Kingdom party includes stage shows, character meet and greets, cookies, cocoa, a special parade, and fireworks- what's not to like? Maybe the price, but if you combine it with a morning of rest and relaxation, it'll run you less than a "regular" day at the parks. Advance Price: Adults 10 and over: $38.95+tax, Children 3 – 9: $29.95+tax 7:00 p.m. – midnight, November 27, 29, December 1, 2, 4, 6, 8, 9, 11, 13, 15, 16, 18, and 20.
Epcot's Candlelight Processional runs a close second on the holiday "Must Do" list. The Disney site reads: "One of the most beloved and joyous Disney traditions since 1958, the Candlelight Processional enthralls you as a Celebrity Guest narrates the Christmas story, accompanied by a 50-piece orchestra and a glorious mass choir. Guest choirs travel from as far away as the UK to sing with over 400 performers each evening. The Candlelight Processional takes place in the America Gardens Theatre and is included with park admission." Showtimes are 5 p.m., 6:45 p.m., and 8:15 p.m, November 25-December 30. If you want to avoid lots of queuing, either go to the first show (still arrive early) or consider the dinner package that Disney offers. For nightly narrators and more, check here: TheMouseforLess Candlelight Processional information
Epcot also hosts:
Mickey's Tree Lighting Treat – Join Mickey at the entrance to the World Showcase to celebrate the holiday with an array of traditions. Enjoy international holiday music, and the lighting of the tree. Daily at 6 p.m.
Holiday Storytellers – It's not just Santa at Disney. Listen to the U.K.'s Father Christmas tell tales of Christmas past, the Monkey King and the Dragon Legend Acrobats bring in the Chinese New Year, learn from La Befana in Italy of Epiphany, and share the meaning of Ramadan with Taarji, the Moroccan storyteller. Traditions from Kwanzaa and Hanukkah are also featured in Epcot's Holiday Storytellers.
Lights of Winter – World Showcase Plaza is transformed by an array of lights, which dance to music, entertaining guests from dusk to closing.
IllumiNations: Reflections of Earth – Though always a part of any Epcot evening, during the holidays this nighttime show adds a special holiday finale, set to the song "Peace on Earth." 9:30 p.m. nightly.
Over at the Disney-MGM Studios, the millions of Osborne Family lights again are displayed. Until January 8, the Osborne Family Spectacle of Lights turn on nightly at 6 p.m. (closing varies- check your Times Guide). In addition, the Studios adapts its afternoon parade- catch the Hollywood Holly-Day Parade at 3:00 or 3:30 p.m. daily.
Animal Kingdom also puts on a holiday parade, called Mickey's Jingle Jungle Parade. At 3:45 p.m. daily through January 8, this parade features Mickey and friends celebrating the season. Carolers will perform daily, and Animal Kingdom guests will have a chance to meet Santa Goofy at Santa Goofy's Wild Wonderland in Camp Minnie-Mickey.
If you are at Walt Disney World on December 3 and 4, here's something you should know about: the 2005 Christmas Day Parade will be taped these two days at the Magic Kingdom. You can either go to Magic Kingdom and see the throngs and catch a glimpse of Kelly and Regis, or avoid MK like the plague and head over to the Studios. If you do miss the taping, you can always watch the parade on TV from the comfort of your home or hotel room. This year's program will feature parade elements from both Walt Disney World Resort in Florida and Disneyland in California. It airs on December 25 from 10 am-noon EST on ABC. And to enhance your Christmas day viewing experience, submit your own home video to Disney for possible airing during the parade show! Disney's looking for funny, fun, and/or heartwarming video clips from you! Videos must be received by December 8. Check here for complete details: Disney's Christmas Parade Videos
Downtown Disney holds the Festival of the Season now through December 24. Shopping opportunities are, of course, abundant, but there's more than that. The window displays are dressed for the holidays, there are lights up every which way, and live entertainment (a brass quintet, stilt walkers, and more). Santa Claus waits for that perfect photo op at Santa's Chalet (in front of World of Disney)- Santa's hours are from noon-10 p.m. daily through Christmas Eve. And he'd like to meet your pets, if you bring them December 3-18.
You know, right, to set aside time during your holiday visit to wander around the Disney resorts? Oohing and aahing are definitely in order. Traditional favorites are the Grand Floridian, Wilderness Lodge, Animal Kingdom Lodge, and the Beach and Yacht Clubs. But each resort will outdo itself with added glitter- see as many as you can. If you want more than just beautiful decorations, why not sign up for a Holiday Sleigh Ride at the Wilderness Lodge. These $30 evening rides take you through the Disney "backwoods" for 30 minutes. They are available from November 25-December 30. Call 407-WDW-PLAY to reserve your carriage (note: you must cancel within 48 hours of your ride time to avoid being charged).
Now, what's going on outside Disney proper, where other tourist destinations in the Orlando Metropolitan area are also celebrating the holidays.
In Winter Park, the Charles Hosmer Morse Museum has an annual lighting of their century-old Tiffany windows with festivities including a free outdoor holiday concert by the Bach Festival Society. More information can be found at http://www.morsemuseum.org/ or by calling 407-645-5311.
Kissimmee has its annual Holiday Extravaganza with live entertainment, tons of snow, fireworks (won't that melt the snow?) and more at Lakefront park. Call (407) 932-4050 for more information and a schedule of events.
Want to see a nationally televised parade in person? Check out the Orlando Citrus Parade in downtown Orlando on December 30th. On January 2nd is one of the season's many college football games, the Capitol One Bowl (formerly known as the Citrus Bowl). Watch as favorite college football teams compete to see who will come out on top. More information is available at http://fcsports.collegesports.com/sports/s-cap/fcs-s-cap-body.html or by calling (407) 423-2476. (At press time, the teams had not yet been chosen.)
Universal Orlando, of course, is full of holiday activities, from December 9-January 1. At Islands of Adventure, Seuss Landing becomes Whoville, all decked out for Grinchmas – get your photo taken with the mean, green one himself. And enjoy the musical performace of "Whoville Whobilation" and a nightly tree lighting ceremony. At Universal Studios you will be able to catch Macy's Holiday Parade – Universal claims it's bigger and better this year. See if you can fit it in! In the New York street sets, the Delancey Street Festival will delight New Yorkers with handmade zeppoles, funnel cakes, Italian sausage and peppers hoagies, slices of NY style pizza, fresh squeezed lemonade, cotton candy and more. http://themeparks.universalstudios.com/orlando/website/holidays/2005/holidays.html
For the Saratoga Springs Spa
Sample treatments include a 50-minute Swedish Massage for $110, 50-minute Aromatherapy Facial for $115, 50-minute "Sleeping Beauty" Body Masque & Wrap for $120, or a Spa Manicure or Pedicure ($50 minutes for $65); "My First Manicure" or My First Pedicure" offers a first experience for guests 4-12 (25 minutes for $30).
http://www.relaxedyet.com/
(407) 827-4455
Over at SeaWorld, Shamu gets into the holiday spirit as the park is transformed into a dazzling display of lights, sights and other delights (or so says their website). Holiday events nightly November 25 – December 25:
Shamu's Christmas – A Child's Wish is described as being a nightly holiday show about a child's wish to meet Shamu. The cast? Killer whales, trainers, singers and musicians!
Christmastide Holiday Fountain Show – witness water seemingly dance in unison to lively Christmas music
Makahiki Christmas Luau – Celebrate the ancient holiday traditions of the Pacific Islands with a bountiful feast and traditional music. Musicians, dancers and fire twirlers perform rhythmic music and dance while guests enjoy cuisines from the South Seas. (Nov. 25 – Jan. 1, except Christmas Day). Advance reservations can be made online or by calling 1-800- 327-2424. Park admission is not required.
Shamu's Sea-cret Santa Celebration – Sea World's Christmas Character Breakfast offers a simple story of friendship and Christmas spirit that will engage the young and young at heart. The cost is $14.95 for adults, and $9.95 for children ages 3-9. Park admission is required. Offered November 25-27, December 3-4, 10-11 17-18, 26 – Jan 1. Advance reservations can be made online or by calling 1-800- 327-2424.
Frosty Friends Sleepover (December 9, 7 p.m.) A cozy family overnight in the Arctic and Antarctic, including making camp with the penguins. This overnight includes educational games and activities, a pizza snack and continental breakfast. The cost is $75 per person. Reservations on-line only.
Festivities on the Waterfront – Carolers sing, Santa Claus poses, shoppers shop. The Waterfront will feature nightly "snow" flurries, as well as Santa Claus. http://seaworld.com/seaworld/fla/swfse/christmas.aspx
If fish aren't to your liking and you prefer horses, then Dolly's Dixie Stampede might be more your speed. This holiday dinner show features trained horses and riders portraying the Christmas Nativity Story. More information can be found at http://www.dixiestampede.com/orlando.php
As you can see there are things to see and do outside of Disney World (I know, amazing!) For a listing of events in Orlando specific to your visit dates, check here: http://www.orlandoinfo.com/other/calendar/
If you are interested in attending religious services during your time in Florida, most places of worship in the Orlando/Kissimmee area are welcoming to vacationing families. Check with your faith's national website for events and services that are happening while you are vacationing. This list might help, for starters: Religious Services Near Walt Disney World
There are lots of smaller events that happen each year and many vacation favorites tend to get into the "holiday spirit" with special events and decorations. www.VISITFLORIDA.com has a listing of various events and happenings throughout Florida that you can check prior to leaving. If you are driving to Disney, this might be a fun way to experience other things that are happening in Florida as you pass through.
Whatever you choose to do with your vacation time this festive season, we hope it's a very merry time for you and your family.
Magically Speaking Featured Article
Library of Congress ISSN:1556-3863