Hey Batter Batter: Spring Training with the Atlanta Braves
|
Every spring there is a mass migration to Florida. No I'm not talking about birds, I am talking about baseball players! Teams from around the country travel to Florida to begin their seasons. You can see some of the top teams in the league play in Florida and that includes in Walt Disney World.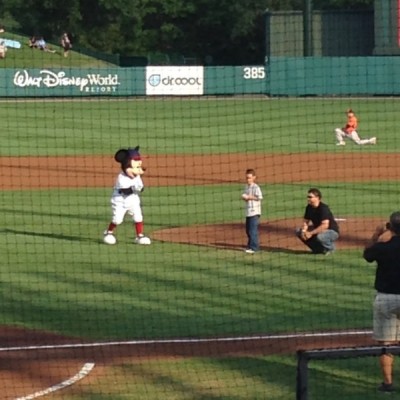 Walt Disney World is home to the Atlanta Braves Spring Training. The 2016 season was the 20th year that the Braves play. The impressive sports facility where they train is located at 700 Victory Way, just past the Pop Century resort is the ESPN Wide World of Sports complex. It has several sporting arenas that are used for the Pop Warner events, soccer and even a field hockey tournament. The Champion stadium was built in 1997, holds 9,500 fans and hosts the Atlanta Braves every spring!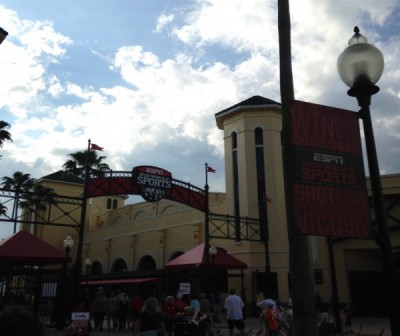 The stadium has several seating options, you can grab a seat on the grass behind third base or there are two levels of grandstand seating.  My mother, husband and I went last March to see the Atlanta Braves battle the Baltimore Orioles. We sat right behind home plate in the lower level and had a spectacular view of the field.
The tickets prices coincide with the proximity to the field. The more expensive tickets (beside the luxury boxes which are the absolute priciest) are going to be first level behind home and range to berm (the grassy are behind third base) seating. The game I attended, the tickets were about $50 per person. This year we have tickets to see the Braves play the New York Yankees and we paid $50 per person for the last row in the top level. The more popular the team the pricier the ticket but spring training is always cheaper than going to see the teams in their home stadiums.
The view is great no matter where you sit at this field. The seats even had little menus in the drink holders and you could order your hot dog, nachos, soft drink or beer right from your seat and have it delivered.  I've only been to one other MLB game at Fenway stadium so I don't have much to compare it to but this was my absolute favorite thing about the game.
The impressive score board also holds some Disney magic. The scoreboard is equipped with fireworks, which are fired off after the national anthem is played, the Braves hit a home run, or the Braves win the game. There is also a great merchandise store that sells exclusive Atlanta Braves Spring Training at Walt Disney World merchandise.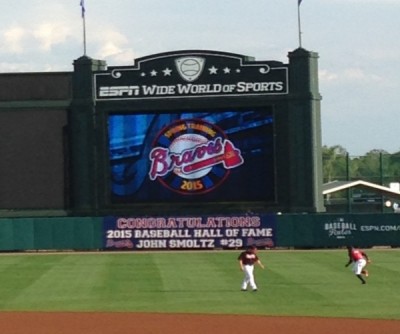 Next time you are thinking about things to do outside of the parks in the spring, considering grabbing your shades or baseball caps and settling into that grandstand for a magical spring training ballgame (Disney style of course)!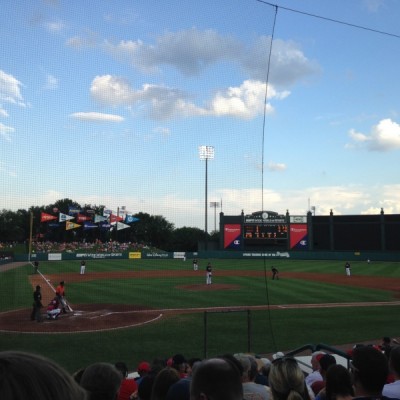 Have you been to a spring training game at the Wide World of Sports? Share your thoughts in the comments.

Incoming search terms:
atlanta braves spring training results 2016