This post may contains affiliate links for your convenience. If you make a purchase after clicking a link we may earn a small commission but it won't cost you a penny more! Read our full disclosure policy here.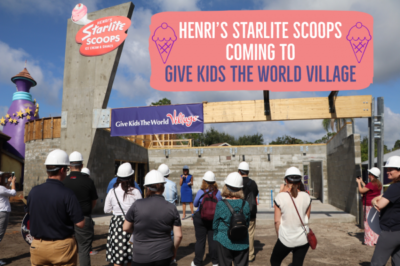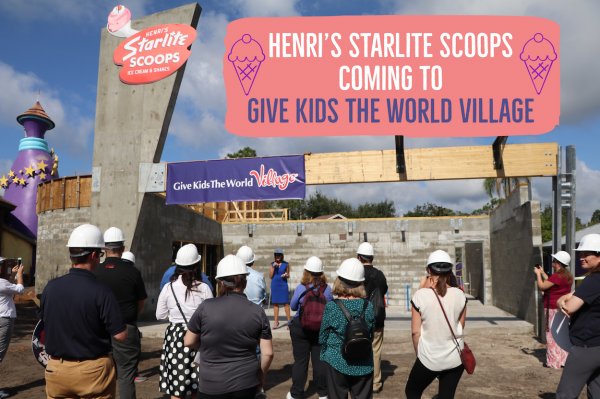 Since Give Kids the World Village opened in Kissimmee, FL in 1989 they have been serving up ice cream to critically ill children and their families on their wish trips to central Florida. What started out of a train caboose is about to evolve into something much more with Henri's Starlite Scoops.
Honoring Henri Landwirth
Give Kids the World Village is a place of "yes", so when a child wanted ice cream for breakfast the founder of Give Kids The World, Henri Landwirth, opened up the ice cream palace to serve the child. Since then, the ice cream palace has been the first place open and the last place to close daily at the Village. Last year when Henri Landwirth passed away, Give Kids The World knew they needed to find a way to honor their founder. Mr. Landwirth was the manager of the Starlite Motel in the hey day of astronauts and lunar landings. So it was only fitting that they redo the ice cream palace themed to space.
Henri's Starlite Scoops
This new $2 million ice cream palace is slated to open the end of this year with a 30 foot spaceship on top. The palace will be completely ADA accessible. The ice cream glass will be lowered from the normal 34 inch height to 28 inches. This will allow children in wheelchairs to see the ice cream flavors and pick out what they want just like any other person. An open floor plan will allow wheelchairs to easily maneuver the building.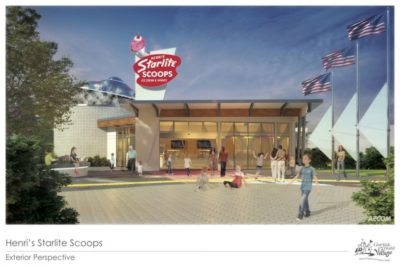 Rendering of Henri's Starlite Scoops coming November 2019
There will be a huge rotunda under the spaceship with a toppings bar for the ice cream. With false windows surrounding the building, artwork will make it look like you have entered space. The artwork will feature Mayor Clayton flying through space. Surprisingly, Disney and Universal worked together to help design Henri's Starlite Scoops!

Example of artwork to be used in the false windows
The Facts
This 2,905 square foot building will stand nearly 17 feet tall.
The rotunda will be nearly 17 feet tall and 30 feet in diameter.
The flying saucer atop the building will be 30 feet in diameter.
Over 10,000 concrete blocks will be used to create the structure.
Over 100 yards of concrete, including colored concrete, will be used.
6 flavors of ice cream plus gluten-free, dairy-free and sugar free options available
11 toppings available
Can be served in cones, cups, milkshakes, or as a banana split
New Henri's Strawberry Saucer Delight will be available with a Krispy Kreme donut and strawberry ice cream!
Volunteers
This new scoop shop will require 70 volunteer shifts every week. In fact Give Kids the World relies on 1,800 volunteer shifts per week, all around the Village, to keep the "week of yes" alive. To read more on volunteering at Give Kids The World read my previous blog here. To inquire about becoming a volunteer visit www.gktw.org/volunteer/
Did you like this article? Make sure to share it with your friends! Check below for easy ways to share!
Want to visit the Walt Disney World Resort? Contact The Magic for Less Travel for more information and a free, no-obligation quote.

Incoming search terms: