This post may contains affiliate links for your convenience. If you make a purchase after clicking a link we may earn a small commission but it won't cost you a penny more! Read our full disclosure policy here.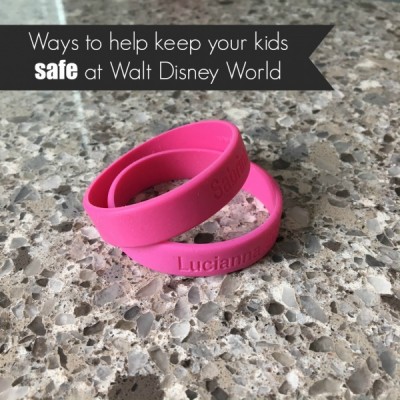 If you've done any planning or research at all before you get to Walt Disney World, you know the property is HUGE.  Spanning over forty square miles, Walt Disney World is twice as big as Manhattan.  And many of us bring there what's most precious to us, our children!  I don't know about you, but I have given it some thought about being separated from my child(ren) among the thousands of guests that visit Walt Disney World everyday.  What happens if you do?  Can you do anything to prevent it?  How can you prep your child(ren) if they got lost at Walt Disney World?  Would they know what to do?  Now, all joking aside, I don't think there's a parent, grandparent, aunt, uncle, any caregiver at all, that intends to lose their child.  Over the years I have seen families use all kinds of strategies to keep their children close as well as help their children identify themselves.
Some families hesitate bringing their very young children to Disney, but babies may be the easiest to corral while you are there!  You either wear them, carry them, or have them secured in an infant seat.  Toddlers are arguably the most difficult to keep an eye on.  With lightning-quick moves like Dash from the Incredibles, toddlers can get 20 feet away from you before you can say Winnie the Pooh!  Added to their speed, most toddlers don't have a keen sense of direction and very likely don't know your phone number or possibly even their last name.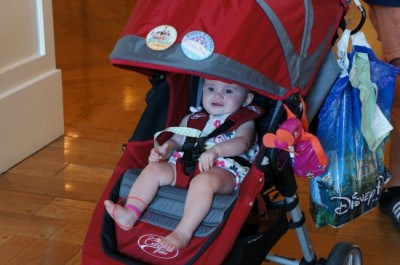 I've seen a mother realize that she couldn't find her child at Walt Disney World.  I remember exactly where I was standing.  It was during the Move It! Shake It! Celebrate It! Parade in the front of Cinderella Castle.  The part of the parade where everyone is in the street dancing with the cast members ended, and the mom couldn't find her child.  It had to have been less than two minutes before they were reunited but I have goosebumps just thinking about it. It was awful.  You could see the fear on her face.  Like it was her life's mission to find her child, but she didn't even know where to begin.
I've also been that mom.  Yep.  When my youngest was two years old, it was our very last day and we were rushing to see Aladdin and Jasmine in the Morocco pavilion in Epcot before we walked back to the Beach Club to catch our Magical Express bus to the airport.  There were six adults, four young children, and a teenager.  And we lost my Sabrina (aka Beans).  We were all walking back in the pavilion and were redirected as to how to get into the character meet.  While we all shifted and turned around to go in another entrance, everyone thought someone else had Sabrina but she managed to just keep walking… past the fountain, and ready to explore the rest of the World Showcase.  I remember all of it and nothing at the same time.  I mean, I remember the sheer terror, panic, and sickness that washed over me.  I lost a child?!   But I remember nothing because I was also in denial – she had  to be with one of us!  She HAD to be.  It all happened so fast, she was probably missing for less than one minute.  But oh God, the fear.  My sister-in-law was the one to grab her right before she exited the pavilion completely.
The interesting thing is, I have my children wear a silicone bracelet, or band, while we are in Walt Disney World.  The bracelet is embossed (think LIVESTRONG bracelet) with their name and my cell phone number.  They know that if they get lost, to show someone (preferably a cast member or another mom) their bracelet.  Of all days, Sabrina kept taking hers off so unbeknownst to me, her bracelet was in my husband's pocket and not on her wrist.
There are several options available to have identifiable information on your child – temporary tattoos, stickers in their shoe/on the tag of their shirt, bracelets, or even a basic sharpie or pen markings will do the trick.  The reason I like the bracelet is twofold – it's often noted that you don't want a child's name obvious on their self so as to prevent a stranger from calling their name out or addressing them.  Also, it's in an obvious location if someone helping the child looks for information.  When the kids were babies, I put the "bracelets" on their ankles.  This is obviously not a full proof solution as I lost my child who owned a bracelet, and she wasn't even wearing it.  But it is a safety measure that I'm comfortable with and does have it's advantages.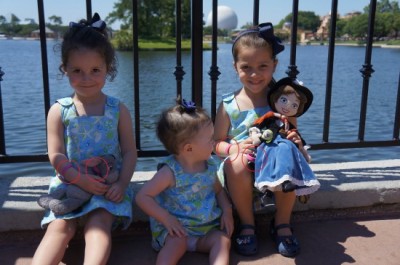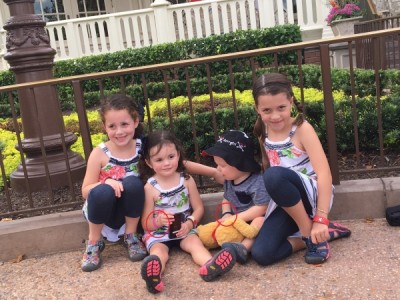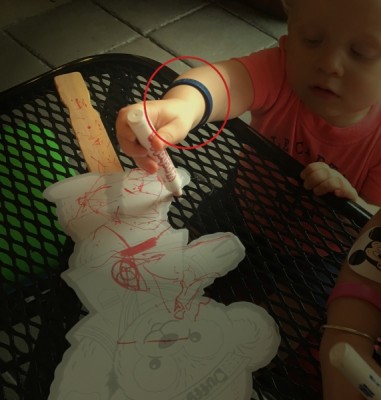 What's also great about these bands are that they're cheap enough to buy say a 5-pack (they come in various sizes and colors).  While an extra is always nice to have, does your child tote around any stuffed animal as a lovey?  Well our middle child has had a certain Eeyore since birth.  We ordered from Disney Merchandise Services before she was born and we've never seen the same style sold before or after, which will make finding a replacement close to impossible should we ever lose Eeyore.  So we put a band around Eeyore's neck.  This actually did keep him from becoming a lost artifact for Tinker Bell to find once time while at Walt Disney World.  We were waiting for our reservation at Tony's Town Square Restaurant (yes I know) and when we sat down at our table, I looked at my husband and asked, "do you have the donkey?"  He had a panic-stricken look in his eye.  They had been playing off to the side in the small grassy area while we waited to be seated and he realized the donkey (as we sometimes call him) must still be there.  While he dashed outside and got to that area, there was a cast member who was already calling us!  She had found the donkey and saw that he had a phone number around his neck.  We were reunited with the donkey and our daughter was none the wiser.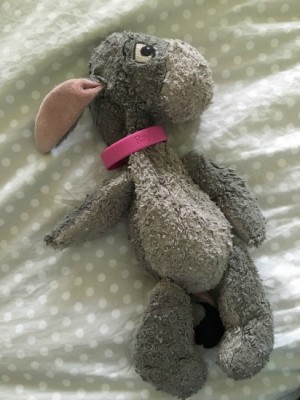 Can you imagine this well-loved donkey going missing?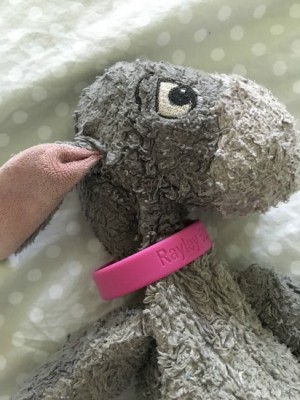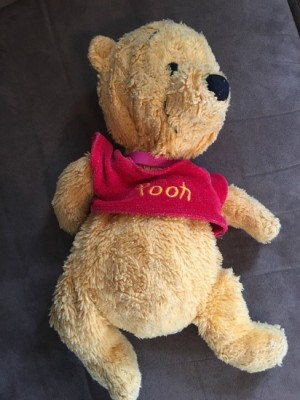 Pooh is also well loved by another sister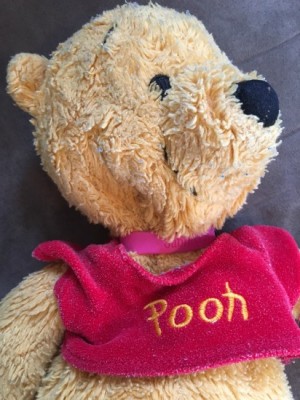 The temporary tattoos are a great option for children who may not keep a band on, or for someone who has allergies.  If placed in an obvious area, anyone who can see the tattoo would know if a child has say a peanut allergy.  The tattoo acts as a medical ID alert as well.  I've seen parent put them behind their child's neck (so as hidden by their hair unless the child tells someone it's there), or forearms, legs, and the back of their hands.
I think everyone has also seen the child on the leash – or more often than not now, a backpack with a "leash" attached to it.   For some toddlers who just must have the independence of totting around, this may work for them.  Then there are strollers that you can always strap a child into, but they do get out for many reasons – getting on an attraction, waiting in line, going into a restaurant, etc.
What you may not know is that Walt Disney World does not use any type of overhead paging system for lost children.  Don't be mistaken, they are wonderful at reuniting families, but they do it much more discreetly.  A cast member who finds a child, or is approached by an adult, will quickly communicate with others.  Children are taken to the Baby Care Centers in each park when not quickly reunited with their family.  If you every lose a child, immediately tell a cast member so that they are alerted.
It's very helpful to tell children too that cast members are "safe."  The easiest way to identify a cast member is by their name tag.  This may be too much for really young children to comprehend so I've also told my girls to look for another mom and tell them you're lost.  There's a Mom-code.  What mom isn't going to help another lost child find their mother?  This goes for dads too.  Absolutely.
Cast Member Kim.  All Cast Member's name tags look the same.
Another helpful tip for somewhat older children is to designate a meeting place should you get separated.   Pick a spot that everyone could find and tell them to go there and wait.  You should also take a picture of your child(ren) each morning with your phone or digital camera.  Then if they get lost, you can easily describe what they look like and what they're wearing to a Cast Member.  I also find dressing my children in matching outfits or colors helps me keep an eye on them (I know you're counting in your head constantly too)!
Some people think I'm crazy for "preparing" to lose my child by going over this with my kids, making them wear the bands, having the older girls memorize my phone number now that they're old enough…. but truthfully, I have lost my child, however briefly, and have you ever been on Main Street when a parade ends or the dancing in the street comes to an end and everyone must get back behind the tape in less than a few seconds?  Exactly.
Have you ever lost your child?  How do you prepare your child(ren) should they become separated from you?  Share your tips in the comments section.