This post may contains affiliate links for your convenience. If you make a purchase after clicking a link we may earn a small commission but it won't cost you a penny more! Read our full disclosure policy here.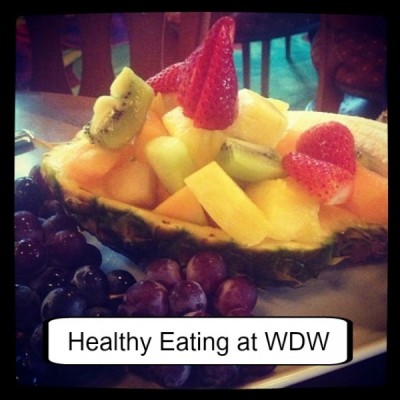 When I think of Walt Disney World, the first thing that usually comes to mind is food! My mind wanders from the smell of fresh popcorn on Main Street U.S.A. to the crisp bite of a caramel apple from Caramel Kuche at the Germany pavilion in Epcot. So many delicious options are available, it's hard not to start planning your meals and snacks the second you book your trip!
Now, being a registered dietitian, I know that one cannot survive on funnel cake alone. Fortunately, Walt Disney World offers plenty of nutritious, lighter options to help you maintain your healthy eating habits while on a Disney vacation without feeling as though you've sacrificed flavor! Here, I've put together my top 5 tips for maintaining healthy habits on a Disney vacation. Bon appetit!
1. Stick to calorie-free beverages
My go-to for maintaining healthy habits always begin with this one: never drink your calories! I, personally, would much rather have a piece of chocolate than a cup of soda or apple juice, and I think that avoiding sugary drinks is a simple way to make healthy choices without feeling like I'm suffering! Don't fall into the trap of thinking 100% fruit juice is low calorie; some fruit juices have upward of 25g sugar in an 8oz glass! The same goes for Starbucks; avoid the sugary syrups and stick to a classic cup of coffee or tea!
At Walt Disney World, plenty of low-calorie and calorie-free options are available! First of all, I'm a big fan of the free cups of water available at any counter-service restaurant. it's easy to stay hydrated when you have unlimited ice water available! Recently, Disney has also started offering Dasani sparkling water, low calorie Vitamin Water sparkling beverages, and as always, diet soda. You can also find unsweetened tea and coffee at most counter service and table service locations, and if bottle water is your preference, you'll have the choice of Dasani, SmartWater, and Voss at various locations throughout the parks!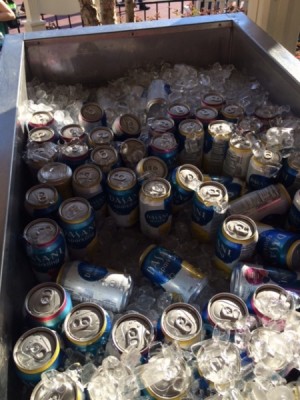 Lots of calorie-free Dasani sparkling water to quench your thirst!
2. Breakfast basics
Breakfast is my favorite meal of the day, and Disney offers lots of healthy choices to help start your day on the right foot. Studies show that eating nutritious breakfast helps to "set the tone" for the rest of your day. If you eat a breakfast that makes you feel good, you'll be more likely to stick to healthy options throughout the rest of the day. Try to find a meal that contains fiber and protein to give you enough energy to tackle that long line at Peter Pan's Flight!
Most counter service breakfast spots have some great breakfast choices. Assorted cereals with low fat or skim milk, whole wheat toast with scrambled eggs, and fresh fruit can be found at most spots. My very favorite counter service restaurant, the Pepper Market, is at Coronado Springs. They offer plenty of lighter options, such as egg whites omelets, fresh cut strawberries, and breakfast sandwiches on English muffins. If you're looking to sit down and relax at breakfast, my favorite spot is the Kona Café, where you can get a gigantic fruit plate (enough to share!) or can stick to the side orders, such as oatmeal, grits, and a small fruit salad. And don't forget the 100% Kona coffee French press!
3. Don't be afraid to customize your order
Walt Disney World is expert in giving the guest what they want. The Disney chefs go above and beyond to help guests stick to their dietary needs without compromising flavor and fun! If you're concerned about finding healthy options or have special dietary needs that have to be accommodated (food allergies, intolerances, etc.), you can always contact your resort ahead of time to review your special needs. Many restaurants also have special dietary needs menus, so definitely check those out before hitting the parks!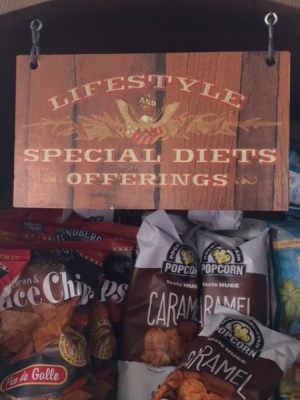 Snacks for special dietary needs can be found all over WDW.
Most restaurants are quite accommodating when it comes to following simple dietary requests; ask for two portions of veggies instead of a starch, request that they hold the cheese or mayo, and ask for brown rice instead of white. Most simple swaps will be honored! And if you don't find something you like, don't be afraid to order from the children's menu; portions are smaller and side dishes include fresh carrots, apple slices, and grapes!
4. Snack smart
Disney does snacking right! You can hardly walk 10 feet without encountering a Mickey's Premium ice cream bar, Dole Whip, a pretzel, or piece of fruit when wandering the parks. Luckily, there are plenty of delicious, nutritious snack options that won't leave you feeling envious! Since you're on vacation, you'll probably want to indulge a bit, and you can absolutely do that without breaking the calorie bank.
My favorite snack option is Dole Whip. At 80 calories per cup, this delicious, fluffy frozen treat will satisfy that sweet tooth without putting a huge dent in your calories for the day. Even better, Dole Whip is dairy free, so those with allergies can enjoy, too. This treat is classic Disney, and is a must-try! Other great options include fresh fruit, located at many of the snack stands throughout the park, and the sugar-free frozen strawberry bar. If you're in the mood for a salty treat, veggies with ranch dip, hummus and pretzels, and pickles make great choices! If none of these options suit your fancy, pack your own snack!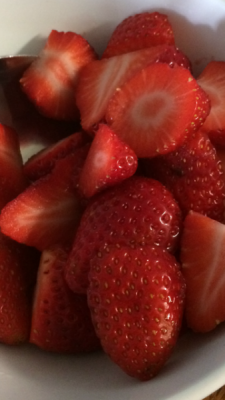 Fresh fruit is perfect for a hot Florida day!
5. Feel free to split an entrée 
Portions at Disney can be big, so don't be afraid to split an entrée with somebody in your party to cut calories! At counter service restaurants, this is easy! Ask for a 2nd plate and divide the meal in half at the table. If you think you'll still be hungry, most counter service restaurants offer side dishes, such as small salads, soups, or vegetables. The Columbia Harbor House offers grilled salmon with couscous and steamed broccoli. Add in an addition side of broccoli and you should be set to split. If you're in the mood for flatbread pizza, Pinocchio Village Haus serves large flatbread pizzas that are perfect for splitting. The same goes for snacking, too. If nothing else will satisfy your sweet tooth other than a caramel apple from Karamel Kuche, split it with the people in your party. Sometimes, just a taste of something indulgent is enough. Get creative, and enjoy!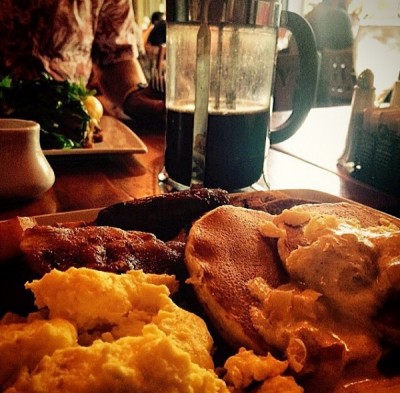 A breakfast at Kona Cafe provides enough food to split with a friend!
What are your best healthy eating tips when traveling to Walt Disney World? Share in the comments!
Incoming search terms:
https://www themouseforless com/blog_world/healthy-eating-walt-disney-world/