This post may contains affiliate links for your convenience. If you make a purchase after clicking a link we may earn a small commission but it won't cost you a penny more! Read our full disclosure policy here.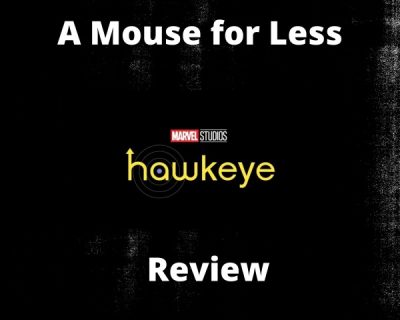 Episodes 1 and 2 now streaming on Disney +
The newest Disney + original Marvel series arrived recently with a two-episode premiere, and I watched it that evening! I'd been looking forward to Hawkeye for a number of reasons. First of all, he's an original Avenger who hasn't had his own solo project. Second of all, he was the partner of my favorite Avenger, Natasha Romanoff. And third of all, this show is introducing a character who first made her appearance in the pages of the Daredevil comics.
Hawkeye follows Clint Barton (Jeremy Renner) who is spending time with his children in New York City right before Christmas. When he finds out that someone has stolen the costume he wore during his brief, dark stint as Ronin, he is determined to find out who it is. When he finds that the suit has been taken by young Kate Bishop (Hailee Steinfeld), a talented archer in her own right, the two of them find themselves in the middle of a mystery.

I heard some early reviews of this show and had a feeling I was going to like it. One of the comments I had heard is that out of all the Disney + Marvel shows, this one felt the most like the Marvel Netflix originals. I have to say, this comment confused me. After watching the first two episodes, I can emphatically state that the tone of Hawkeye is nowhere near as dark as any of the Marvel Netflix shows. After all, Hawkeye is on family-friendly Disney + and is rated TV-14. There are one or two instances of questionable language, no sexual situations whatsoever, and so far the violence has been very standard for a comic book based show. Nothing overly bloody.

If anything, I would compare this show's tone to that of Agents of S.H.I.E.L.D. in its earlier seasons. There are moments of laugh-out-loud humor, very human characters, and an emphasis on character interaction. Unlike S.H.I.E.L.D., so far this show seems to involve street-level criminals and no over-the-top technology.

I've always preferred grounded, street-level comic book fare over anything that deals with magic and time travel, so this show appealed to me right away. Renner is pitch perfect as a father who really wants to put his Avenger life behind him yet can't seem to shake the responsibility of protecting the city. And Steinfeld shines as Bishop, showing us a young woman who is determined to do something good with her life but who can't help resorting to fangirling over her favorite Avenger when their paths cross.

The second episode ended with a very brief introduction to Maya Lopez, otherwise known as Echo, portrayed by newcomer Alaqua Cox. From her dramatic introduction (and the fact that Disney + has ordered a Marvel series starring Echo) it is evident that this character will figure prominently in the story.

As for me, I can't wait for Wednesdays to roll along so I can watch the next episodes!


Have you watched Hawkeye? What were your thoughts? Share in the comments or on Facebook or Twitter!
Did you like this article? Make sure to share it with your friends! Check below for easy ways to share!  
Want to visit a Disney Destination? Contact The Magic for Less Travel for more information and a free, no-obligation quote.