This post may contains affiliate links for your convenience. If you make a purchase after clicking a link we may earn a small commission but it won't cost you a penny more! Read our full disclosure policy here.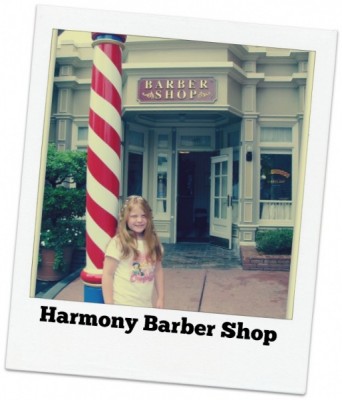 The Harmony Barber Shop is a great little gem located inside the Magic Kingdom.  Whether you need a trim yourself or Junior needs a first haircut, this place just can't be beat.  It's located on the left as you enter the park, between the fire station and the Emporium.  The shop is open seven days a week, from 9:00 a.m. until 5:00 p.m., and the costs for haircuts are quite reasonable.
Pricing (as of November 2015)

$19 – adults
$15 – children, 12 and under
$19 – baby's first cut
$10 – Beard/Mustache trim
If you decide to have your child's first haircut here, it truly is a magical experience for everyone.  The barbers definitely have the magic touch when it comes to squirmy toddlers.  They give them light-up toys during the cut and cover them with Mickey stickers.  The resulting cut is perfect!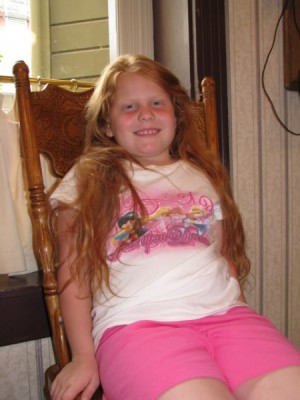 My daughter received her very first haircut here in 2009, when she was a bit older, at age 7—yes, it was very long!  I was acting like a complete idiot, on the floor picking up all of the cut hair and putting it into a zipper bag to save.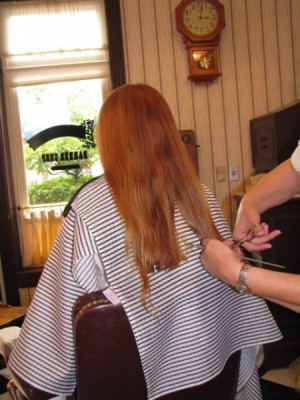 My child was excited, but I was the one that was a bit traumatized.  The barber was consoling me and even put a handful of pixie dust (Mickey confetti) into my plastic bag.  These Cast Members are expert at making everyone feel magical, even a mom that's watching her baby's locks getting cut.
After that first haircut, the child receives a set of Mickey ears with "First Haircut" embroidered on them, as well as a certificate commemorating the event.  Since my child was 7 years old, she was quite vocal about the certificate, since baby Mickey and baby Minnie were pictured on it.  The barber explained to her that most children are a bit younger for their first cuts!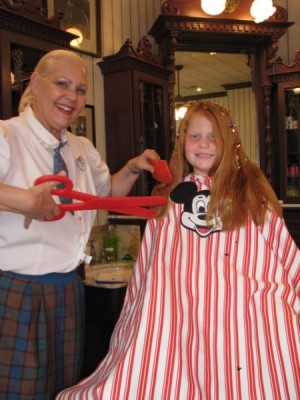 We have visited the barber shop every year since my daughter's first cut, and we've always had a wonderful experience.  In 2010, they began taking advance appointments, and this has cut our wait time considerably.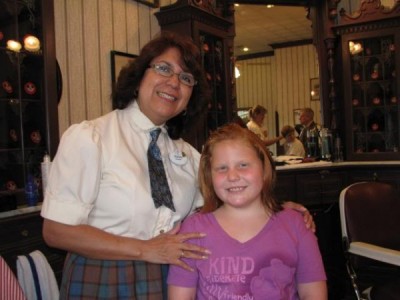 They still take walk-ins, but the appointments come first.  When we were there in May of 2014, I had appointments for both my daughter and granddaughter at 1:00 p.m.  We arrived about 15 minutes prior to our time, and when the barbers finished with the customers in their chairs, my girls were next.  There were walk-in customers in the shop when we arrived, but since we had the appointments, we were able to go ahead of them.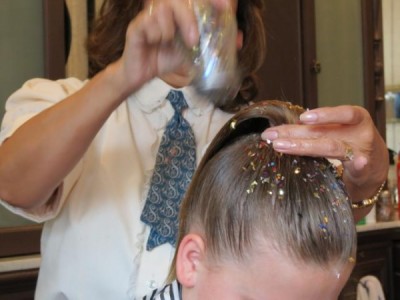 While the barbers cannot do a bun (buns seem to be exclusive to Bibbiti Bobbiti Boutique), they can do a nice tight ponytail with pixie dust, which greatly pleased my granddaughter.  The ponytail is super cute, as well as being comfortable in the summer months.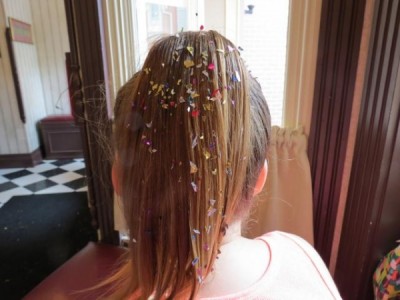 All of the barbers are very good, and we've always received great haircuts from them, but our favorite one is Michal.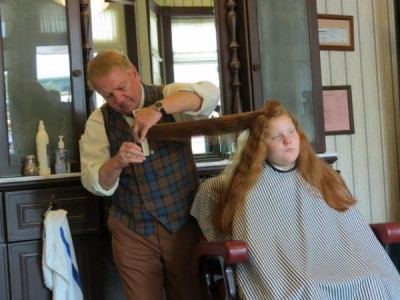 He has worked there for many years, and he is amazing.  Before my daughter's haircut this year, she told him that she wanted to keep her hair long but wanted layers at the very ends, and he gave her the exact cut that she wanted.
When you take your child, spouse, or whole family for a haircut, be sure to have your camera ready.  This is such a great experience, and you'll want to document it with photos.  We've been doing it for years, and I always take a ton of photos in the barber shop.  The cast members employed there are simply the best—they will even add pixie dust into the hair if you desire.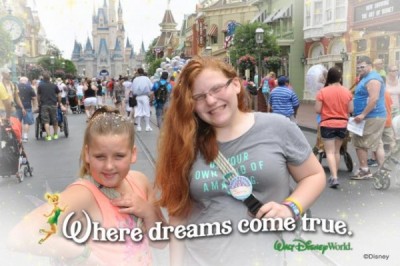 Appointments can be made by calling 407-WDW-PLAY (407-939-7529), and I highly recommend having them.
Here's an extra tip:  if you schedule your appointment for around 3:00 p.m., you just might be able to watch the afternoon parade at Magic Kingdom while getting a haircut!
Incoming search terms:
Getting A Haircut in Magic Kingdom