This post may contains affiliate links for your convenience. If you make a purchase after clicking a link we may earn a small commission but it won't cost you a penny more! Read our full disclosure policy here.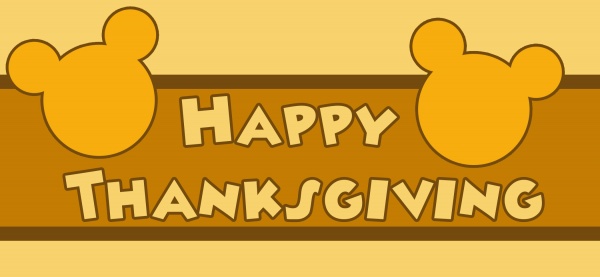 Today our family shares what they are Disney Thankful For that Thanksgiving.
Kelly: I am thankful for the lifelong friends I have made through The Mouse For Less.
Vikki: I am Disney-thankful to have grown up near Disneyland, including all of the memories I made there with my family and friends. Now I'm thankful to share the parks with my own family.
Andrew: I am thankful for the opportunity to blog for The Mouse for Less.
Liliane: Thankful for all the friends I made over the years, and the kindness they continue to extend to me.
Tina: I'm so thankful for this group and Rikki for allowing me to blog and share my passion for this place we all can't seem to get enough of!! I'm also thankful for being able to visit Disney somewhat frequently too!! ??
Ellice: I am Disney thankful for being able to travel to Disney regularly, while living half a world away. I'm Disney thankful for blogging for the mouse for less and all the friends I've made along the way! Happy thanksgiving to my American friends ?
Lacey: Thankful for my friends, family and thankful that I live so close to Walt Disney World. Especially thankful for all the Cast Members who create that Disney magic!
Kristen: Thankful for being able to share the Disney magic with family and friends, my nieces are completely obsessed with all things Disney now! And for amazing cast members who never fail to make each and every trip special!
Melissa: I'm thankful that Disney allows me to keep magic and wonder in my adult life. I love that within this community, I can stay young at heart, want all my food Mickey shaped and maybe even have ice cream for breakfast without getting a second glance. Disney people are MY people and I love that.
Kristina: I am thankful that my parents took me to Walt Disney World way back in 1976 and started my lifelong love of Disney travel. I'm also thankful that I got to meet fellow The Mouse For Lessers Mic and Wendy this year in person!
Dawn: I am thankful that my family has met the most amazing friends from all over the world because of our love of all things Disney.
Danielle: I am Disney thankful for the incredible memories I've been able to make with my preschooler! I am amazed that his four year old mind remembers so much – and I think he cherishes our Disney memories as much as I do!! ?????
Cristina: I am so grateful for the ability to share my Disney passion through the MFL blog and bring some pixie dust to the wonderful families at Give Kids The World! To have a year where I am able to visit The Village twice and see the joy on these families going through so much has brought so much happiness and perspective to my life. I am so grateful that a place like Give Kids The World exists!
Tanya:  I'm thankful for runDisney, which has made me more active, given me races and trips to look forward to, and goals to work toward. I have made new friends and grown closer to old friends through the races I have done. It has also given me a place to put all that extra money that I just had lying around. ???
Tim: I am Disney thankful for all of the fantastic Cast Members in Toy Story Land who went above and beyond to find my wife's wedding ring after she lost it.
Rikki: The Disney Community. It has brought me some of my closest friends whom I now consider to be family. I cannot imagine my life without them.
Natalie: I am thankful for the reach of Disney Magic -that little bit of pixie dust that make hearts fly.
What? You would like an example? Okay.
Yesterday, I was shopping with my daughter. We had stopped for fortification at a cafe. It's Christmas lead-up here in Australia, so the malls are full of moms and dads with little ones in tow as they shop for Christmas goodies. One little tike (maybe four years old) was walking with his overstressed mom. He was crying and fussing. It was obvious that the shopping had gone on a bit too long for his little legs and his mom, weighed down with bags and short on temper, couldn't get him to stop.
A group of 4 teen boys from one of the local private schools were passing. One handed his coffee cup to another and he walked up to the family. He quickly introduce himself to Mom and asked if he and his buddies could help her carry her stuff to the car. In near tears she agreed. Nice boys, I agree. But here's the Disney Magic. The boy knelt down to the frustrated, over-tired, little one and pointed to child's shirt (I looked, it was Baymax).
"Hey, buddy. I like Big Hero Six too. On a scale from 1 to 10, how would you rate your shopping today?"
The little boy stopped crying, sniffed, then smiled. He held up 3 fingers.
"Oh, brutal, my man." The older replied and
then held out his hand for a fist bump (done Baymax style of course).
Not another tear was shed, the boys helped mom to the car with her bags (or at least they headed that way).
Finally, we are all thankful for you! Without you, this wouldn't be possible! Thank you for reading our posts each day!
From our Mouse For Less Blog family to yours, we wish you a very Happy Thanksgiving. We hope that you enjoy your time with your family and friends.
What are you Disney thankful for? Share in the comments or on Facebook or Twitter.!
Did you like this article? Make sure to share it with your friends! Check below for easy ways to share!
Want to take a vacation to a Disney destination? Contact The Magic for Less Travel for more information and a free, no-obligation quote.