This post may contains affiliate links for your convenience. If you make a purchase after clicking a link we may earn a small commission but it won't cost you a penny more! Read our full disclosure policy here.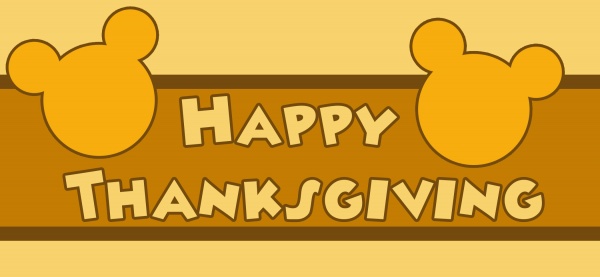 Today our family shares what they are Disney Thankful For that Thanksgiving.
Kristina: Can I be corny and say I'm thankful for this awesome community of Disney bloggers?
Holli: I am thankful for the message of Disney culture. It's a place where we support each other and celebrate accomplishments. And, as it's bee said, "If we can dream it, we can do it." I think that mindset is often lost to us as we grow up in the 'real' world. But it doesn't have to be! I'm infinitely grateful to be (however small) a part of it. 
Tim: I am Disney thankful for the Animal Kingdom Lodge for giving me a sense of being "home" every time I go there to shop, stay, see the animals, or order up some bread service.
Ginamarie: I'm thankful for the Disney community where I've made lifelong friendships with people I probably never would have met without our love of Disney.
Andrew: I'll second what Ginamarie said 
Tanya:  I am thankful for the opportunity to make memories with family and friends. I have lived in FL all of my life and have been blessed with many amazing visits to the Disney parks. I feel like Disney is a part of who I am. I am also very thankful for Dole Whip. (I mean, let's be real, it just makes any day better. LOL)
Danielle:  I am thankful for PhotoPass photographers! I have so many fantastic pictures of great family memories thanks to them… we will be grateful for the memories for years to come!
Chef Todd:  I am thankful that I am able to give my sweet little daughter the gift of Disney.  And Yuengling. I can't get it at home.
Jennifer-Ann: I am thankful for the chance to visit WDW four times from April 2017-April 2018. And for one of those trips being a solo RunDisney getaway!
Dawn: I am thankful to have made friends all across the country because of Disney and the Disney community.
Sherry: I am thankful for everything that Disney — and, specifically, Disneyland Resort — has given me throughout my life, and continues to give me. Disneyland has given me laughter, fun, knowledge, fantasy, imagination, nostalgia, history and, of course, cherished memories. Disney has paved the way to connecting with other people who have shared interests. Disneyland has inspired me to be more creative and to explore (amateur) photography and writing. Disneyland has been the impetus for me to embrace and look forward to solo trips instead of fearing them. And, along the lines of what Tanya said, I am thankful for Disney treats — because the world would be a dismal place without the existence of gingerbread men with chocolate mouse ears and buttons!! Disneyland is a gift that keeps on giving, and for that I am eternally thankful.
Rikki: The Disney Community. It has brought me some of my closest friends whom I now consider to be family.
Finally, we are all thankful for you! Without you, this wouldn't be possible! Thank you for reading our posts each day!
From our Mouse For Less Blog family to yours, we wish you a very Happy Thanksgiving. We hope that you enjoy your time with your family and friends and eat lots of great food!