This post may contains affiliate links for your convenience. If you make a purchase after clicking a link we may earn a small commission but it won't cost you a penny more! Read our full disclosure policy here.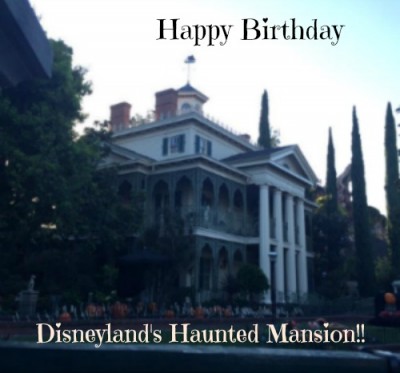 As of August of this year the "999 happy haunts" have inhabited the Haunted Mansion attraction at Disneyland in California for 45 years. Since its opening, The Haunted Mansion has become a park favorite for many visitors, and has even inspired its own movie. Similar rides exist (or are planned) in the other Disney Parks worldwide. In honor of its 45th birthday here are some fun facts about the attraction:
The Haunted Mansion first opened its doors to Disneyland guests on August 9, 1969.
The concept for a "haunted house walkthrough" type of attraction appears on the first known illustration of Disneyland.
In the 1950's Imagineer Ken Anderson came up with several concept stories for the Mansion: a sea captain who killed his wife and hung himself, a home to an unfortunate family, and a ghostly wedding party.
The original design of the house was meant to look rundown or abandoned with overgrown landscaping and boarded up windows and doors. Walt Disney, however, did not like the idea of a "rundown" house in the middle of the otherwise pristine-looking Disneyland.
Construction began in 1962, and the exterior was completed in 1963, but the actual attraction didn't open until 1969 due to heavy Disney involvement in the New York World's Fair and a redesign that occurred after Walt Disney's death in 1966.
The pipe organ located in the Ballroom Scene is an original prop from the 1958 Disney film, "20,000 Leagues Under the Sea".
In 2001 the ride received a seasonal update, featuring the characters from the film "Nightmare Before Christmas". This overlay takes place on the ride every year during the holiday season (typically October to January).
In 2003 the film "The Haunted Mansion," which was inspired by the ride, was released.
In 2005 a bi-monthly comic book, "Haunted Mansion", was first published. The main recurring story centers around Master Gracey, a character often labeled as the master of the house. In the original graveyard there was a headstone for Master Gracey (named for Imagineer Yale Gracey), but it was removed in the 1970's. (Ed. note – There is a headstone for Master Gracey at Walt Disney World's Haunted Mansion located in the Next Gen queue.)
On August 8-9, 2014 when the Hunted Mansion turned 45 the Medina Family became in 2nd family to spend the night in the Haunted Mansion at Disneyland. During their stay they were visited by a few haunts including the Hitchhiking Ghosts and the Tightrope Walker.
Unlike many Disney Parks attractions, the Haunted Mansion has remained relatively unchanged (aside from its temporary holiday overlay each year) in its 45 years of existence.
Do you have any favorite memories of the Haunted Mansion?