This post may contains affiliate links for your convenience. If you make a purchase after clicking a link we may earn a small commission but it won't cost you a penny more! Read our full disclosure policy here.
By Debbie Boehm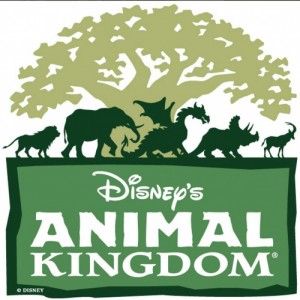 April 22nd marks 15 years since Disney's Animal Kingdom opened its gates for the first time.  As a Cast Member of The Disney Store in the local mall, I have many memories of that time and the excitement building up to this momentous occasion.  Earth Day was the perfect day for the opening of a theme park where concern for the environment manifests in benches that are made from recycled milk bottles, where straws and plastic covers are not provided for drinks due to concern for the animals and where the sheer beauty of the park is so amazing.
The entrance to Disney's Animal Kingdom is unlike the other theme parks.  The area beyond the gates is called the Oasis and is often overlooked by people rushing to get to an attraction or a ride.  However, my advice is to take your time here and enjoy the wonder of the animals surrounding you on all sides.  Where else can you see an anteater up close and personal and in a natural habitat?  In passing through the Oasis I always feel as if I am making my way to Africa and India as the humidity surrounds you in the form of mist.
When you emerge from the Oasis you turn to your left where you finally see the amazing Tree of Life, the icon of Animal Kingdom Park and a marvel of construction on Discovery Island.  This particular tree houses a theater where you can visit with insects of all kinds in an attraction called "It's Tough To Be a Bug".  You even get to be a bug when you put on your bug eyes and be a bug yourself.  Along the path into this magical theater be sure to take note of the 325 (more or less) animals carved into the Tree of Life.  Posters of bug movies are also entertaining as you get closer to the theater entrance.  Only Disney Imagineers would think to build a tree around an oil rig and that is precisely what they did!  The oil rig was the perfect shape to fit a theater and to support the weight of the enormous icon of the park.
My favorite area of Animal Kingdom is Camp Minnie Mickey where The Festival of the Lion King is performed several times a day with a cast of talented singers, dancers and Olympic gymnasts playing tumble monkeys.  When you leave The Festival of the Lion King your heart will be happy and you'll probably be singing.  If you make a left after the exit you'll find rest rooms and benches to relax.  There is also a spot to get ice cream or pick up a cool drink.
This is also where a certain aunt made a little niece's dream of meeting Mickey up close and personal come true.  My niece received a phone call that morning from "Mickey" (actually my brother's best friend) telling her he couldn't wait to meet her later.  Cast Members are amazing at every park but the Cast Members at the greeting trails picked up on this aunt's panic and made magic.  I worked my way to the front of the rest of the family and told the Cast Member what had happened.  She assured me that Mickey would "mention" the phone call.  When it was my niece's turn to meet Mickey he made a gesture to indicate that there had been a phone call and he was so happy to see her.  Boy, talk about making magic!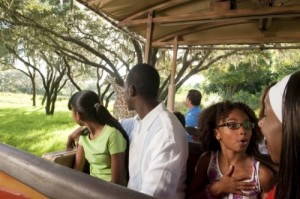 Off to Africa and the Kilimanjaro Safaris, an attraction that you shouldn't miss.  It's your opportunity to board a jeep and take a safari right in the middle of Florida.    You'll find yourself wondering how you can see the lions or elephants so close and yet you don't notice a barrier.  Again, the Disney Imagineers at work!
Have you seen gorillas and meerkats yet?  You will if you walk along the Pangani Forest Exploration Trail.  Set up along the trail are education stations.  There is a wealth of knowledge shared at Animal Kingdom if you're interested.
Rafiki's Planet Watch is accessed by train which you board at the Harambe Train Station.  A short ride to this section brings you to the most amazing exhibits.  If you're lucky you might get to see a veterinarian at work.  There's another trail here where you learn how to share the planet with the animals and a place to see and touch animals.
Be sure to go inside Conservation Stations where you can use the Animal Cams to watch animals go through their normal day. Walk through the veterinary labs where, if you're lucky, you could catch a veterinarian working with an animal.  Insects and reptiles are showcased here also.  The turtles are fascinating to watch as they make their way around their terrarium and push sand to make themselves more comfortable.
The Rafiki's Planet Watch video gives information about endangered animals and Song of the Rainforest is an audio show which surrounds you with the sounds of the rainforest.  It's dark and headphones are used in soundproof booths – a welcome respite from the hustle and bustle and heat.
Although you won't see tigers on the safari, you will see them in Asia.  Asia is the home of the Maharajah Jungle Trek, a walking trail where you can get up close and personal with the tigers, fruit bats, Komodo dragons and colorful birds.  Also located in Asia are Kali River Rapids where you will get wet as you ride the rapids through rushing waters and a blazing inferno.  Secure your valuables in the cargo area (even better put them in a locker or leave them on dry ground with a non-rider) and get ready to be soaked!  This ride was so much fun for our family that we purchased a ride vehicle model to take home to remember.  How was it possible that in a 12 seat raft only one person was under every waterfall or fountain?  That honor belonged to my husband and our children couldn't stop laughing.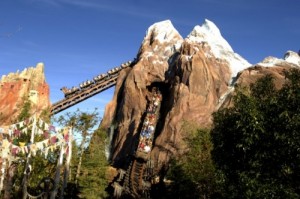 Expedition Everest is one wild ride I haven't taken.  My husband and family members have been on it and love it.  As for me, I find myself enjoying the people watching and the absolute beauty and authenticity of the area.  As with other areas of the Animal Kingdom attention to detail is incredible here.  A team of Imagineers, led by Joe Rohde, traveled to the "real" areas of the world upon which each area is based and took thousands of photographs in order to provide an authentic experience for all of us.
On to DinoLand U.S.A. ~ where you'll find Dinosaur, formerly known as Countdown to Extinction.  Board a jeep to time travel back in time to pick up a dinosaur for a return to modern times.  Bouncing, lurching, dodging meteors and some pretty frightening carnivores for 3.5 minutes seems like a lot longer.  You need to enter The Dino Institute for this one and it is well worth it.  One year my husband and I rode with a 9 year old girl whose mom was sitting outside with an infant in a stroller.  We talked about the dinosaurs and exhibits inside the building and had a lot of fun when our little friend asked if we knew anything at all about Doctor Who.  Where else but at Walt Disney World?
My experience with the other areas of DinoLand is limited to a friend's children but I can say that The Boneyard can keep them entertained for hours.  While some of our party rode Dinosaur the younger ones played in the Boneyard and had a blast digging for dinosaur bones and other fossils.  There is shade there and plenty of benches for the adults.  Two smaller rides are also housed at Chester & Hester's Dino-Rama.  Primeval Whirl is a small roller coaster and Triceratop Spin is perfect for the Dumbo lover.
Finding Nemo – The Musical is a puppet show of sorts with all the favorite characters from the movie in a wonderful show that includes dancers, acrobats and the music from that big blue world.  The theater is air conditioned and very cool to see.
When shopping at Animal Kingdom Park it's important to remember that some of the things you see are not available at shops at Downtown Disney and you should consider picking them up when you see them.
Animal Kingdom was designed to help us learn about conservation in addition to entertaining us with the shows and attractions.  Over the years it has changed.  For example, The Festival of the Lion King was once performed in an open air theater with just a roof.  Now it's in an enclosed building with air conditioning.  Finding Nemo – the Musical replaced Tarzan, which replaced a show that celebrated the movie The Jungle Book.
Going forward there are bound to be more changes at Animal Kingdom.  As we celebrate 15 years of Animal Kingdom we celebrate the future and what it might bring.