This post may contains affiliate links for your convenience. If you make a purchase after clicking a link we may earn a small commission but it won't cost you a penny more! Read our full disclosure policy here.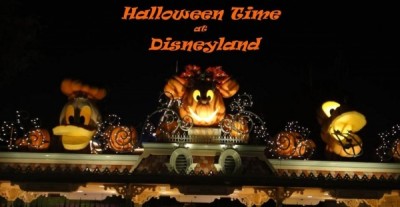 This is Halloween;
This is Halloween;
Halloween, Halloween…
~ The Nightmare Before Christmas
'Tis the season when ghouls and ghosts go holidaying at Disneyland and Jack, the Pumpkin King, takes over the park.  But do not fear, this seasonal event is more spooktacularly silly and frightfully fun than spectacularly scary.  This is Disney family fun after all.
Halloween Time screamed into the Disneyland resort on September 11, 2015, heralding some of the most enjoyable seasonal offerings in the Anaheim region. Halloween Time at Disneyland offers impressive decorations, entertainment, tours, attraction overlays, parties, meet and greets, merchandise, and everyone's favorite seasonal treats.  Many of these offerings are available to normal park guests.
Every day until November 11, Halloween Time will partially transform Disneyland into a holiday fare.  Beginning at the front gates, and continuing down Main Street, USA, guests will find hundreds of uniquely carved pumpkins; including an enormous Mickey Mouse pumpkin in Town Square.  Be sure to get your photos taken on both sides of the Mickey-o-Lantern; he's not the same on both sides.  Guests familiar with the Halloween Time decorations will find them subdued this year as Disneyland is still in mid-celebration of its 60th anniversary.  But worry not, many of the spooky favorites are returning this year.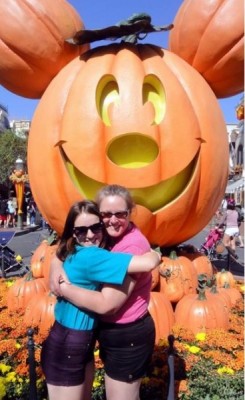 As you continue into the park, a trip over to the Haunted Mansion will reward you with a visit from everyone's favorite Sandy Claws, Jack Skellington, as he takes you through his version of a Halloween Town Christmas.  After 15 years, this holiday makeover has garnered quite a few fans…and for good reason.
While you are in New Orleans Square, you might like to stop off at the Mint Julep Stand or Café Orleans and delight in pumpkin beignets or sample some of the other special treats found in many of the food service areas of the park.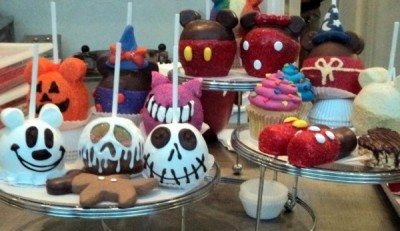 Your next Halloween stop could be Frontierland, where the inhabitants of Rainbow Ridge have set up their Dia de los Muertos (Day of the Dead) celebration near Rancho del Zocalo.  Here cheerful skeletons are throwing a brightly coloured fiesta.  Often a PhotoPass photographer is nearby to take your photo with these hobnobbing dead.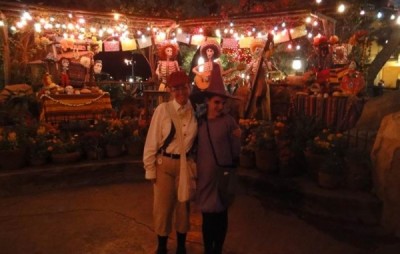 Not too far from the Dia de los Muertos celebrations is another special Halloween treat.  Ray Bradbury, author, sci-fi legend, and Disney fan extraordinaire has been honored with a tree – the Halloween Tree.  This tall oak tree, located close to the Golden Horseshoe Saloon is fully decked out in Halloween fare inspired by Bradbury's 1972 story "The Halloween Tree".  Ray Bradbury had always wanted a Disney attraction and on October 31, 2007, his dream came true.  Make sure to visit the tree at night for the best view but do not overlook it during the day as the sunlight provides a new appreciation for the decorations.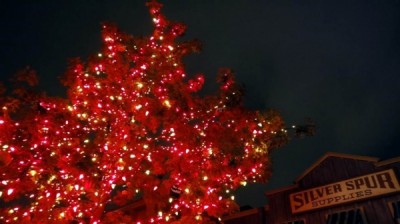 Continuing along the Big Thunder Trail towards Fantasyland, you will come to Big Thunder Ranch.  In past years a Halloween Carnival was conjured here, but the park has downsized this attraction this year (possibly due to new works on the proposed new land in this region); however, the Ranch is still open with its Halloween bedecked goats and Halloween themed shack.  This is certainly, at very least, worth dropping by on your way to the next Halloween overlay attraction.
For those wanting more thrill and chill in their attractions, Space Mountain in Tomorrowland has had a haunting metamorphosis (Ghost Galaxy).  Your space station has been taken over by a ghost of galactic size.  From the outside at night, you can witness that something is not quite right.  And when you enter the queue, you find that the communication lines are patchy at best.  This goes from questionable to frightening when you board your rocket and run face to face into the ghost.  He will haunt you throughout the ride with new effects not seen or felt in the original ride.  The ride's rocking soundtrack is swapped out for an eerier version.
A word of warning: This attraction is spooky.  For those wondering if it is right for your children, in general, if you would not take them on Twilight Zone Tower of Terror or if the Haunted Mansion is too much for them, do not take them on Ghost Galaxy.
If you are looking for a bit more ghost in your Halloween visit, you can participate in Disney's Happiest Haunts Tour.  Run nightly during Halloween Time, the tour takes you around Disneyland to see some of the more spirited offerings.  Your tour guide will tell you about the decorations, offer some fun, spooky stories, and dig up several Halloween treats on this two to two and a half hour tour.  You will also be given priority access to several of the attractions with a Halloween twist (last year this included Haunted Mansion Holiday, Big Thunder Mountain Railroad, Mr Toad's Wild Ride, and Ghost Galaxy).  This is an outdoor, walking tour.  So be sure to come with comfortable shoes and prepared for rain.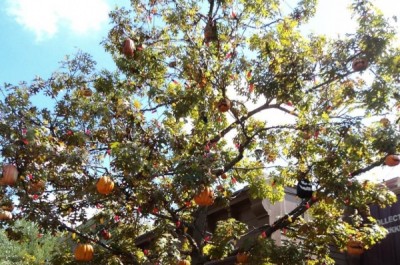 The Halloween Tree during the day
This tour has been a popular offering for several years and spaces are limited.  Bookings can be made 30 days out from the tour.  Marketed as a tween, teen, and adult offering, this tour is not appropriate for younger children as it can be spooky (though not scary like several other amusement parks in the area offer).  Participants must meet the 40 inch (102cm) height requirement.  Persons under 16 years old must be accompanied by an adult.  Additionally, theme park admission is required and is not included in the cost of the tour.  Cost of the tour: $85 per person.
What's this?!?  Mickey's Halloween Party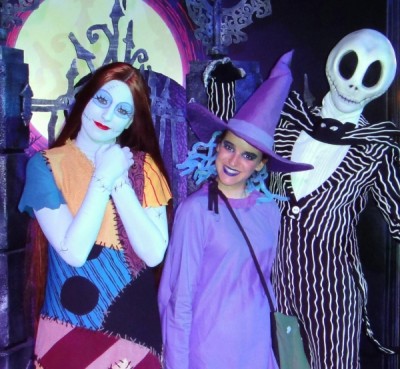 The last Halloween Time offering is Mickey's Halloween Party.  Running 17 nights this year, the party is a hard ticketed event.  It is very popular and the parties sell out quickly.  Tickets on the day are not always available, so if you are interested in participating, order your tickets early (at time of writing, nine of the nights are already sold out).
What makes the party so popular?  It is many things to many people.  The party allows guests to dress up in costumes (costume guidelines are available on the Disneyland website) – not just children but adults as well – and offers trick-or-treating.  There are also additional holiday decorations, the villains are generally out to visit in their own meet and greet areas, and there are special entertainment and merchandise.  Ultimately, it is one really large, family friendly, over-sugaring, frolicking street party with a costumed theme.
For those who wish to visit the attractions, the lines are generally shorter than during the day.  The addition of special entertainment like the Cadaver Dans and a very special fireworks show (more below) add to the fun.  And when it comes to the trick or treat trails, bring a spare bag (Disneyland does give you a bag for trick-or-treating but it is woefully small for the treats you will be given).  This event also offers dance parties.  During the dance party, you are encouraged to get up on the dance floor and cut a rug with some of your favorite characters.  It's a lot of fun and a great way to burn off all that sugar.
One of the real draws of the party is Halloween Screams.  This is a very special fireworks show narrated by Jack Skellington and some of the Disney villains.  It is best seen from the hub where you have a good view of the left side of the castle, although seeing it from further down Main Street or over at It's a Small World is not too bad if the crowd at the hub is too much for you.
As a special 60th anniversary treat, the Paint the Night parade is being scheduled to run during the Halloween party this year.  It is believed that this will be a less crowded way for seeing the parade.
A new offering is being made this year at Mickey's Halloween Party.  There is the option of adding on a special dinner at the Blue Bayou with Dr Facilier.  Called Mystical Spirits of the Blue Bayou – Premium Halloween Dining Experience, it also includes priority seating for Halloween Screams.  Many people feel that the added cost of this dinner is worth the priority seating for the fireworks alone.
The fine print:
Mickey's Halloween Party: The party is running September 25 (sold out), 28, 30, October 2 (sold out), 5, 7, 9 (sold out), 12, 14 (sold out), 16 (sold out), 19 (sold out), 22, 23 (sold out), 25 (sold out), 27, 29, 31 (sold out).  Tickets start at $69 per person over 3 years of age and range to $77 per person.
Mystical Spirits of the Blue Bayou – Premium Halloween Dining Experience: This dinner package runs each of the Halloween party nights.  You must already have tickets to the party.  The dining experience runs from 7:00pm to 9:45pm.  The cost is $150 per person (adult and children 3 to 9 years).  Places are limited and expected to sell out quickly.
What is your favorite part of Halloween Time at Disneyland? What tips do you have for the season? Let us know in the comments.