This post may contains affiliate links for your convenience. If you make a purchase after clicking a link we may earn a small commission but it won't cost you a penny more! Read our full disclosure policy here.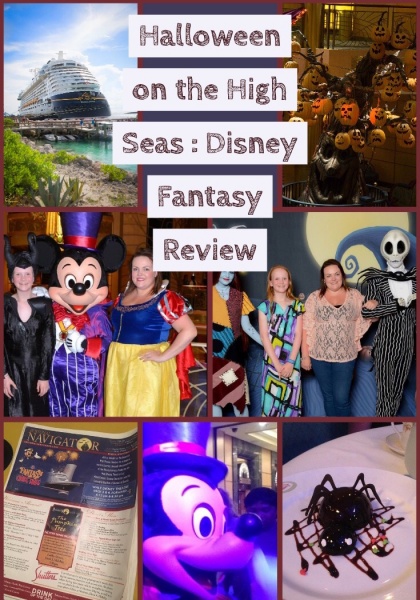 Editor's Note: This week on The Mouse For Less, we are taking a look at all things Halloween at the different Disney Destinations! We're starting with Halloween on the High Seas, which has just kicked off for the season this week.
Have you been on a Disney Cruise before? Let's take it up a notch. Have you done a Halloween on the High Seas cruise before?! If you're a Halloween, Disney, & cruise fan, you need to make sure to add this item to your bucket list!
On select cruises in September & October, you can experience this fun addition. My first Disney cruise (and only-so far!) was a western Caribbean cruise onboard the Disney Fantasy ship & we got to experience Halloween on the High Seas. As a HUGE Halloween fan, I was so excited! I packed up my Snow White costume & prepared myself for a fun Halloween experience.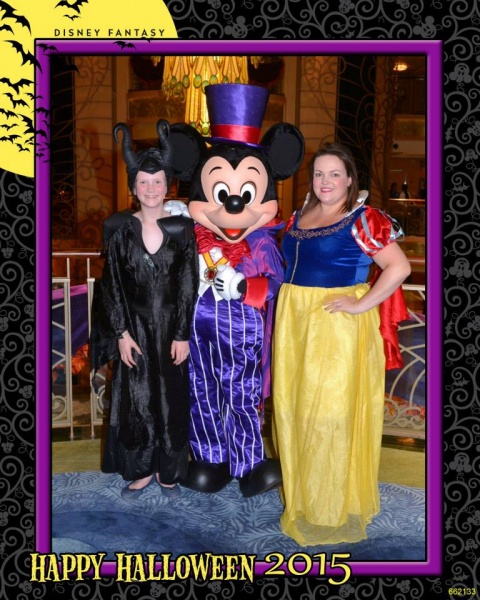 We traveled early September for a 7 night cruise & the ship was in full Halloween mode. From the decor, to the events, to the parties, I knew from the moment we boarded, it was going to make our cruise that much more magical! Our ports of call were Grand Cayman, Cozumel, Falmouth & Castaway Cay. Each port had something incredible to offer & the ship in & of itself was luxurious. For more details about my Disney cruise-check out my Disney World vs Disney Cruise article!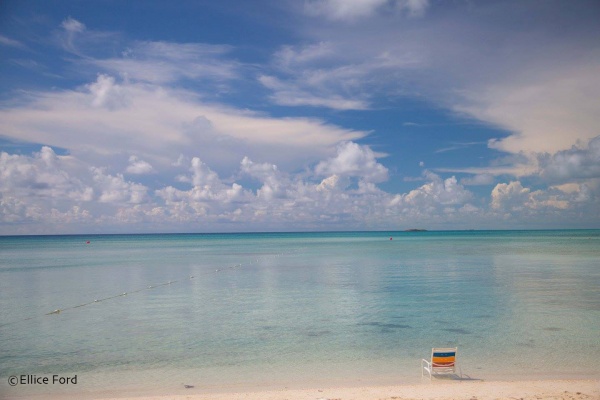 First, let's talk Halloween decor on board the ship. In the lobby, there was a huge haunted tree filled with pumpkins, suitable for the storytelling of The Legend of the Pumpkin Trees. The railings were covered in fall colors, pumpkins, mickey Jack-O-Lanterns & so much more. Almost everywhere I turned on board the ship had a bit of Halloween to kick off the fun of Halloween on the High Seas!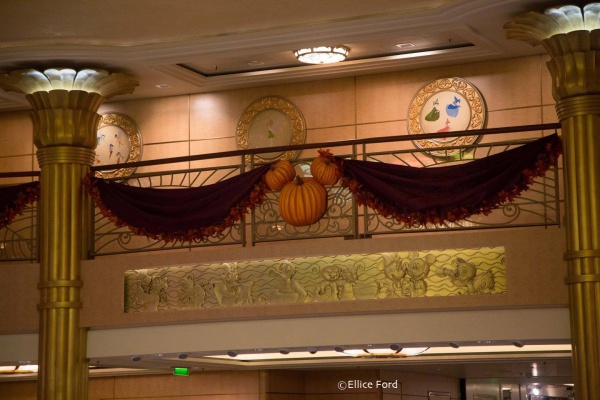 There were hints of Halloween EVERYWHERE! Each day, The Navigator (Disney Cruise Line's daily newsletter/itinerary) is laid on your bed for the following day, and it always had a touch of Halloween in the font & the colors. It would also show you what Halloween events were going on that day so you could mark what you want to attend! Every day, there was a different specialty beverage, both alcoholic & non-alcoholic. And let's not forget the special desserts you could order which were Halloween inspired!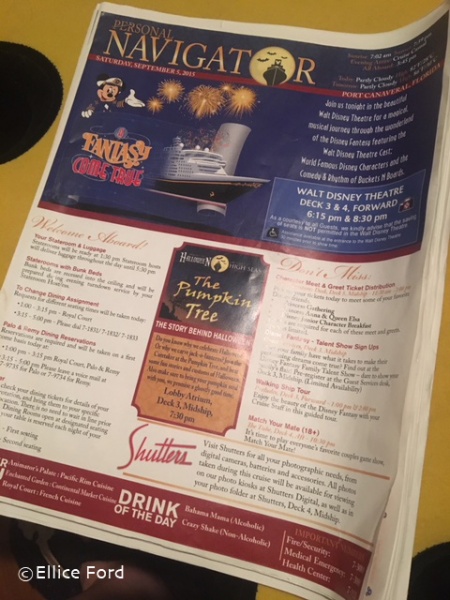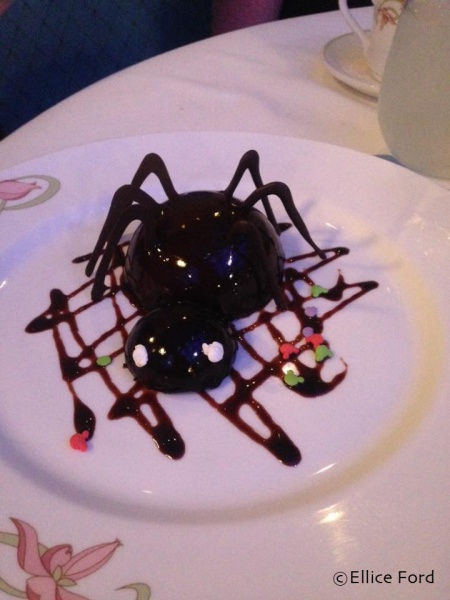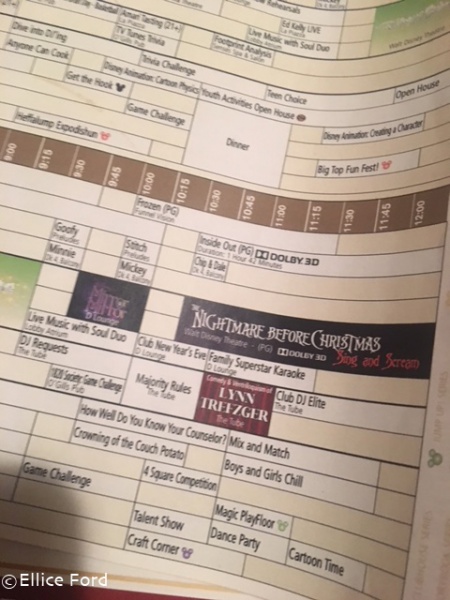 Now, let's talk special events. There are so many, so I will break them up into categories.
The Legend of the Pumpkin Trees
As I mentioned above, the main lobby on the ship has this HUGE, beautiful pumpkin tree. Here, on two particular nights, stories of the Legend of the Pumpkin Trees took place. Families could even choose to participate in "planting" a pumpkin on the tree!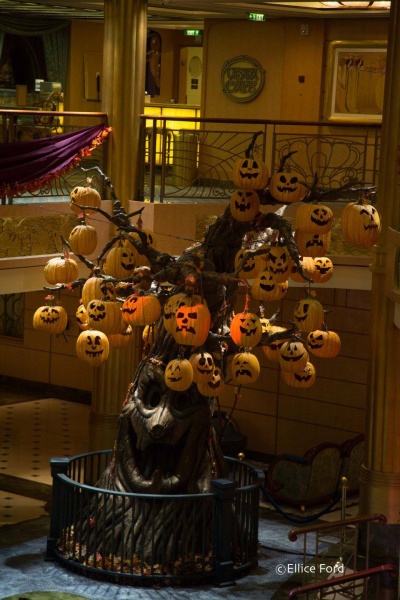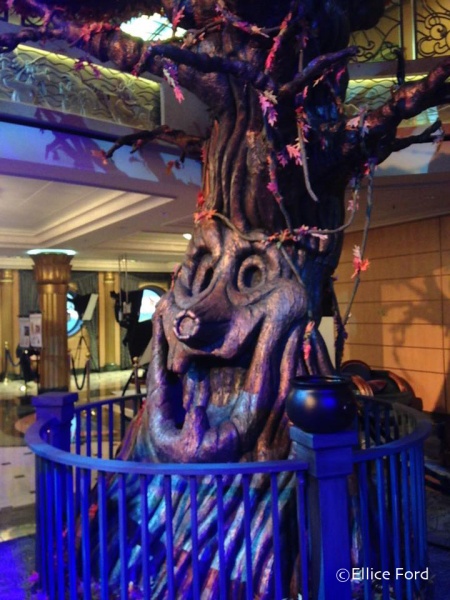 A Nightmare Before Christmas-Sing & Scream
One of my favorite activities on board the ship, was A Nightmare Before Christmas-Sing & Scream. It's a singalong movie experience, located inside the ship's movie theater. After the movie, head outside the theater for a special (and rare) meet & greet with Jack & Sally!! Meeting rare characters is one of my favorite things to do, so anytime I get the chance, I take full advantage. This is the perfect activity for Halloween fans of all ages!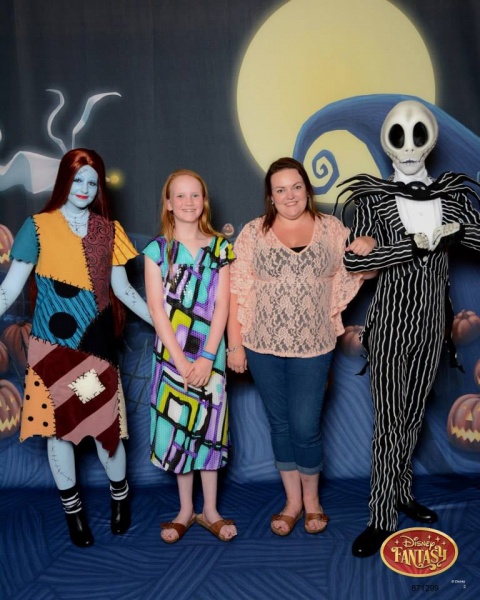 Haunted Stories of the Sea
Head to the main deck pool area, for ghost stories told by the mysterious sea captain.The cool thing about this activity is that you're on the wide open ocean, under the night sky-it really adds a level of spookiness to it!! This is a fun family activity.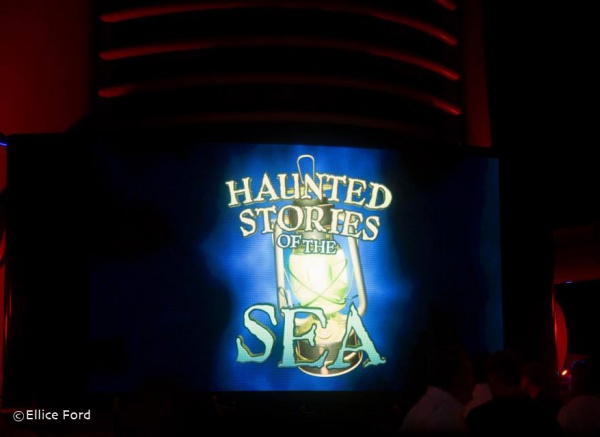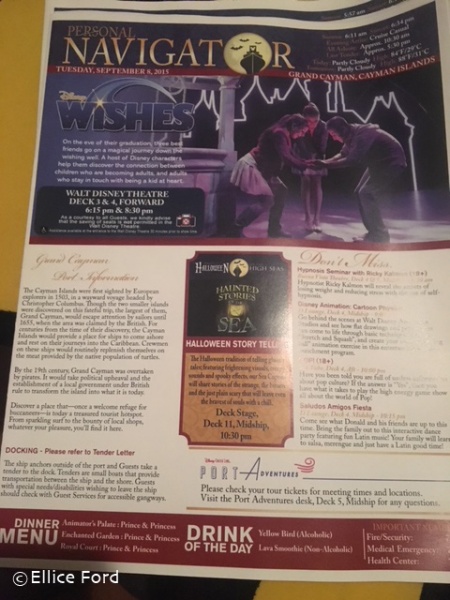 Mickey's Mouse-querade Party
We started off our evening dining in the Enchanted Garden, in costume! In the main lobby of the ship, partake in a family friendly party with all your favorite characters! Mickey, Minnie, Goofy, Pluto, Donald & Daisy! They will be dressed in their favorite Halloween costumes, so make sure you do, too! Just before the party you can also meet your favorite pals in their costumes.
After the meet & greet, you'll see exciting games throughout the lobby & even get to go trick or treating! To get ready to gear up for the party, you'll get to enjoy a music singalong & dance party with your pals! I am a huge character nerd, so I loved this. Mickey & pals came right down into the crowd & danced alongside their fans. It truly was a unique character experience.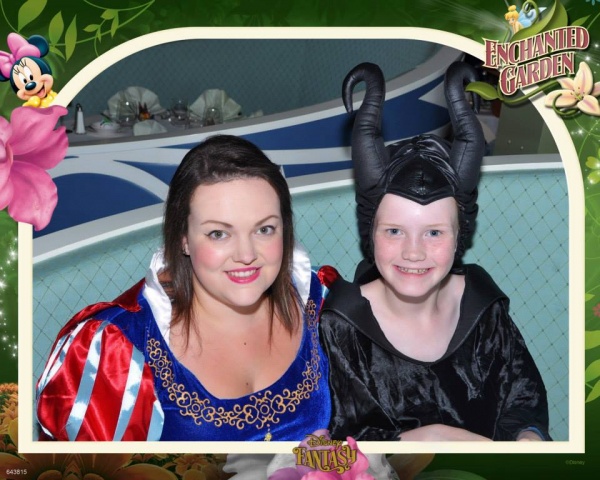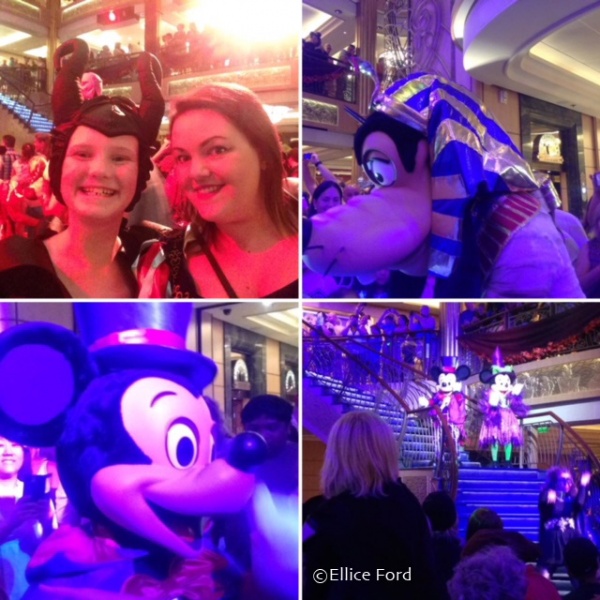 Halloween Isn't Just For Kids
If you're an adult cruising, escape to the nighttime entertainment district & enjoy some of the fun the bars & lounges have to offer! You'll get to enjoy specialty Halloween cocktails, a costume contest, Halloween dance & so much more! The Tube was the popular spot on the Disney Fantasy for these events, but all of the bars had something special to offer! This was one of my favourite parts of Halloween on the High Seas. I enjoyed the Mouse-querade party & then headed to The Tube to conclude the fun!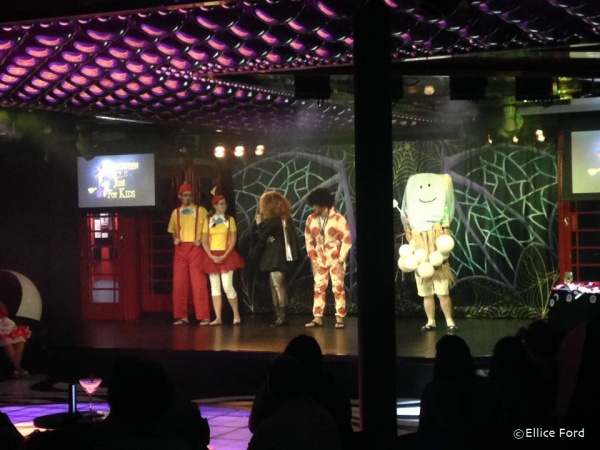 There is so much added fun to a Halloween on the High Seas cruise, so, be sure to pack your costume so you can enjoy all of the fun! A Disney Cruise is so much more than just a cruise, and Halloween on the High Seas just brings that to the next level.
If you have cruised with Disney Cruise Line before, you know how magical these vacations are! Enjoy fine dining, night clubs, port excursions, broadway-style shows and so much more. In addition to the Halloween activities, you can be sure to enjoy the standard, equally as fun cruise events, like; formal night, semi-formal night, pirates night & all your typical fun! All of these reasons are just some of the reasons you should add a Halloween on the High Seas cruise to your bucket list!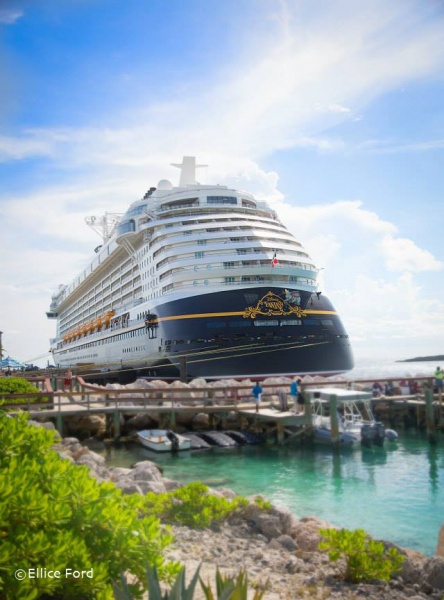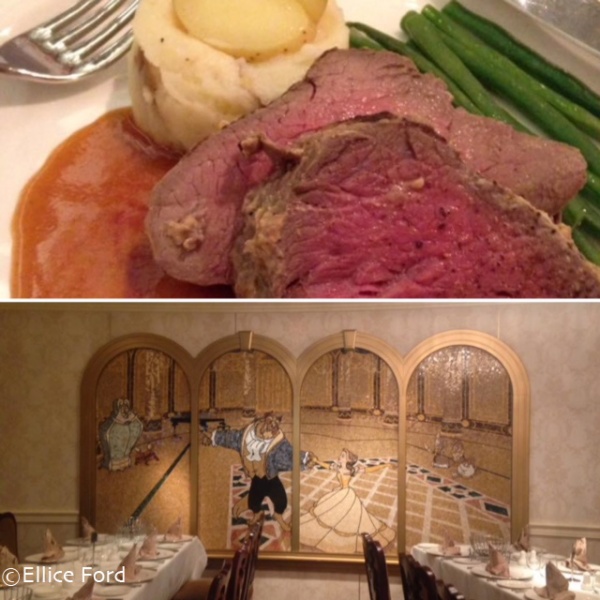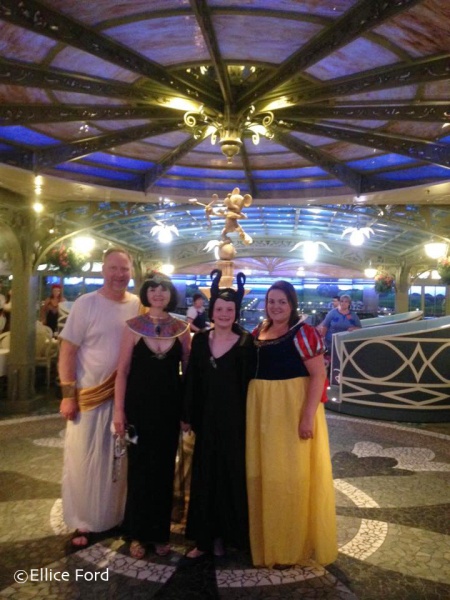 Have you cruised during Halloween on the High Seas? Let us know what you enjoyed in the comments, or on Facebook or Twitter.
Did you like this article? Make sure to share it with your friends! Check below for easy ways to share!
Want to take a Disney Cruise during Halloween on the High Seas? Contact The Magic for Less Travel for more information and a free, no-obligation quote.

Incoming search terms:
https://www themouseforless com/blog_world/halloween-on-the-high-seas-disney-fantasy/