This post may contains affiliate links for your convenience. If you make a purchase after clicking a link we may earn a small commission but it won't cost you a penny more! Read our full disclosure policy here.
By Jane Jones
It's an interesting thing to live 20 minutes from the Magic Kingdom. As many of you Disney fans would guess, we basically never get tired of "Disney" and go to the resort often. So you'd think we would have done it all. What I have found, instead, is that we have become creatures of habit: we know what we know, we know what we like, and that's all we do. I've never done Hoop-Dee-Doo, but I know the menu at Kona Café like I do my own address and phone number!
That is why it was time to try something new. On July 2 my daughter turned 8 years old and I wanted to do something special that everyone in the family would enjoy. Something beyond our tried-and-true favorites. What'd I decide on? The perfect "something for everyone" Disney experience: Fishing!
Great for kids and fun for adults, too!

As someone who grew up with my own fishing pole (and in Florida) you would think that this would have been a no-brainer. In all honesty, it just never occurred to me. Then I started talking to my dad. He always loved to fish and said he wanted to take his granddaughter fishing someplace she would be guaranteed to catch fish…and what better place than Walt Disney World and the GUIDED BASS FISHING EXCURSION! But would they REALLY catch anything?
Happily, the answer is a resounding YES!! Let me fill you in on all the details so you too can book this worthwhile excursion that will please adults and children alike.
The details:
The boats go out 3 times a day (7am, 10am, and 1:30pm) for a 2 hours excursion. Afternoon times may vary.
There is a maximum of 5 guests allowed, but you can certainly have fewer.
The cost is the same no matter the number of guests. ($235 for mornings, $200 for afternoon) If you divide the cost up among 5 people, it really is a great value considering everything that is included.
There is a 4 hour excursion available for $405 (7am or 10am)
Drinks (water, soda) are included and plentiful. You may not bring any food/drinks aboard.
This is catch and release.
The boats have a canopy so you can stay out of the sun- but don't forget your sunscreen. There are plenty of seats for everyone.
Each boat comes with your own guide who knows all the best 'fishing holes'. The guide also prepares your tackle (no need to bring poles, bait, etc.). We've found that once the guide is comfortable with your knowledge level, he 'backs off' if you are experienced and lets you do everything pretty much yourself. If you are inexperienced, you never need to cast, touch bait or a fish! It is perfect for anglers of all ages and abilities.
The best time to go out is the 7am excursion before all the smaller boats start zooming around the lakes. They often get in your way and always scare the fish. Also, the afternoons are hot in the summer months!
You can request fishing at Seven Seas Lagoon, Crescent Lake, or Downtown Disney, but the best fishing is Seven Seas Lagoon. This comes directly from the fishing guides.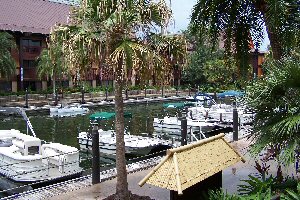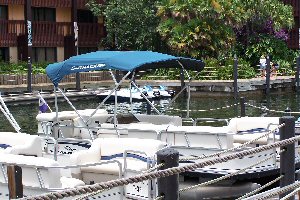 The boat dock at the Polynesian and a look at the fishing excursion boat.
Here's how to book:
Call 407.WDW.BASS at least a week in advance to assure your fishing time and location. You can book "day of" if it is available.
A credit card is necessary to book, but it is not charged until after the excursion.
There is a 24 hour cancellation policy.
On Seven Seas Lagoon you can request pick up (on the dock) at the Contemporary, Polynesian, or Grand Floridian.
Meet your guide at the boat on the dock of your pick up location. Be there 15 minutes early.
Be sure to use the restroom BEFORE you head out!
It is customary to tip your guide so bring some cash.
Bring your camera!!
My opinion about this being one of THE best "little known" attractions at Walt Disney world is not based on a 1 time experience. We ended up going every weekend this month! My dad had such a good time that he would call at the end of each week and have me book it. He would then drive up from Ft. Lauderdale and we'd all go. Last weekend "the girls" couldn't go, so my dad took 3 other business associates and had a business meeting while fishing, then they finished up with breakfast at Kona Café!
The big question…was it worth the time and money? YES. Our first time out we caught 29 bass, and last weekend the guys caught 20. They averaged in size from 12-14 inches and 3-5 pounds each. Pretty good for 2 hours of fun!
One last thought: there are other opportunities to fish while at the Walt Disney Resort! Some resorts such at Port Orleans-Riverside have tucked away "fishing holes" where you can rent a cane pole for a nominal fee and fish like you're 'Tom and Huck', on-your-own style. The "Kid Fishing Around the World" is one step up from that idea. Here you are partnered with a Disney fishing guide (usually one from the boat fishing excursions), but not on a boat. Our 'regular guide' told us about this and said it is perfect for older kids and is a good value.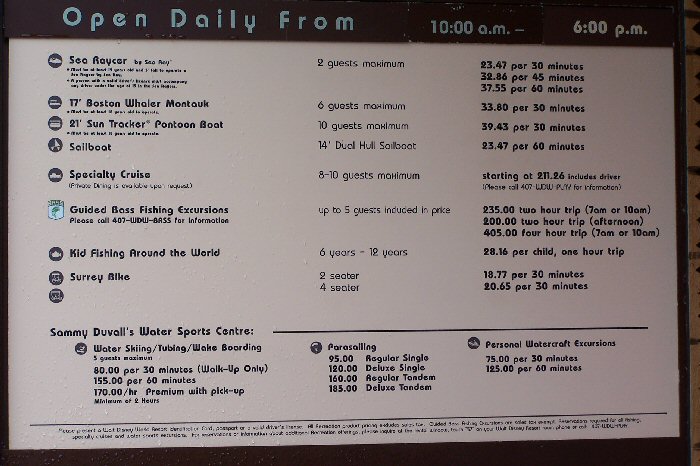 The price list at the dock at the Polynesian.
Incoming search terms:
which walt disney fishing excursion is best