This post may contains affiliate links for your convenience. If you make a purchase after clicking a link we may earn a small commission but it won't cost you a penny more! Read our full disclosure policy here.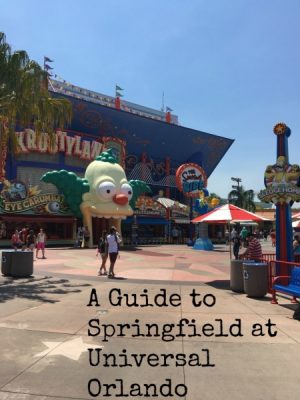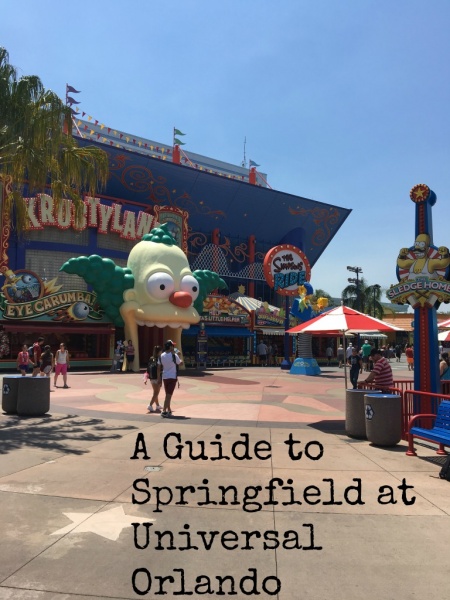 Springfield is Universal Orlando's Simpsons themed area. And whether you are a fan of the long running show or not, the level of detail is sure to impress you. While I don't claim to be a Simpsons expert, this area is one of my favorites for it's level of detail and dedication to the source material. (Based on it's success in Orlando, Universal now also has a Springfield/Simpsons area its California park.)
Springfield Rides
There are two rides in Springfield.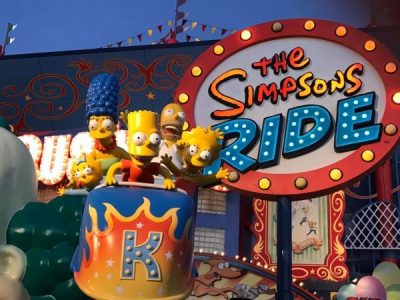 The first is The Simpsons Ride. The Simpsons Ride replaced the Back To The Future Ride but remains a motion simulator. In this ride, you join the Simpsons at Krustyland only to have Sideshow Bob hijack the attraction. The ride and its pre-show have several good pokes at its nearby competitor. (Anyone up for Hall of Secretaries of the Interior? Krustyland says there is no wait.) The Simpsons ride has a height requirement of 40 inches and guests under 48 inches must be accompanied by another rider 14 years old or older.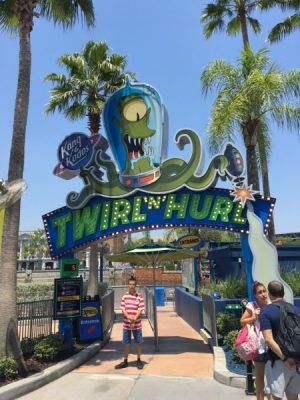 The other ride is Kang and Kodos' Twirl 'n Hurl. Despite the name, this ride is remarkably mild mannered and is equivalent of Dumbo or One Fish, Two Fish. The twist is the riders are being "brainwashed" to shoot the Simpsons by the green aliens in the show. This ride rarely has long waits and does not have a height requirement. (Although those under 48 inches must be accompanied by an adult per Universal policy).
Springfield Eats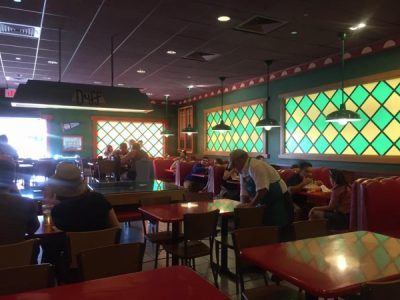 Springfield is home to some of the best food in Universal Orlando. Fast Food Boulevard has various themed areas (Lisa's Teahouse of Horror, Cletus's Chicken Shack, Krusty Burger) with food inspired by the show. If you've every wanted to eat the Clogger or try the giant pink donut from Lard Lad's, this is your chance! Additionally, the area has Bumblebee Man's Tacos and a separate stand for Lard Lad Donuts.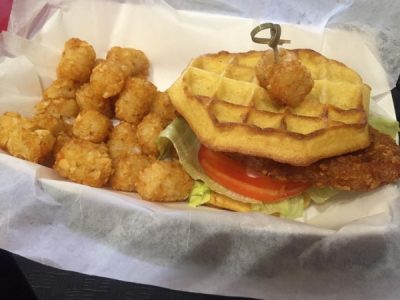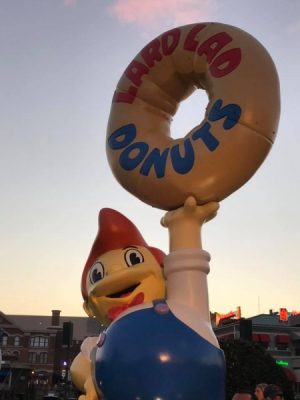 Springfield Drinks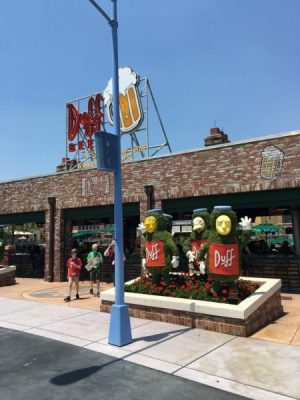 Homer Simpson wouldn't let Springfield be without beer right? The Florida Brewing Company brews a unique beer for the Springfield area. Here is the only place you can get Duff, Duff Dry, and Duff Light. For those searching for non-alcoholic options, you can try Buzz Cola (which is a cherry flavored soda) in Fast Food Boulevard. Also, the Flaming Moe served in Moe's Tavern is a non-alcoholic specialty drink that smokes and taste like an orange soda.
Characters in Springfield
If you've ever dreamed of hugging Bart Simpson, Springfield at Universal Orlando is where to head.  The Simpsons Character Zone is located right near Fastfood Boulevard and times (subject to change) are posted in the times guide for the day. The exact characters may vary, but all of the main Simpsons family (Homer, Bart, Marge, and Lisa) are most likely. If you're really looking for a specific character ask a team member as the character availability can vary throughout the day.
Now just make sure the nuclear reactor doesn't meltdown….
Have you experienced Springfield before? What's your favorite aspect of this land themed after The Simpsons? Share in the comments.
Did you like this article? Make sure to share it with your friends! Check below for easy ways to share!
Incoming search terms:
https://www themouseforless com/blog_world/guide-springfield-simpsons-universal-orlando/
https://www themouseforless com/blog_world/guide-springfield-simpsons-universal-orlando/#:~:text=Springfield Drinks&text=For those searching for non soda) in Fast Food Boulevard