This post may contains affiliate links for your convenience. If you make a purchase after clicking a link we may earn a small commission but it won't cost you a penny more! Read our full disclosure policy here.
Growing up in the 80s and 90s, I was super lucky to be living through the Disney Renaissance. The Little Mermaid and Beauty and the Beast were my absolute favorite movies as a little girl, and to this day, I still have to watch these movies any time they are on TV. When Be Our Guest Restaurant opened in 2012, I was lucky enough to get a Passholder preview tour of the brand new dining establishment just weeks before it opened. I was mesmerized by the details and completely awestruck that I was able to step inside the castle of one of my favorite childhood characters.
Fast forward to the summer of 2014 and I was FINALLY able to snag myself a dinner reservation to Be Our Guest, thanks to a couple of my favorite DVC friends who invited my boyfriend and me to dinner during their vacation to the World. In the months leading up to our dinner reservation, my excitement turned to nervousness. The restaurant had received some very mixed reviews and I didn't want to spend all that money on a meal and not enjoy it, but I figured that just being in the restaurant with that entire atmosphere would make it worth it. Well, I'm happy to say that I loved it and would definitely go back again. Here was our view, walking up to the restaurant: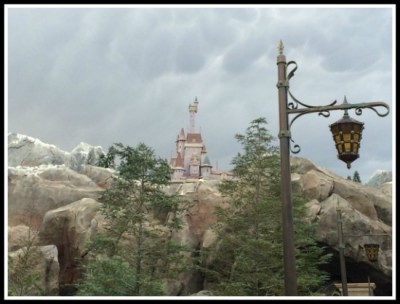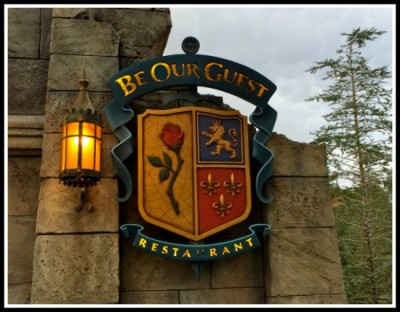 When we arrived, we were escorted to the West Wing, which I kept hearing was the best room to eat in so I was super excited about this. Be Our Guest has 3 guest dining rooms: the ballroom, the West Wing, and the Rose Gallery. The ballroom is absolutely stunning, but the tables are so close together and it is really loud in there. I was with my boyfriend, my friend, and her husband so the West Wing was perfect for us. The room was dimly lit, but much quieter so we were able to carry on with our conversations. The only minor disruptions were the thunder and lightning, which we got a bit tired of hearing after getting stuck in a HUGE thunderstorm at the Magic Kingdom that afternoon.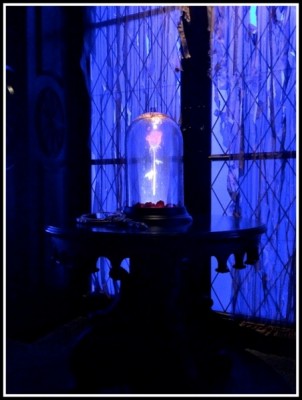 The first thing we did after being seated was to ORDER BEER! As WDW vets, we've never been able to drink at the Magic Kingdom, so beers were a must. Be Our Guest Restaurant (dinner only) is the only place in the Magic Kingdom that serves alcohol. They had a really nice selection of French beers and wine. I had the Chimay and it was perfect with my meal.
After looking over the menu and debating what we wanted, 3 out of 4 of us went with the Scallop and Shrimp in a Puff Pastry. We all LOVED this dish. The shrimp and scallops were cooked perfectly and the sauce/puff pastry was delicious too. The only complaint was that only two scallops were included and I was craving more because they were so good. Next time I will ask for more, if possible. My boyfriend got the steak but substituted the pomme frites for the macaroni el gratin. I didn't try the steak but he really enjoyed it. I did try a bite of his macaroni though and it was amazing. Very flavorful and not your average theme park mac and cheese. This stuff was seasoned perfectly.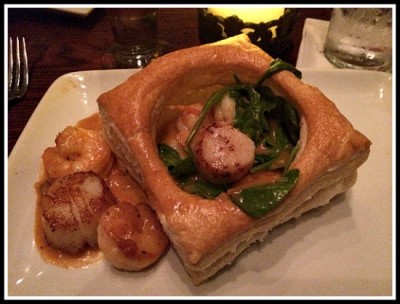 Finally, dessert time! My boyfriend and I couldn't decide between the Grey Stuff and the Strawberry Cream Cheese Cupcake so we ordered both and split them. The Grey Stuff was pretty decent, but the Strawberry Cream Cheese Cupcake blew it out of the water. I really liked the icing on the Grey Stuff (cookies and cream panna cotta from what I've heard) but the brownie was rock hard, which made it difficult to eat. I'll have to try the cupcake version at lunch one day to see if I like it better. The Strawberry Cream Cheese Cupcake was perfect though; light and spongy with the perfect amount of icing. I'm a huge sucker for anything with cream cheese frosting.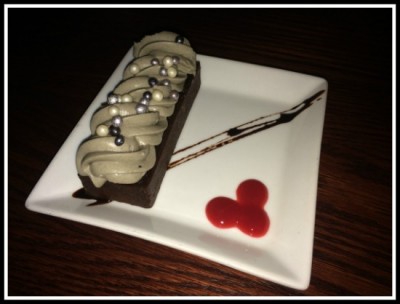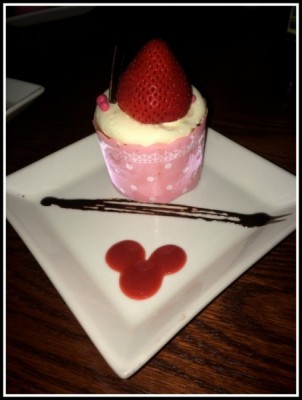 And to end our experience at Be Our Guest, we got to meet the Beast! (Ed. note:  While this is not an official character meal, Beast is on hand to meet with guests after they have dinner.) Photopass photographers are present to take photos of your dining party with the Beast.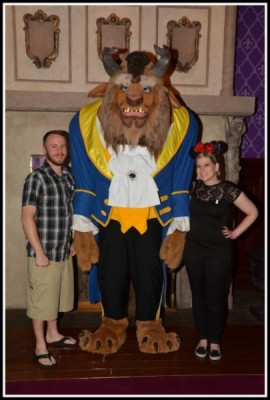 Overall, we had a wonderful experience at Be Our Guest. Our food was delicious and our server was amazing. She was very knowledgeable, was great with all of our questions (especially involving substitutions) and was humorous when we were giving her a hard time about ID'ing us for our drinks. I would definitely come back here again! In fact, we did just a few days later for lunch.
Have you tried Be Our Guest? What did you think about your experience there?